What kind of problem are you having? Select all that apply.
Pest Control in Anaheim
If you're in need of reliable pest control services in Anaheim, you've come to the right place! Here at the bugman, we specialize in removing a wide range of pests from homes just like yours. If you want honest, trained, and skilled professionals on the job, trust in the bugman! We have been effectively removing pests for our neighbors in Anaheim since 1958 and continue to utilize advanced and proven methods that work every time. No matter what pests you might be battling—we can help!
Local Pest Control You Can Count On
For over 65 years, the bugman has been a leader in pest control in the Anaheim area. As a locally owned and operated business, we have always had our neighbor's well-being in mind.  When you partner with the bugman, you can rest assured knowing that we go above and beyond in every aspect of the relationship to ensure your total satisfaction. Call us today for protection against:
Ants
Wasps
Spiders
Ticks and fleas
Roaches
Hornets
Carpet beetles
Rats
Mice
Termites
Silverfish
Earwigs
Bees
And more!
Image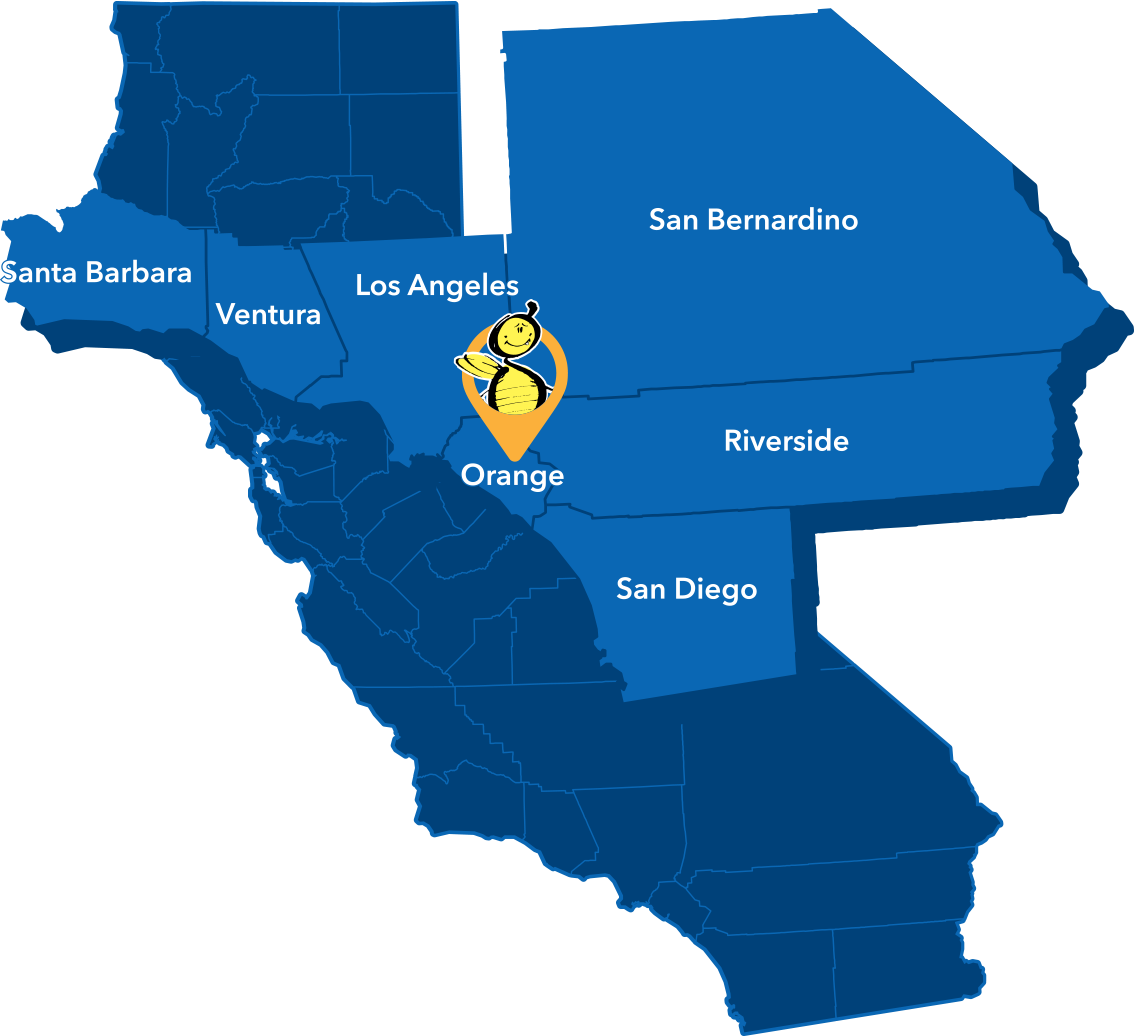 California Pest Control You Can Trust
From ants to spiders to rodents of all kinds, we know how to eliminate pests across the spectrum. So don't stress yourself out any more than you already have—the bugman has you covered. Located only seven miles from Disneyland, our team is right in the heart of Anaheim. When you choose the bugman for your pest control, you will receive exceptional service from a local company that cares about your and your family's well-being. Our exterminators in Anaheim provide:
A FREE inspection of your home from a state-licensed and certified inspector.
Advanced pest methods that are safe for the family but tough on bugs.
Several treatment options. We can schedule monthly, bi-monthly, or quarterly treatments based on your needs.
Friendly and trusted technicians. Receive top-notch service from a knowledgeable and friendly technician that you can trust in your home.
100% satisfaction guaranteed! If you're not satisfied with our services in any way, we will return free of charge to fix the issue.
Rodent Exterminator in Anaheim
Having an insect infestation is one thing, but having large rodents in and around your home can be alarming. Not only is it unsafe for your family and pets, but rodents can chew through wiring, and they can bring various diseases into contact with your family.  Don't let these annoying animals disturb your peace any longer, and call on the bugman to kick them to the curb with our rodent control in Anaheim.
Anaheim's Premier Rodent Treatments
Since we opened our doors, we have been studying the species of animals in Anaheim to prepare our team for every scenario possible. When it comes to rodent infestations, our main goal is to protect your home and family by removing them using humane procedures and then protecting your home against future infestations. This is what you can expect from our rodent control in Anaheim:
We will conduct a FREE evaluation of your home to diagnose your rodent infestation.
Our trained rodent technician will give you professional advice on how to keep rodents out in the future.
We will completely eliminate rodents using state-of-the-art equipment and environmentally-friendly products. We provide rat control, mouse control, and overall rodent control.
Lastly, we will complete exclusion work around your property to secure any areas that rodents might be using to gain entry to your home
Bed Bug Exterminator in Anaheim
There is nothing more annoying than finding out you have hundreds of gross insects in the one place you love most—your bed. If you want to get a good night's rest again without bed bugs, call on the bugman to get rid of them once and for all. So what are you waiting for?  Call us today to get started on your bed bug treatment in Anaheim. Here's how our treatment works:
First, we will send a state-licensed and certified inspector to conduct a detailed inspection of your home.
Next, our technician will work with you to formulate a customized bed bug removal plan in order to completely eliminate all bed bugs from your home using highly effective and family-friendly treatments.
To conclude the process, we will complete follow-up treatments to make sure bed bugs are a thing of the past in your home!
Ant Exterminator in Anaheim
Ants are tricky bugs to eliminate.  They might be small, but collectively are a powerful source generated by the colony as a whole.  Once they get inside your home, it is tough to get to the root of the problem and eliminate the entire colony.  If you're having infestation after infestation with no luck, let the bugman help you resolve the problem with our ant control in Anaheim! Our comprehensive treatment plan works like this:
We start with a free, thorough inspection of your home to determine the source of infestation and where the ants are thriving.
Next, our technician will create a personalized treatment plan based on the findings of the inspection.
After we have consulted with you to create a plan that best suits your home, we will completely eliminate the ant colony with our advanced ant treatments.
Lastly, we will conduct follow-up maintenance of your home to keep ants out in the future.
Areas We Service Around Anaheim
Not in Anaheim? No worries! We offer pest services all throughout Southern California. See if we service your city here: