Save $50 On Pest Control In Villa Park
What kind of problem are you having? Select all that apply.
Pest Control In Villa Park
Looking for a reliable pest control company is the last thing you want to do when you uncover an infestation in your home. Luckily, the expert exterminators at the bugman have what it takes to rid your home of a wide variety of household pests in Villa Park! This includes quick and effective relief from some of California's most common pest invaders, including:
Ants
Bees
Bed bugs
Carpet beetles
Ticks
Spiders
Wasps
Rats
And more!
Image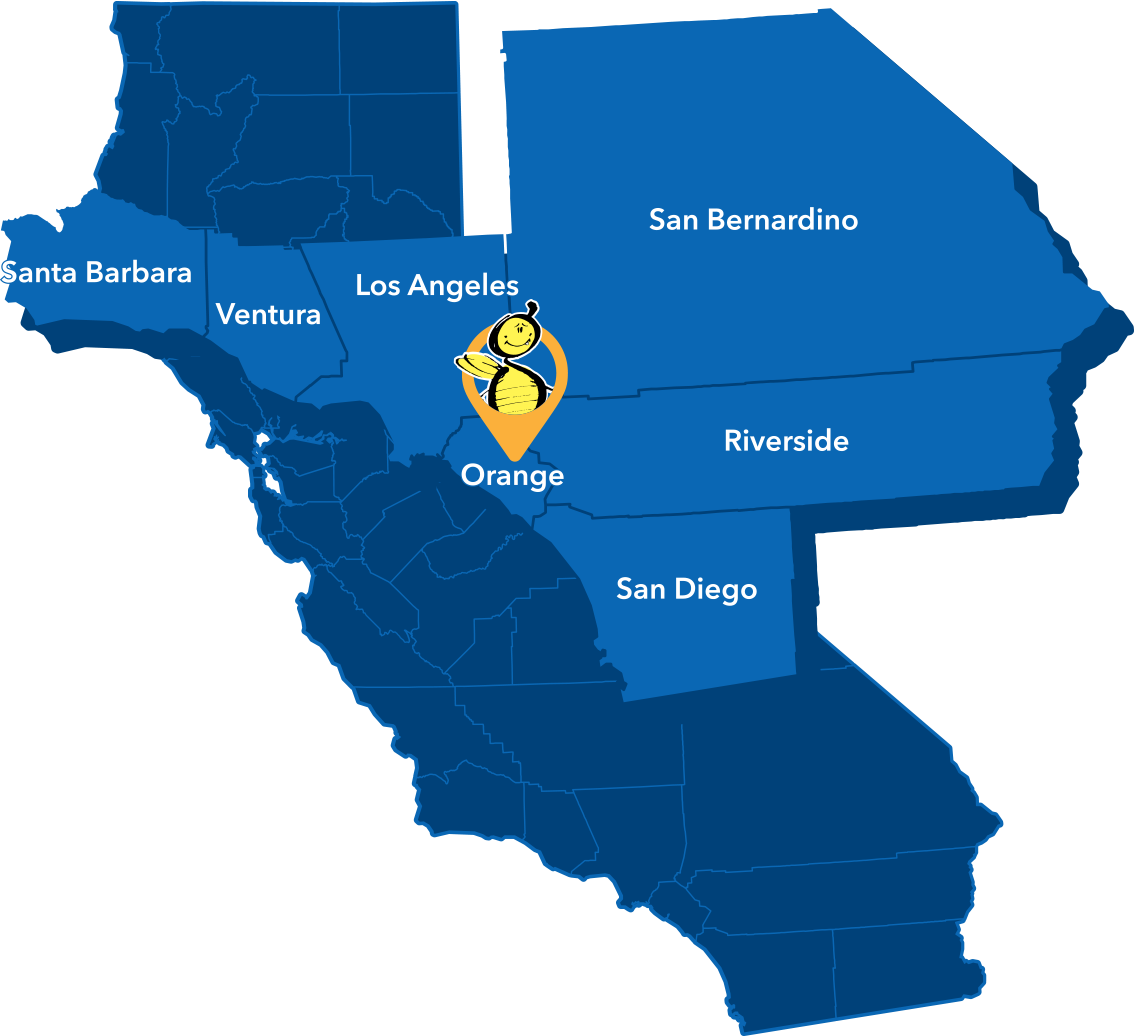 Expert Pest Control Services From The Local Pros
As a locally owned and operated pest control company with 65 years of experience, we like to treat all of our customers like family. That's why we've made it our mission to rid your home of pests as quickly as possible! To do that, we make sure all of our Villa Park exterminators are state-licensed, certified, and up to date on all the latest industry trends and techniques. When you partner with us for your Villa Park pest control needs, you will not only receive top-notch care from the best pest exterminators in Anaheim, but you will also receive:
A Free home evaluation by a state-licensed inspector
A Free pest control quotes 
Same-day service options
A 100% satisfaction guarantee
Rodent Control In Villa Park
Leaving a rodent infestation long-term can lead to financial distress. These mammals have massive destruction potential, from chewing wires, which can cause house fires, to contaminating food, and damaging your walls. To protect your health and finances from these frustrating critters, you need to invest in quality rodent control in Villa Park. Here at the bugman, our top priority is to help you eliminate rodents quickly and safely, without damaging your home or draining your savings. 
At the bugman, you'll receive the following from your rodent exterminator in Villa Park:
A no-cost rodent inspection by a state-certified expert.
Family-and-pet-friendly rodent trapping and removal services.
Rodent exclusion work to keep rodents from returning.
Seal Rodents Out and Save $50!
DIY mouse control or rat control can be a frustrating process. Because store-bought solutions rarely come with a satisfaction guarantee, they are unlikely to provide lasting results. Lucky for you, our team at the bugman has spent over 60 years providing reliable rodent control in Villa Park. Not only do we offer a 100% satisfaction guarantee with our rodent control, but we're also proud to offer $50 off our rodent exclusion treatments! Call us today at 714-406-4949 to learn how we can help you save money and protect your home!
Termite Treatment In Villa Park
Termites are one of the more difficult pests to deal with; they're hard to detect, difficult to remove, and capable of causing thousands of dollars in damages to your home. That may seem overwhelming, but our termite exterminators in Villa Park have you covered. Whether you already have a termite infestation or want to prevent one from ever occurring, we have the solution for you.
When you partner with us for termite control in Villa Park, we will:
Conduct a free inspection to determine the extent and location of the infestation.
Create a custom treatment plan to give you the most efficient treatment possible.
Schedule annual inspections to ensure your home stays protected.
Back our services with our satisfaction guarantee, which includes free re-treatments!
Ant Control In Villa Park
No one wants to share their home with ants. Creepy crawlies enter into homes in search of food, water, and places to build their nests. While they are usually drawn to food crumbs or poorly-sealed containers, even the most pristine home can fall victim to these frustrating pests. Luckily for you, our team at the bugman has the quality ant control in Villa Park you need to take back your home. Our same-day treatments and easy payment options will eliminate the colony quickly and safely, giving you back the peace of mind you deserve in no time.
Ant Exterminators with 65 Years of Experience
Because ants send out scouts to identify new territory and food resources, seeing just one ant in your home is a sure sign that more are on the way. Here at the bugman, our team of state-certified ant exterminators in Villa Park has 65 years of experience dealing with these pesky insects. We know all the types of ants in California and what makes them tick, and our EPA-approved treatments are designed to eliminate your infestation without risking your health or our planet.
When you team up with us for ant control in Villa Park, you will receive the following:
A no-cost inspection to assess the species of ant in your home.
A personalized treatment plan based on our findings.
Family-and-pet-friendly ant treatments to remove your colony quickly.
Ongoing monitoring and maintenance to keep ants gone—for good!
Our satisfaction guarantee: if ants return, so will we!