Get To Know the bugman
Back in 1958, when California was covered in orange groves and eucalyptus trees, our founder, Herb Olson, had a vision for a service company. Orange County was seeing a growth spurt with the completion of the 5 Freeway a few years earlier and Disneyland opening in 1955. Bedroom communities were popping up all over Orange County making room for families that moved here to work in the aerospace industry or manufacturing. Herb saw a need and opened the bugman in 1958. Ever since then, we work hard every day to make the bugman Southern California's pest and termite company of choice. 
Image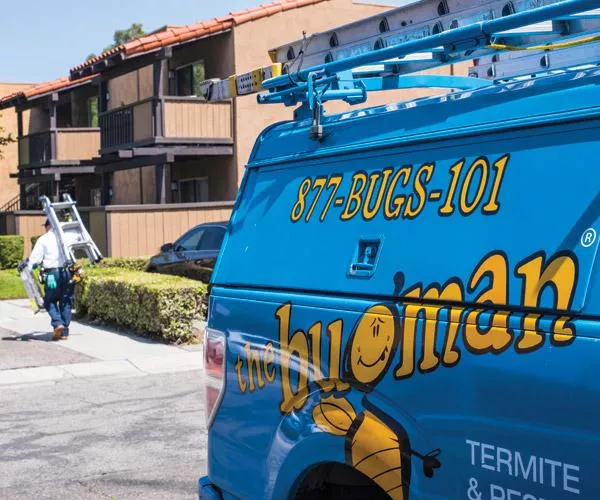 About Our Company
Our vision at the bugman is to provide peace of mind to our community by protecting and preserving health and property through state-of-the-art maintenance services for our residential, commercial, and industrial clients. We strive to create and grow relationships with these customers, while also running a profitable and growing business. 
Our Mission
Our Mission is to provide the best possible pest management service to our customer; serving the community and the environment responsibly while providing quality, 100% customer satisfaction along the way. We are dedicated to enahancing the quality of life of our customers by making their home or business healthier, safer, and more comfortable. 
Our Team
Our team members are the best trained, using the latest scientific technologies and best pest control/pest management practices to assure our customers receive the very best service and pest-free environments. All of our technicians and field personnel are state certified and licensed. Our team performs yearly continuing education to keep our staff on top of the latest technologies in pest management because we continually seek knowledge, expertise, and professionalism. Above all, the bugman wants our team members to not only be knowledgable about pest management, but also help to contribute to a positive & fun company culture. 
Our Promise
We promise to create a better life for our customers and our team members because we have a driving passion to serve customers and team members alike. We will continue to be an industry leader by actively participating in local, state, and national pest management associations. Our valuable services will be of the highest quality and will exceed industry standards in order to provide peace of mind to every customer we meet.
Listen To Our Radio Ads!