Get a Free Inspection on Pest Control in Fullerton
What kind of problem are you having? Select all that apply.
Pest Control In Fullerton
Southern California is a great place to live, but it's also a place where bugs thrive by the millions. Don't let your home become a free ride for pests, and get them out before it becomes a problem you will regret. Whether you have an existing infestation or just want to proactively protect your home from bugs, we are here to help!
Our professional exterminators in Fullerton will protect your home against:
Ants
Bees
Spiders
Bed Bugs
Carpet Beetles
Ticks
Wasps
Rats
Moles
And more!
Image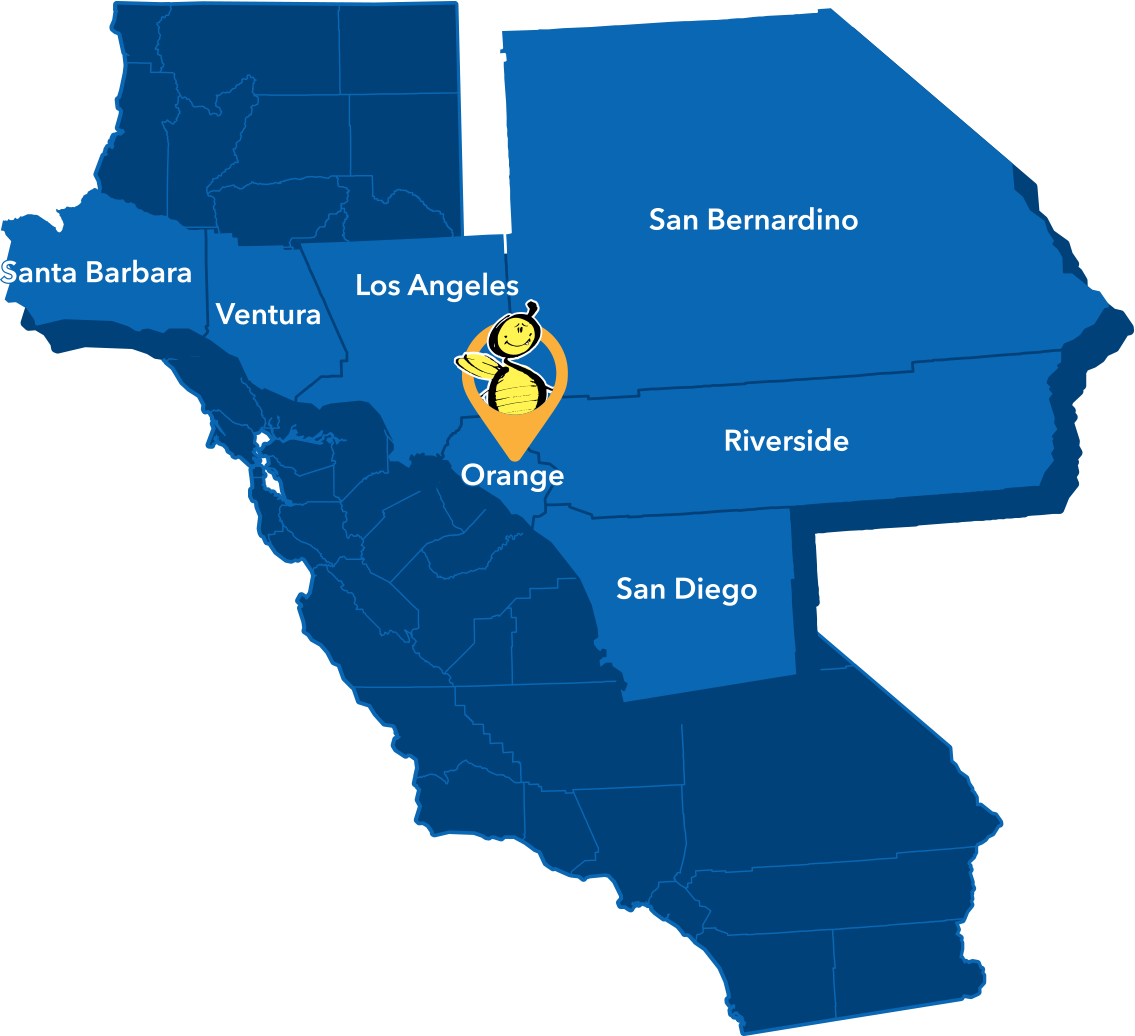 Professional Extermination Methods That Keep Bugs Out
When we approach an infestation, we don't just treat it—we take a comprehensive approach to ensure maximum satisfaction and protection against pests. When you team up with the bugman for pest control, our  services will take care of any infestations you might face! For pest control packages starting at $52 a month, call today!
Our pest control in Fullerton includes:
FREE inspection of your home.
Monthly, bi-monthly, and quarterly treatment options.
Advanced and effective pest control treatment methods.
Excellent customer service from professional exterminators.
100% Satisfaction Guaranteed!
Termite Treatment In Fullerton
Termites are one of the most destructive insects in the world—especially considering how small and not easily detectable they are. They band together to create colonies, and then destroy your home from the inside out. Let the bugman save you thousands of dollars with our professional termite control in Fullerton!
Our Protection Plan is Guaranteed to Work!
When you're in the midst of a termite infestation, it is extremely difficult to get them out.  They can hide in the cracks and crevices of your home, and even if you think you are in the clear, they can return in a short period of time. With our Termite Protection Plan, you can rest assured knowing that these critters will be a thing of the past in your home!  After your home has been inspected by our expert exterminators and all termites have been eliminated, we give you the ultimate relief because if you have any problems in between annual inspections, we will re-treat your home—at no cost to you!
Bed Bug Treatment In Fullerton
Are you worried that you have a bed bug infestation and don't know what to do about it?  Don't worry a minute longer; the bugman is here to provide effective treatments that will leave you and your family safe and sound in your beds once again with our bed bug treatment in Fullerton.
Comprehensive Treatments For Maximum Relief From Bed Bugs
There are few things quite as miserable as not being able to enjoy your own bed at night. Bed bugs are nasty, invasive pests that hitch rides on luggage, pets, and even people. Once they enter your domain, it is tough to get them out because of their stealthy nature. If you have this problem, give the bugman a call, and our exterminators will get them out in no time using our advanced bed bug removal system. This is how it works:
Step 1: Detailed Inspection. We will send a state licensed and certified inspector to measure the severity of your bed bug problem and where exactly they are living.
Step 2: Customized Treatment Plan. Based on the findings of the inspection, our technician will work with you to create a treatment plan that is in the best interests of you and your home.
Step 3: Complete Removal of Bed Bugs. Using state-of-the-art technology, our technician will completely wipe out your infestation.
Step 4: Ongoing maintenance. To ensure that your home stays bed bug-free, we will return to your home to conduct follow-up treatments.
Rodent Control In Fullerton
Rodents such as rats and mice can put your family in harm's way in the blink of an eye. Food contamination, several different diseases, and physical harm are just a few of the ways that rodents can be detrimental to the health of your family.  Seek the relief you need and deserve with the bugman. We offer rodent control, rat trapping, mouse trapping, and rodent removal services - allowing you to live in peace once again!
Our rodent control in Fullerton includes:
FREE rodent inspection of your home.
Expert advice from one of our technicians on how to control rodent populations and keep them out in the future.
Total elimination of rodents using advanced and humane methods such as baiting, rat trapping, mouse trapping, and more.
Exclusion work around your property to seal any cracks or holes that rodents can access to get into your home.
Ant Control In Fullerton
Have an ant infestation and don't know how to keep them from coming back every time? Don't worry! The bugman has the perfect recipe for success. When you choose our ant control in Fullerton, we guarantee that we can not only get them out, but keep them out! This is how our ant control works:
First, we will send a technician to your home to complete a thorough inspection to find out where ants are most active in your home.
Next, your technician will consult with you to create a customized treatment plan to fit your exact wants and needs of the treatment.
After a plan is created, we will use effective and proven methods to eliminate ants from your home.
Lastly, we will conduct on-going maintenance on your home to ensure they stay out!
Experts In Pest Control For 65 Years
When you choose the bugman for your pest control, you're not just working with a pest control company. Our goal is to eliminate bugs from your home, but our main mission is to give you complete satisfaction throughout the entire process. Even if you don't reside in Fullerton, our Anaheim pest experts service many different cities in Southern California. When you partner with the bugman, we can guarantee that you will have a positive experience. Here's why:
Friendly and trusted pest professionals.
Unmatched customer service.
Same-day service.
Saturday service.
Easy payment options.
Flexible scheduling.
100% satisfaction guaranteed
And much more!