What kind of problem are you having? Select all that apply.
Pest Control in Surfside
With over 65 years of experience in the industry, the bugman is your trusted local pest control service in Surfside. Our expert exterminators are dedicated to providing the highest quality pest control solutions to homeowners and businesses alike. From residential pest control to commercial pest management, we have got you covered. We are proud to offer:
Same-day service to address your urgent concerns promptly.
Family-friendly treatments that prioritize your safety and well-being.
Over six decades of experience in the pest control industry.
Exterminators who are experts in the latest pest control techniques and practices.
A 100% satisfaction guarantee ensuring your peace of mind.
Image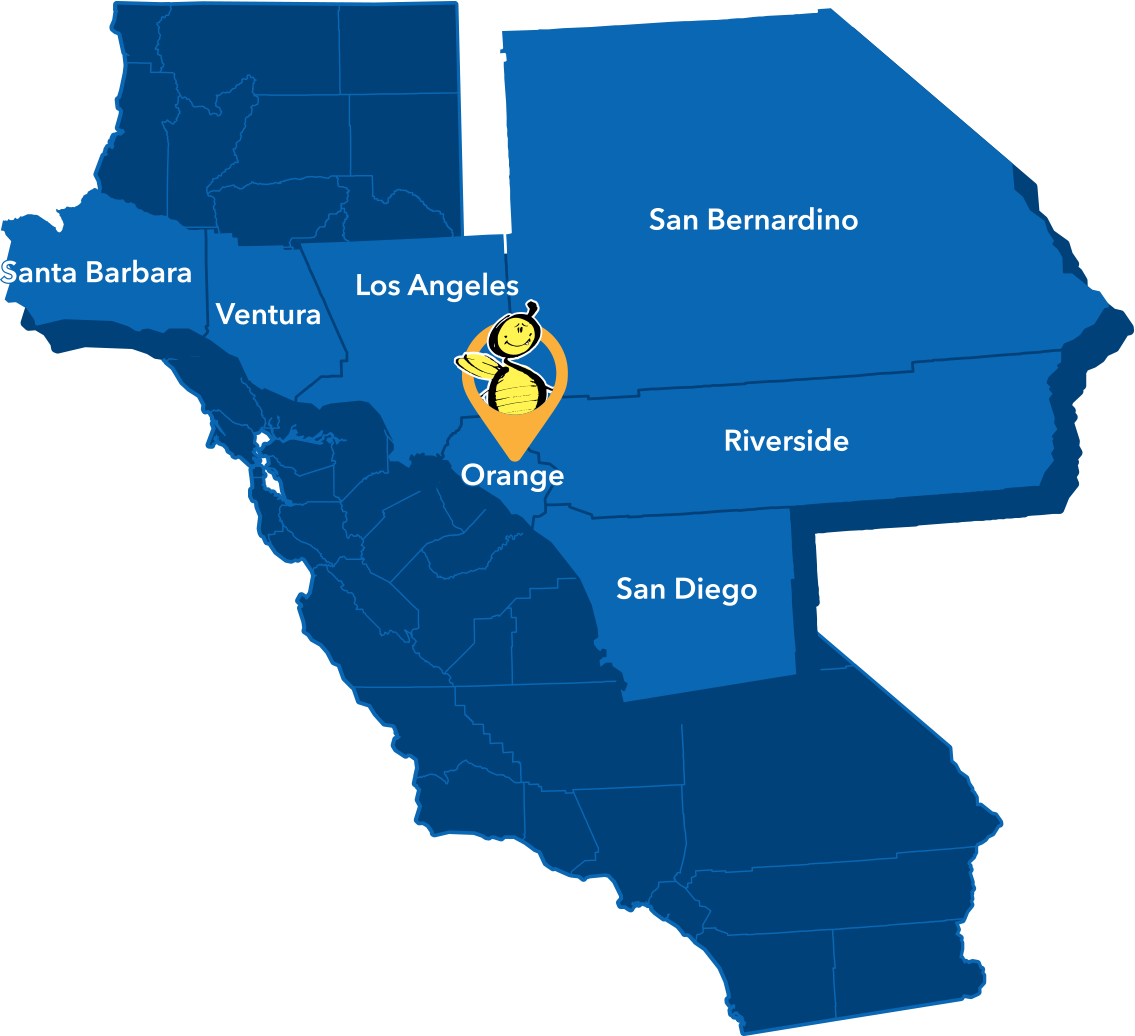 Same-Day Pest Control You Can Count On
At the bugman, we prioritize your satisfaction and convenience. That's why we offer same-day service, ensuring a quick response to your pest control needs. Plus, our family-friendly treatments are designed to be safe for your loved ones and pets while effectively eliminating pests. Call our Anaheim pest exterminators today for protection against: 
Ants
Spiders
Bees
Bed bugs
Termites
Ticks
Wasps
Roaches
Hornets
Rats
And more!
Termite Exterminator in Surfside
Your home is one of the biggest investments you'll ever make, so why not protect it? Don't let these destructive wood-destroying insects ruin your investment. Act now and avoid the costly consequences later! Our termite exterminators in Surfside offer:
Family-and-Pet-Friendly Treatments: Our termite control in Surfside utilizes safe and effective methods that are gentle on your loved ones and pets.
Ongoing Termite Control, Monitoring, and Prevention: We offer comprehensive inspections and continuous monitoring to ensure that your home remains termite-free.
Comprehensive, Free Inspections: Our team will conduct a thorough inspection to identify any signs of termite infestation and create a customized plan for eradication.
Over 65 Years of Experience: With our extensive experience, you can trust us to eliminate termites and protect your home in Surfside.
Rodent Exterminator in Surfside
Are you tired of dealing with unwanted rodent guests in your home? Look no further! Our rodent control service in Surfside is here to provide you with comprehensive and reliable solutions to get rid of rats and mice for good. We understand that Surfside's unique features naturally attract these pests, and we are here to help you prevent future infestations. Call us today for:
Free Inspections: When it comes to effective rodent removal in Surfside, California, we start with a thorough inspection of your home. 
Exterior Rodent Baiting: By strategically placing bait stations, we can effectively eliminate rats and mice, preventing them from entering your home.
Interior Trapping: In addition to exterior baiting, we also employ interior trapping techniques to remove any existing rodents from your home.
Rodent Exclusion: We will seal entry and exit points, making it nearly impossible for rats and mice to invade your home again. This proactive approach ensures a long-lasting solution to your rodent issues.
Recurring or One-Time Rodent Control Services
We understand that every home is different, so we offer recurring and one-time rodent removal services. Whether you prefer ongoing protection or just need a one-time solution, we have you covered. Call the bugman today to put an end to these unwanted visitors!
Ant Exterminator in Surfside
Looking for quick and effective ant control in Surfside? Look no further! We offer same-day residential ant control services to eliminate these common household pests and give you peace of mind. Here's what we can offer you:
Experienced Exterminators: Our skilled technicians are experts in ant control and will use state-of-the-art equipment to get rid of these pesky pests.
Family & Pet-Friendly Treatment: Our ant control methods are safe for your family and pets, ensuring their well-being throughout the process.
Recurring Treatments: To provide long-term protection against ants, we offer recurring treatments to keep your home ant-free.
Same-Day Service: We understand the urgency of ant infestations, which is why we offer same-day service to tackle the problem as quickly as possible.
Don't let ants take over your home! Contact us today at 714-406-4949 to schedule a pest inspection and get rid of ants for good.