Exterminators With Rapid Relief In La Habra
What kind of problem are you having? Select all that apply.
Pest Control In La Habra
Pests make awful house guests. Termites and rodents do billions in damage to homes in the U.S. each year, mosquitoes spread dangerous illnesses like the West Nile and Zika Viruses, and bed bugs can rob you of your sleep and sanity. If you're tired of sharing your home with pests, let the bugman take the wheel. Since 1958, we've been protecting people like you with our pest control in La Habra. We can handle any local pest:
Ants
Bed bugs
Rats
Carpet beetles
Spiders
Bees
Ticks
Wasps
And more!
Image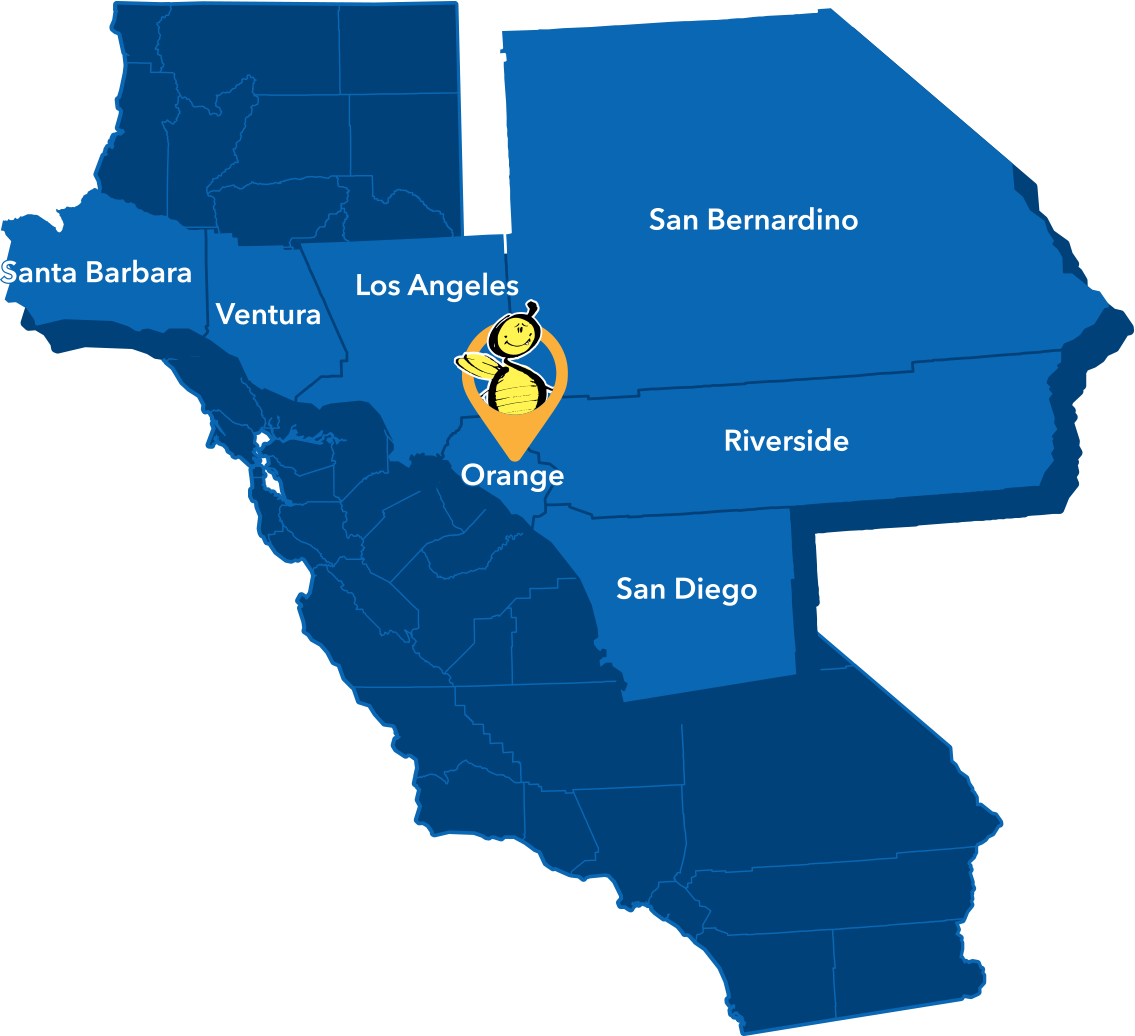 Guaranteed Comprehensive Pest Treatments for Real Results
Pest control in La Habra might seem like a complex process. Many pests like termites and bed bugs can be hard to spot and even harder to remove, and rodents and stinging insects can be dangerous to tackle on your own. If you want La Habra pest control you can trust, you want the bugman. Our comprehensive pest treatments in Lahabra includes the following:
A FREE thorough inspection to identify pests and their habitats in your home
A tailored treatment plan made to meet your unique needs
State-of-the-art equipment to remove past quickly and easily
Recurring treatments to keep your home pest-free for the future
A satisfaction guaranteed—if pests come back, so do we!
Trust the Experts in Eco-Friendly Treatments 
Dealing with pests on your own can be risky: at the very least, you might waste your money on DIY treatments that don't help or cause damage to your home. At worst, you'll be dealing with harmful pesticides that can make you and your loved ones sick. Thankfully, the bugman offers family-and-pet-friendly treatments administered by our state-licensed and certified Anaheim exterminators, meaning you'll be in good hands. What's not to love?
Rodent Control in La Habra
As a homeowner, you never want to wake up one day to find that rodents have gotten into your home. Unfortunately, they're quite good at it, making rats and mice a formidable adversary for even an experienced pest control professional. With the bugman working for you though, you can rest easy knowing that you're protected from even the most severe and stubborn infestations. Our rodent control in La Habra is designed to meet your needs, offering a wide variety of mouse and rat treatment services, including:
A FREE inspection of your entire home from a licensed rodent exterminator. 
Flexible rodent removal plans to get the results you need. 
Protection from rats, mice, and more. 
Long-lasting exclusion treatments to prevent future infestations. 
Rodent prevention tips, advice, and education from a local expert.
A rat and mouse-free home guaranteed!
Termite Treatment in La Habra
Termites love Southern California. Whether it's the hot and dry inland areas or the more mild coast, these tiny wood-destroying insects will find something to like. And your home may be even more vulnerable than you think. Nationwide, termites are responsible for more than $5 billion worth of damage each year, making them far and away the most destructive household pest around. As shocking as this is, you're in good hands when you put your trust in the bugman. Our termite treatment in La Habra is designed to keep your home safe all year with a number of dependable services, including:
FREE home inspections from a local termite exterminator.
Custom-designed termite treatment plans to address even the most severe infestations.
Flexible scheduling to work around your busy life.
Plans which utilize only family-friendly products.
And many more!
Time is everything when it comes to dealing with wood-destroying insects. If you suspect that your home is the victim of even a mild infestation, let us know and book your FREE termite inspection today!
Ant Control in La Habra
Ants are known as one of the most persistent pests you can deal with as a homeowner. But with our team on your side, you can be confident that even the most advanced and difficult infestations will be a thing of the past, and each of your ant treatment needs will be met and exceeded. 
With our expert ant control in La Habra, you can expect: 
A free house inspection

by one of our trustworthy ant exterminators. 

A personalized treatment plan

created with your needs in mind by our technician.

Full guarantee of total elimination

of every ant found on your property.

Follow-up maintenance

to be sure of full, year-round protection.
For 65 years, the bugman has been assisting in the removal of all kinds of pests from your Southern California home, so you can rest assured that our team of ant exterminators will get the job done!