Fast, Reliable Santa Ana Pest Control
What kind of problem are you having? Select all that apply.
Pest Control in Santa Ana
As a locally owned business, we know exactly what pests you're up against, because we deal with them too! Our experience means we know all the ins and outs for pest control in Santa Ana, allowing us to provide fast relief. With our advanced techniques and top notch products, we will protect your home from nuisances including:
Spiders
Bees
Termites
Wasps
Bed bugs
Rats
And more!
Image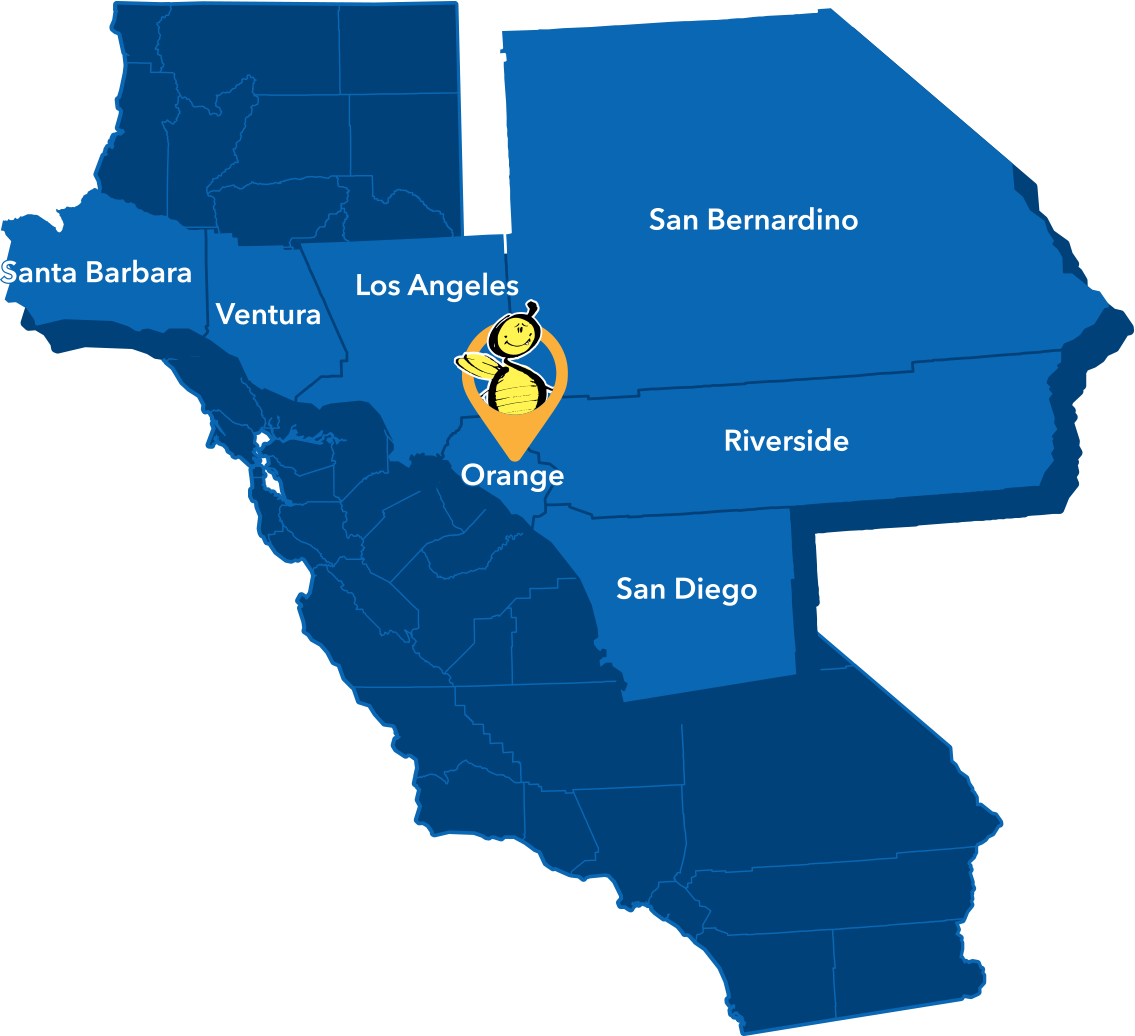 Sant Ana Exterminators Providing Protection from Pests
With 65 years of experience under our belt, we know how to eliminate a variety of pests, including the ones pestering you. While bugs and rodents can be overwhelming, when you trust our Anaheim pest control services, stress and failed DIY treatments are all a thing of the past. With our pest control in Santa Ana, you can expect:
A free, detailed inspection of your home: A state-licensed and certified inspector will determine the extent of your bug problem.
Advanced pest control methods: Our treatments are not only effective but safe for the environment and your family.
Treatment options that fit your needs: We offer monthly, bi-monthly, and quarterly treatments so there's always something for you.
Polite, professional technicians: Every technician we hire is an expert who you can trust in your home.
Our 100% satisfaction guarantee: If you are not completely satisfied with our services, we will happily return to fix the issue.
Say Goodbye to Pests with Same Day Service
Insects and rodents can make you uncomfortable in your own home, so when they invade, you need fast relief. That's why we're proud to offer same-day services, so you can get back to relaxing without worrying about what's lurking in your home. We know infestations can pop up at inconvenient times, which is why we also offer flexible scheduling, making pest control in Santa Ana as hassle-free as possible!
Termite Treatment In Santa Ana
If your home is under siege by termites, you need expert help. These insects are capable of doing massive damage to your home's structural integrity, and their destruction is rarely covered by home insurance. Look no further than the bugman for termite treatment in Santa Ana! As a locally owned pest control company with 65 years of experience, you can rest assured your home will be termite-free in no time. 
Our family-friendly termite treatment includes the following:
A FREE inspection to identify your home's needs and the extent of your infestation.
Termite extermination from state-certified technicians and a company with 65​​​​​​​ years of industry experience.
A personalized treatment plan to effectively eliminate and control the termite colony.
Free follow-up services and annual inspections.
The peace of mind of a guaranteed termite-free home!
Rodent Control In Santa Ana
If rats and mice are wreaking havoc on your home and health, it's time for a change. These frustrating pests can use a hole as small as a dime to enter your home, and they bring foul odor and diseases like salmonella and Hantaviruses. It's safe to say they make bad house guests! For relief, look no further than your neighbors at the bugman. Since 1958, we've been providing top-of-the-line rodent control in Santa Ana that relies on family-and-pet-safe treatments to rid your home of rats and mice for good.
Call us today and get the following from your certified rodent exterminator in Santa Ana:
A no-cost inspection to identify how rodents have entered your home.
Exclusion work to seal entry points and remove existing rodents.
Same-day service to stop these pests before they do more damage.
Our satisfaction guarantee—if rodents return, we'll be back to set it right, for free!
Quality Service at a Quality Price 
Why waste money on mouse traps and dangerous rat poisons when guaranteed professional help is only a call away? The bugman is proud to provide you with quality rodent control and pest treatment in Santa Ana that is affordable and reliable. In fact, if you contact us today, you can save $50 on rodent exclusion!