Same-Day Pest Control In Yorba Linda
What kind of problem are you having? Select all that apply.
Pest Control In Yorba Linda
The bugman has been helping homes all across Southern California stay pest-free since 1958.  With 65 years of experience in the industry, we simply know what works best to get pests out of your home in an effective and efficient manner. We offer exemplary pest control services that will get pests out of your home and allow you to live peacefully once again!
Image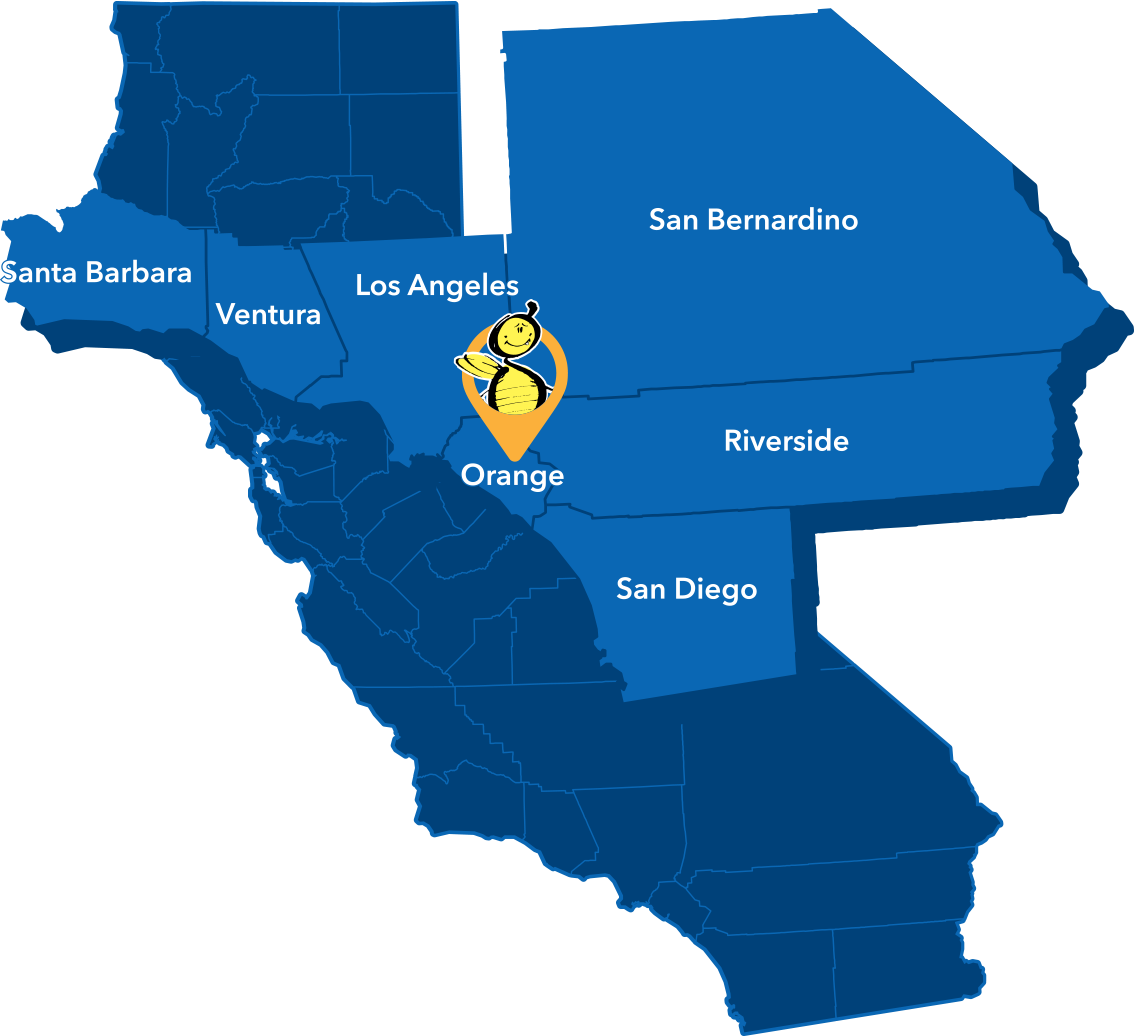 Home Pest Control Services In Yorba Linda
No matter what type of pest you're dealing with, you can bet that our technicians will know how to eliminate them.  With our pest control in Yorba Linda, we specialize in eliminating pests such as:
Cockroaches
Ants
Bed Bugs
Mice
Rats
Carpet Beetles
Ticks
Wasps
Bees
Moles
Spiders
Centipedes
And much more!
Comprehensive Approach To Pest Control
When you partner with the bugman for your pest control in Yorba Linda, you will receive a comprehensive treatment plan that will leave you with a pest-free home in no time.  We don't just treat your home—we cover all bases by starting with a FREE inspection by a state licensed and certified inspector to see what type of pests you're dealing with and where the source of the infestation is.  Next, our professional technicians will eliminate all pests by utilizing our state-of-the-art pest technology.  Once pests are out of your home, you can choose either monthly, bi-monthly, or quarterly recurring treatments to keep your home pest-free all year long.  As always, we back each pest treatment with our 100% satisfaction guarantee.  So if pests return to your home, we will come back as soon as possible to re-treat at no additional charge! If you are located outside of Yorba Linda, our expert exterminators in Anaheim service many different cities in SoCal.
Rodent Control In Yorba Linda
If there's one thing you don't want taking advantage of your home—it's rodents.  Rodents can cause your family a great deal of harm and take a huge chunk out of your wallet from expensive repair bills.  Being notoriously elusive creatures, rodents can fly under the radar in your home, destroying it by the minute without you even knowing until it's too late.  If you have a rodent infestation or simply just want to prevent one, the bugman can help.
When you trust our rodent control in Yorba Linda, you'll receive:
FREE evaluation of your home by a state-licensed and certified inspector to identify areas of infestation.
Professional advice from one of our technicians on how to prevent rodent infestations.
Complete elimination of rodents using humane methods.
Sealing of entry points that rodents use to gain access to your home.
Dealing with rodents? Give our team a call at 714-406-4949 today!
Termite Treatment In Yorba Linda
If you are worried you might have a termite infestation, you need to seek help immediately.  Termites are highly destructive insects that can cost you thousands of dollars of damage if not cared for.  Here at the bugman, we offer the ultimate protection against termites with our termite control in Yorba Linda.  After our technicians go in and inspect your home to see what type of termites you are dealing with, they will use proven methods to remove the termites and save your home from these wood-destroying pests.  We offer you peace of mind with our Termite Protection Plan. This means if termites return in between yearly inspections, we will return to your home and treat it—free of charge!
Bed Bug Treatment In Yorba Linda
Having trouble sleeping at night knowing there are bed bugs in your home?  Don't worry—the bugman knows exactly how to get them out. With our bed bug control in Yorba Linda, the experts at the bugman can eliminate these annoying bugs and let you sleep soundly in your bed once again without fear of them returning in the future.
Hassle-Free Bed Bug Removal
Here at the bugman, we understand how frustrating a bed bug infestation can be for your family.  Get the relief you deserve with our bed bug control in Yorba Linda. This is how our 4-step bed bug removal system works:
Step 1: Thorough inspection of your home to identify breeding grounds of bed bugs.
Step 2: Customized treatment plan created by one of our technicians.
Step 3: Total elimination of bed bugs using effective and eco-friendly methods.
Step 4: Ongoing maintenance of your home to ensure bed bugs stay out!
Ant Control In Yorba Linda
Do you have an ant infestation and they keep coming back no matter what?  With the bugman on your side, ants can be a thing of the past. Our experts get to the root of the problem fast, leaving you with an ant-free home to enjoy!  This is what you can expect with our ant control in Yorba Linda:
FREE evaluation of your home to measure the severity of the infestation.
Personalized treatment plan created by our technician catered to your wants and the specific needs of your home.
Elimination of ant colony using quality ant control treatments.
Follow-up maintenance of your home to keep your home ant-free all year long!
Trusted Pest Control In Yorba Linda Since 1958
If you're wondering if you should trust the bugman, our reputation speaks for itself!  We have been a leader in pest control in Yorba Linda for 65 years—helping to maintain the health and safety of our neighbors since day one.  As a locally owned and operated business, our neighbors like you are our livelihood. You can always bet that you will receive top-notch customer service from people who care when you receive services from the bugman. This is why you should choose the bugman:
Customer service that goes above and beyond.
Same-day service.
Saturday service.
Flexible scheduling
Friendly and professional technicians.
A passion for helping families in need.
Easy payment options.
100% satisfaction guaranteed.
And more!
Sign up for our pest control package today with prices starting at $52 a month