Get a Free Pest Control Inspection in Irvine
What kind of problem are you having? Select all that apply.
Pest Control In Irvine
From ants crawling around your kitchen to wasps swarming your backyard, we've seen it all! Our Irvine exterminators are experienced locals who know exactly how to safely eliminate your pest problem. We provide quick and effective relief from pests, giving you back your home and peace of mind.There are a variety of pests that want to find their way into your home, but with the bugman, you don't have to worry about them. Our Irvine pest control keeps your protected from:
Ants
Bed bugs
Cockroaches
Wasps
Ticks
Rats
Termites
Spiders
And much more!
Image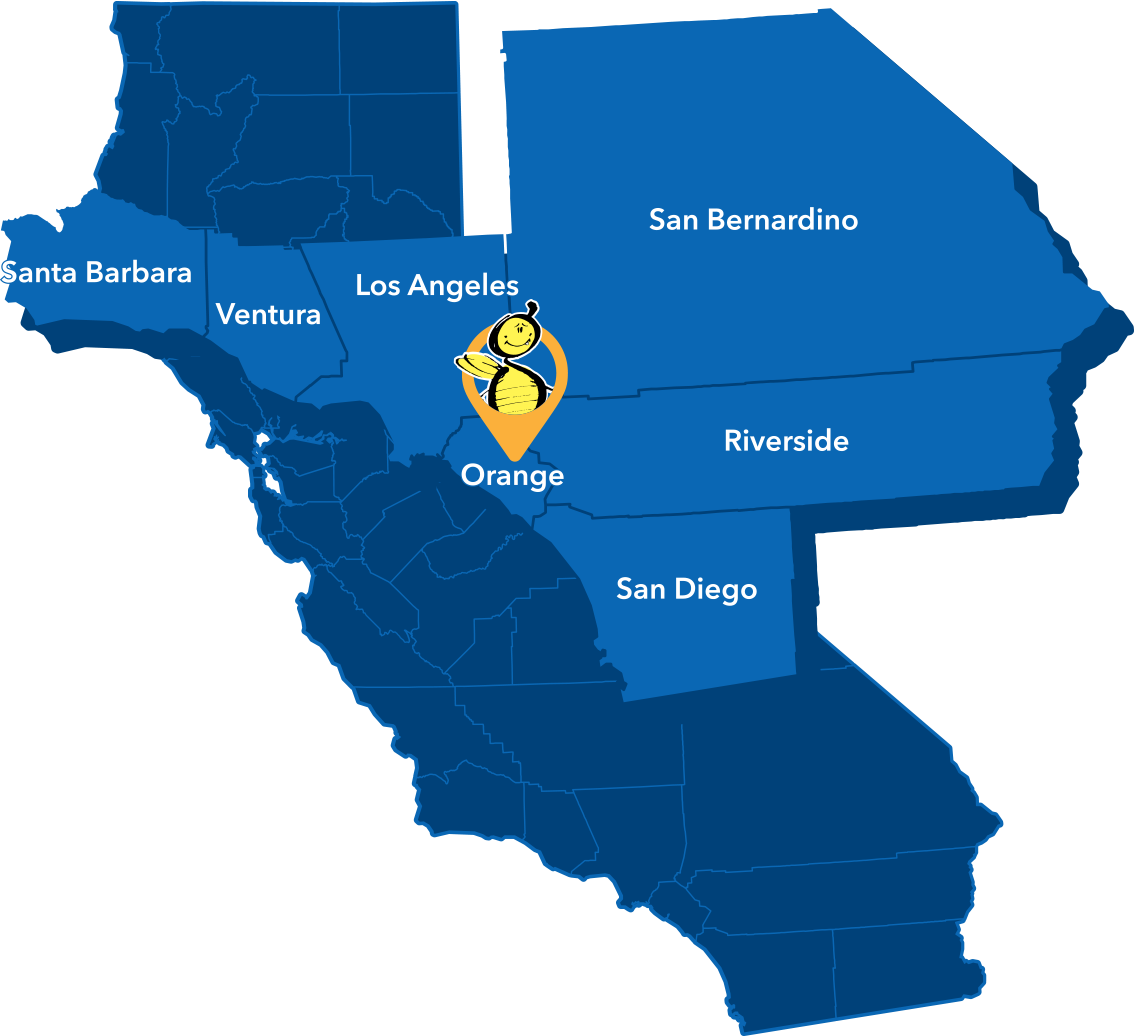 Proven Pest Protection
With over 60 years in the industry, we have our Irvine pest control process down to a science, so you can rest assured you've made the right choice with the bugman. All of our Irvine exterminators are state certified and use top of the line products that will have you seeing results in no time. When you trust us to make your home pest-free, you can expect:
A free detailed inspection by one of our certified inspectors to determine the extent of your infestation.
A friendly, knowledgeable technician who will address any questions and concerns you may have. 
Advanced treatments using eco-friendly products that won't harm you or your family.
Recurring visits to maintain the barrier against pests and ensure none have managed to sneak in.
Our 100% satisfaction guarantee, because we aren't happy unless you are.
Same Day Service for Fast Relief
Pests don't let you know when they plan on invading your home, and they can pop up at any time. Once you notice pests in your home, you want them out, and fast. That's why we offer same day service! With the bugman, you don't have to wait for the relief you deserve. In addition to same-day service, we also offer flexible scheduling options that work around your life. Our exceptional pest control in Irvine is hassle-free, and you can call today for packages starting at $52 a month!
Not in Irvine? Our Anaheim exterminators service many different areas in Southern California!
Rodent Control In Irvine
Catching sight of a large, furry rodent scurrying through your house can be a frightening experience. As a homeowner, you have good reason to fear the sight of rodents in your house.  Rats, mice, and other rodents can destroy the structural integrity of your home and chew through anything from walls to wires. Rodents are known to carry up to 35 diseases, meaning the health of your family is also at risk when rodents are present. If you want to rid your house of these dangerous creatures, the bugman is here to help with our quality rodent control in Irvine.   
Our Rodent-Free Guarantee 
As a family-owned and operated company providing pest control since 1958, we understand the importance of protecting your family from dangers like rodents. Our comprehensive rodent control is designed to get rid of mice, rats, and other rodents.  When you work with the bugman, our highly trained and knowledgeable rodent exterminators will provide the following services:  
A FREE rodent inspection of your home by our state-licensed and certified rodent inspector.
Removal of all rodents with effective, family-friendly treatments. 
Preventative treatment including sealing all entry and exit points to prevent future problems.
Tips and tricks from our experienced rodent exterminators about what you can do to eliminate risk of rodent infestations.  
Your health and safety are our highest priorities, which is why our rodent control in Irvine is backed by a 100% satisfaction guarantee. If rats or mice return between treatments, we will revisit your home and fix the problem at no additional cost.  
Get Rid of Mice and Rats Today
Dealing with rodents in your house can be exhausting, but scheduling rodent control doesn't have to be. At the bugman, we make rodent control hassle-free with same day service and flexible scheduling. If you are worried that rodents are eating away at your home and health, don't wait to act. We have the solutions you need and will treat your home at your convenience.  
Say goodbye to rodents and hello to a happy, healthy home by calling the bugman at 714-406-4949 today. 
Termite Treatment In Irvine
Just because termites are out of sight, doesn't mean they should be out of mind. These insects are tiny and tricky to detect, but the damage they cause can be catastrophic. Although tiny pests, they work together in colonies of more than 60,000, eating away at the very structure of your home. Ignoring a termite infestation or catching it too late could result in thousands of dollars of repairs. Take action now to protect your home and your wallet by partnering with the bugman. With our effective and affordable termite treatment in Irvine, we can rid your home of termites and your mind of worries. 
Save Money on Unbeatable Termite Control
After more than fifty years of protecting properties in Southern California from pests, we know what it takes to stop them from destroying your home. Our highly trained and experienced termite exterminators will identify the specific termite problems affecting your home and customize a treatment plan to meet your exact needs. 
When you partner with the bugman, you will receive:
A FREE termite inspection to determine the extent of the infestation and the species you are dealing with.
A treatment plan customized to eliminate existing infestations and prevent future termite problems.
Flexible scheduling and hassle-free service.
100% satisfaction guarantee: any re-treatments needed between services will be completed at no additional cost. 
If you are interested in the bugman's unbeatable termite control in Irvine, we have good news for you. Right now, you can save $100 on your first treatment! With affordable, family-friendly protection right around the corner from your home in Irvine, there's no reason to wait for a termite-free and protected home. Put termites out of sight and out of mind once and for all. Contact us now for same-day service at 714-406-4949!  
Ant Control In Irvine
No one wants to share their home with ants. These pests are challenging to defeat thanks to their advanced communication abilities—ant colonies work as a unit to find food and shelter, meaning that once one ant has found its way into your home, more are sure to follow. If you're sick of ants taking over your home, it's time to call the experts at the bugman. Since 1958, we've been the leaders in ant control in Irvine thanks to our same-day service and guaranteed ant treatments.  
With the bugman, you can expect the following from your ant exterminator in Irvine: 
A FREE inspection of your home to assess the state of your infestation.
A personalized treatment plan tailored to your home's needs.
Family-and-pet-friendly ant control treatments you can trust.
On-going maintenance and monitoring to keep ants out for the long run!
Save $50 on Guaranteed Ant Control
Sick of wasting time and money on ant control in Irvine without seeing results? We don't blame you. Here at the bugman, we are dedicated to providing top-of-the-line ant control at affordable prices. When you choose our ant exterminators in Irvine, you'll not only get fast, reliable service, but also the chance to save $50 on your ant treatment!