We Offer Same-Day Pest Control Services!
What kind of problem are you having? Select all that apply.
Pest Control in East Irvine
Are you dealing with pests in your home or business in East Irvine? Look no further than The Bugman, Southern California's trusted pest and termite company for over 65 years! With our extensive experience and commitment to customer satisfaction, we offer a wide range of top-notch pest control services to meet all your needs.
Contact our exterminators in East Irvine today for:
Free inspections on any service, including termite control!
Flexible scheduling and fast, same-day services.
Service from friendly exterminators with years of experience.
The best pest control in SoCal- guaranteed!
Image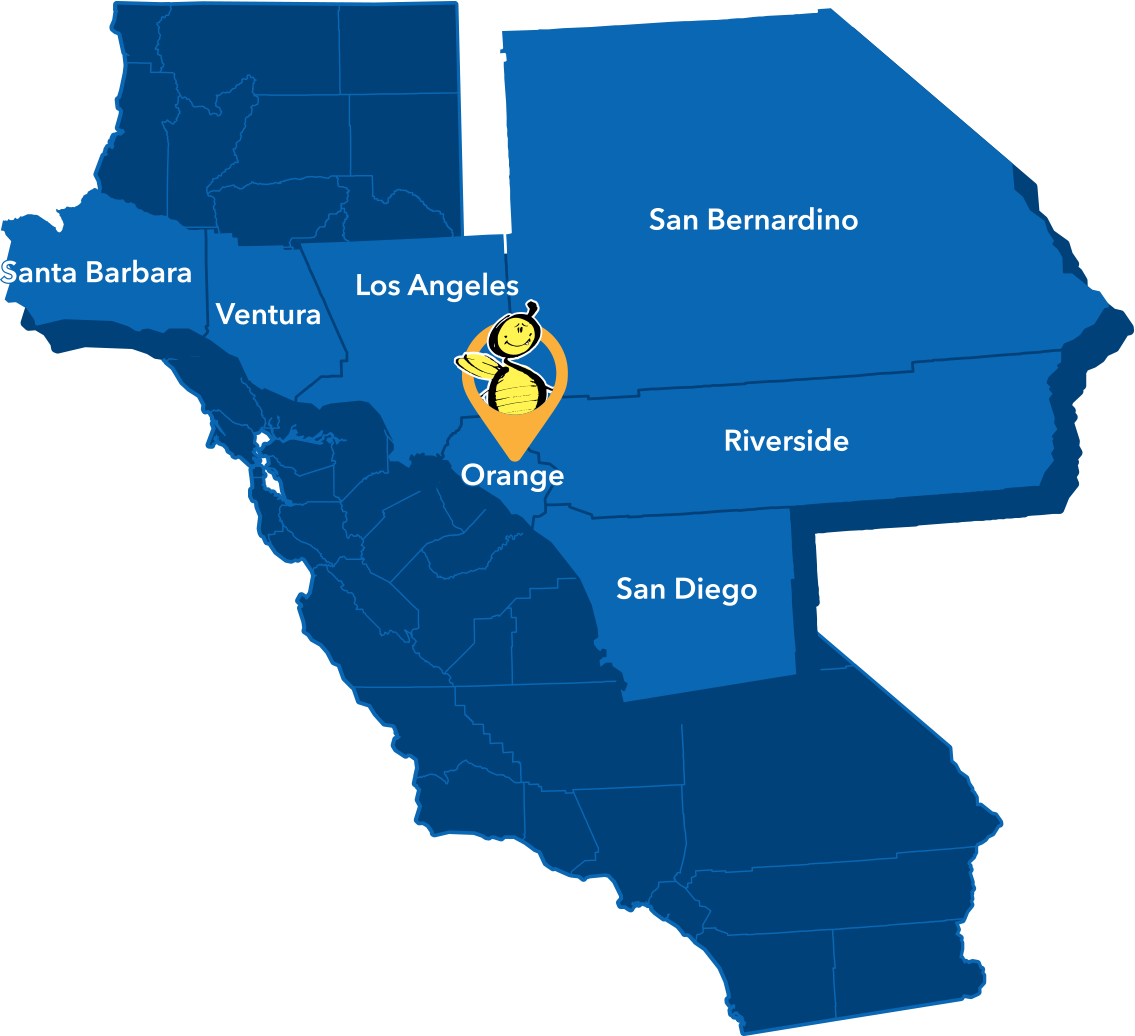 Locally-Owned Since 1958
With the bugman's local pest control services in East Irvine, you can expect prompt and reliable service from a team of dedicated professionals. Our goal is to exceed your expectations and ensure that your property remains pest-free. Since our customers are our neighbors, we treat your home as if it were our own. Experience the difference of the bugman today, and get protected from:
Ants
Spiders
Bees
Bed bugs
Termites
Ticks
Wasps
Roaches
Hornets
Rats
And more!
 Not in East Irvine? No problem. We offer pest control services in Anaheim and beyond. 
Termite Exterminator in East Irvine
Your home is a valuable investment and deserves the best protection possible. Termites can cause significant damage to your property if left unchecked, so taking action as soon as you suspect an infestation is crucial. Our termite control service in East Irvine specializes in eliminating these destructive insects efficiently and effectively. Call our team today for:
When to Schedule Your Free Inspection
 It's crucial to be proactive in identifying potential signs of termites, as these pests can be destructive and costly to eradicate. Here at the bugman, we offer free inspections to help identify any termite activity on your property. Here's an overview of the signs that indicate you may need an inspection:
Visible termites
Mud tubes around your foundations
Wood damage, including hollow-sounding wood
Discarded wings
Frass (termite droppings)
Bubbling and distorted paint
Rodent Exterminator in East Irvine
Is your home infested with rats and mice? Don't worry, we've got you covered! Our rodent control in East Irvine is here to help you get rid of those pesky rodents once and for all. Here's what you can expect from our comprehensive rodent removal service:
Free Rodent Inspection: Our licensed and certified inspector will thoroughly inspect your home to identify the extent of the infestation and determine the best course of action.
Exterior Rodent Baiting: We strategically place bait stations around the exterior perimeter to prevent rodents from entering your home, targeting their feeding habits and nesting areas.
Interior Trapping: For existing rodent infestations, our skilled technicians will set up traps inside your home to capture and remove the rodents safely and effectively.
Rodent Exclusion: We don't just remove the rodents; we also take measures to prevent them from coming back. Our exclusion methods seal entry and exit points, ensuring a rodent-free home in the future.
Living in East Irvine, California, with its beautiful parks and open spaces, it's no wonder that rodents are naturally drawn to the area. But with our team, you can rest assured that your home will be protected from these pests.
Ant Exterminator in East Irvine
If ants have invaded your home, our top-notch ant control services can help. Our goal is to give you peace of mind while effectively eliminating these common household pests. Here's why you should choose us for your ant control needs:
Fast and Efficient: We understand that you want those pesky ants gone as soon as possible. That's why we offer same-day service, ensuring that you receive prompt relief from the ant infestation.
Expert Exterminators: Our team consists of skilled and knowledgeable technicians who are experts in the field of pest control. They will use their expertise to assess your ant problem, develop a customized plan, and execute it with precision.
Thorough Inspection: Our exterminators will thoroughly inspect your property before devising a strategy to tackle the ant infestation. This allows us to identify the root cause of the problem and develop the most effective solution.
Safe for Family and Pets: We understand the importance of your family's safety. Our ant control methods are designed to be safe for your loved ones, including children and pets. We prioritize using environmentally friendly products to ensure the well-being of your household.