What kind of problem are you having? Select all that apply.
Pest Control in La Palma
Living in La Palma, Southern California offers endless reasons to love your home, from the beautiful weather to breathtaking scenery. However, the one downside is that bugs seem to love it just as much as you do! Luckily, our expert technicians have provided exceptional pest control services since 1958, ensuring that our community stays pest-free and you can enjoy a comfortable home. We protect against the following pests:
Ants
Termites
Wasps
Spiders
Bees
Fleas and ticks
Roaches
Hornets
Carpet beetles
Mice
Silverfish
Rats
Earwigs
And more!
Image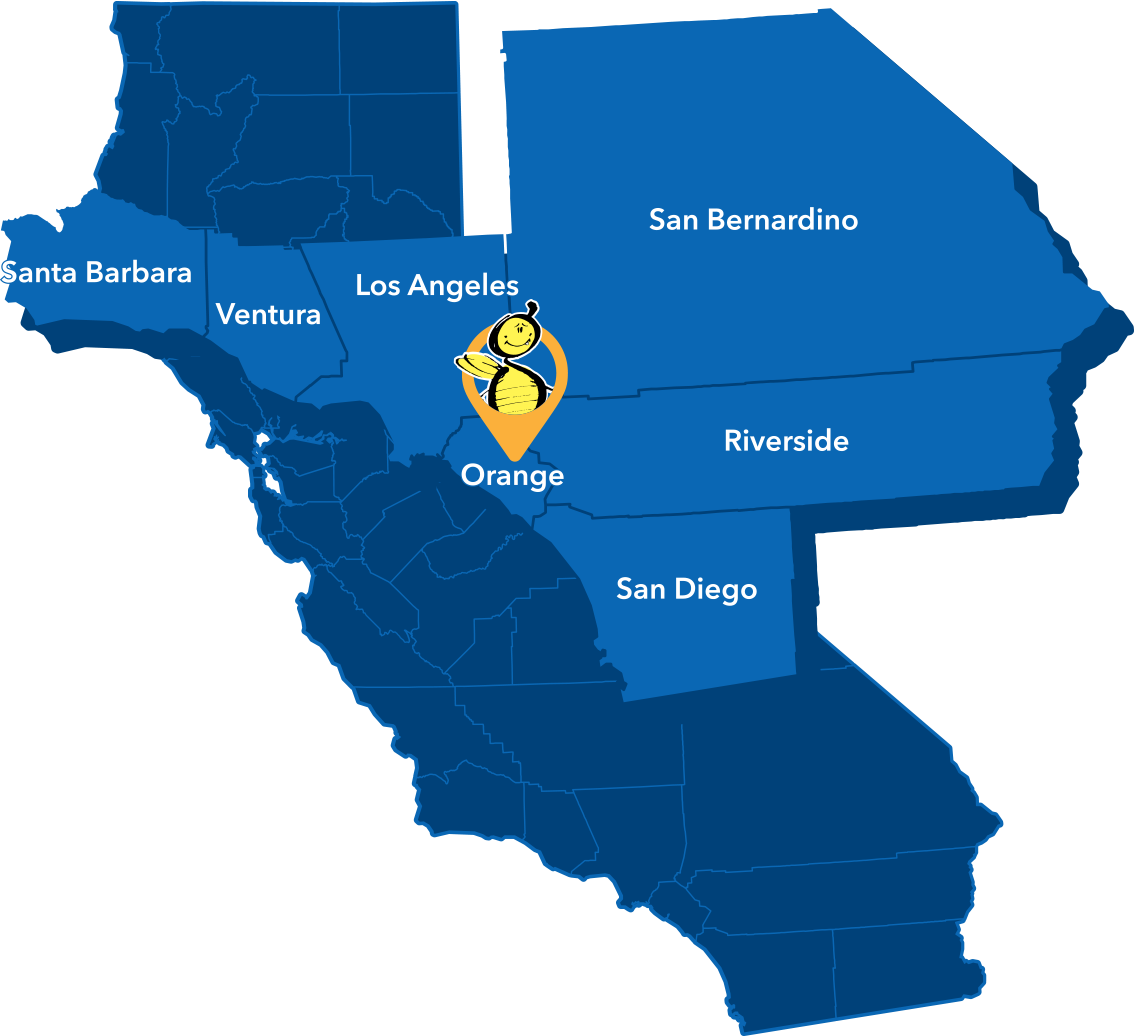 Quality Service With a Guarantee
Here at the bugman, our exterminators believe in top-notch customer service and quality work. When you sign up for our pest control services, you are guaranteed a pest-free home. If you're experiencing pests between visits, just call us, and we'll come back to re-treat at no extra charge! You can rest easy when you choose the bugman. 
Our pest control in La Palma also comes with:
Same-Day Service: We understand that pest problems require immediate attention. That's why we offer same-day service to quickly and efficiently address your pest control needs.
Family-Friendly Treatments: The health and safety of your family are our top priorities. We use family-friendly treatments that effectively eliminate pests without posing any harm to you, your children, or your pets.
100% Satisfaction Guarantee: We are confident in the quality of our services. If you are not completely satisfied with our pest control treatments, we will return to re-treat your property at no additional cost.
Service from Local Exterminators: Our Anaheim exterminators are experts in the problems we face here in Southern California and will treat your home like it's their own. 
Termite Exterminator in La Palma
Ongoing termite monitoring is a necessity for any homeowner. These pests are often referred to as "silent destroyers," eating their way into your home before you even notice it. To prevent this damage, call the bugman! Our termite exterminators in La Palma are equipped with all the tools to both eliminate and prevent infestations. 
Call our team at the bugman today for:
Family & pet-friendly termite treatments: Our termite exterminators in La Palma use safe and effective methods to eliminate termites without harming your loved ones.
Ongoing termite control: We provide continuous monitoring and prevention to ensure that termites never return to your home.
Comprehensive termite inspections: Our professional exterminators conduct thorough inspections to identify the extent of the infestation and develop a customized treatment plan.
65 years of experience: With our extensive experience in termite control, you can trust us to get rid of termites and protect your home effectively.
Customer Service that Exceeds Expectations
We understand the stress and worry that comes with a termite infestation. That's why we offer flexible scheduling to accommodate your needs. Our detailed inspection reports provide you with all the information you need, and our 100% satisfaction guarantee ensures that you are happy with our service.
Rodent Exterminator in La Palma
Located in California, La Palma holds a unique attraction for rats and mice. With its warm climate and abundance of food sources, these pesky pests find it ideal for nesting and breeding. Don't let them take over your home; take action today with our professional rodent exterminators in La Palma. Our service includes: 
1. Free Rodent Inspection: Our licensed and certified inspector will thoroughly examine your home, identifying any signs of rodent activity or potential entry points.
2. Exterior Rodent Baiting: Utilizing safe and effective methods, we strategically place bait stations around the exterior of your home to target and eliminate rodents.
3. Interior Trapping: If necessary, we will employ interior trapping techniques to capture any remaining rodents and ensure complete removal from your home.
4. Rodent Exclusion: Our experts will seal all entry and exit points, preventing rodents from reentering your home in the future. By addressing these vulnerabilities, we provide long-lasting results.
5. Recurring or One-Time Service: We offer flexible scheduling options to accommodate your needs. Whether you prefer ongoing prevention or a one-time solution, we've got you covered.
Ant Exterminator in La Palma
Looking for same-day residential ant control in La Palma? Look no further! Our experienced exterminators are here to help you get rid of those pesky ants that invade your home. Here's what we offer:
Quick and efficient same-day service to eliminate ants from your household.
A thorough pest inspection to identify the source of the ant infestation.
Effective methods to safely and permanently get rid of ants without harming your family or pets.
Recurring treatments to ensure long-term ant control and prevent future infestations.
Don't let ants take over your home. Call us now at 714-406-4949 to schedule your ant control service in La Palma. Say goodbye to ant problems and enjoy a critter-free home!