Pests Stressing You? - Get Same Day Pet Control In Placentia!
What kind of problem are you having? Select all that apply.
Pest Control In Placentia
Here in Southern California, we unfortunately have a multitude of pests that can use your home to their advantage.  Don't let pests take control of the home that you've worked so hard to maintain. Whether you have a current pest problem or just want to take measures to protect your home from them in the future—we have you covered.
Our pest control in Placentia protects against common household pests such as:
Spiders
Cockroaches
Carpet Beetles
Ticks
Wasps
Bees
Rats
Mice
Moles
Ants
Bed Bugs
Termites
And more!
Image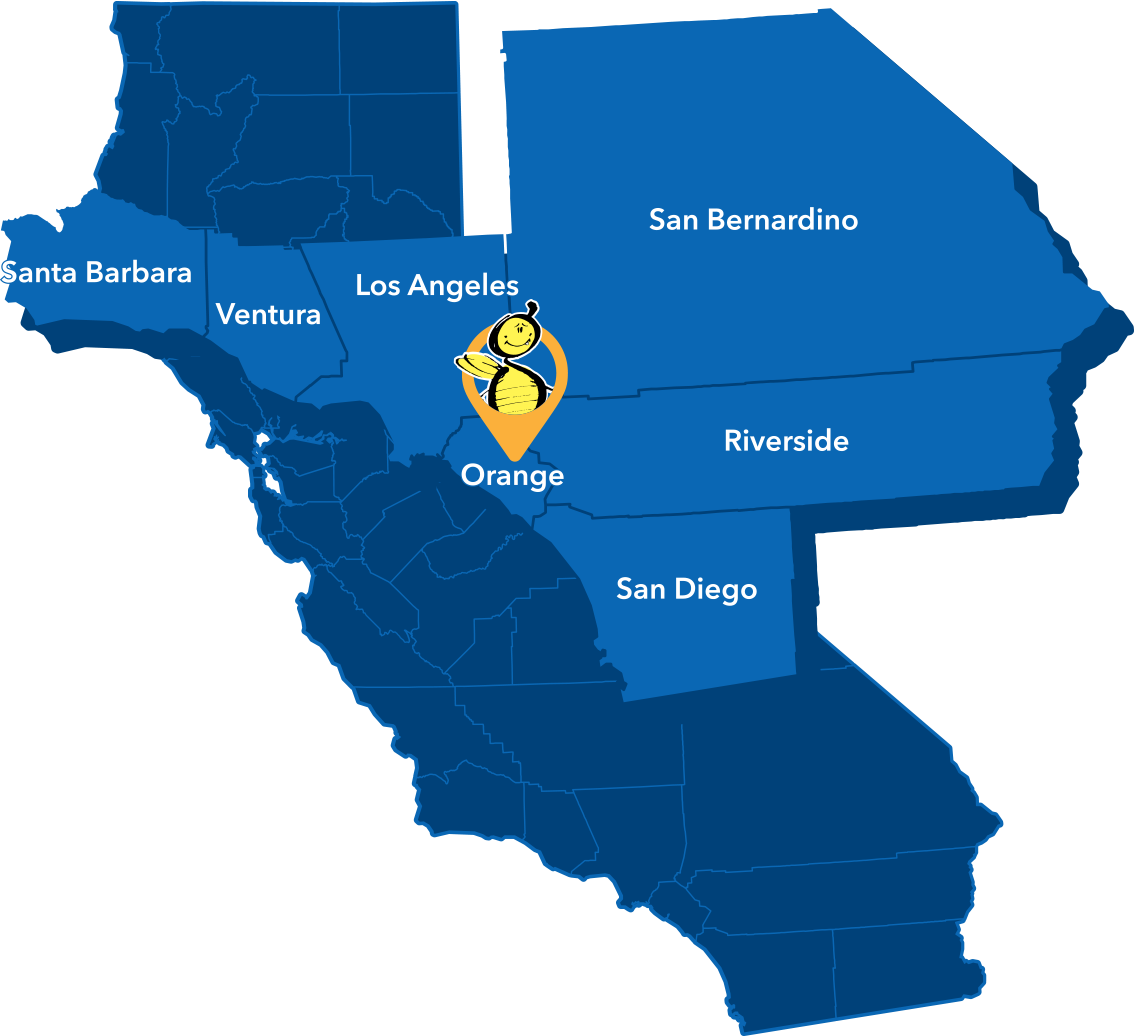 Comprehensive Pest Treatments That Work
Here at the bugman, we approach pest control in a different way than our competitors.  In order to ensure maximum relief from pests, we take a comprehensive look at your home.  From the initial inspection to the finishing stages of our treatments, we take the time to make sure everything is done the right way so you can live without the hassle of pests. This is what you can expect from our exterminators in Placentia:
FREE evaluation of your home by a state-licensed and certified inspector.
Several different treatment windows—monthly, bi-monthly, and quarterly services.
The most advanced and up-to-date treatment methods the pest control industry has to offer.
Customer service that goes above and beyond.
100% satisfaction guarantee!
Rodent Control In Placentia
Do you have rodents lingering in and around your home?  If you do, you need to get them out as soon as possible. Some rodents might seem cute and harmless, but the reality is that some rodents can cause serious damage to your home and put your family in danger.  Here at the bugman, we offer professional rodent removal techniques to protect your home from animals such as rats, mice, raccoons, and more. This is what you can expect from our rodent control in Placentia:
FREE inspection of your home to diagnose rodent infestation and determine best treatment for your home.
Professional advice from one of our technicians on how to prevent rodent infestations in the future.
Complete elimination of rodents in and around your home using humane removal tactics such as baiting and trapping.
Sealing of cracks and crevices around your home to prevent rodents from entering.
Termite Treatment In Placentia
For being small insects that might seem harmless, termites can really pack a punch.  Even though they don't put your family's health at risk, they can cause thousands of dollars in damage in a heartbeat.  With the bugman on your side, we can get to work on your home right away to get to the source of the infestation as quickly as possible.  This is how our termite treatment in Placentia works:
Free inspection to determine what type of termites are infesting your home.
State-of-the-art termite removal products and methods.
Termite Protection Plan: If they come back, we will return and treat your home for free!
Recurring treatments to keep your home termite-free all year long.
100% satisfaction guaranteed!
Bed Bug Treatment In Placentia
Tired of losing sleep due to bed bugs infesting the mattresses of your home?  When you partner with the bugman, bed bugs will no longer be a problem for your family.  We have a four-step bed bug removal system to ensure that bed bugs are a thing of the past!  This is how it works:
First, our state licensed and certified inspector will evaluate your home and determine the extent of your bed bug infestation and where they are thriving.
After the evaluation, our technician will consult with you to create a personalized treatment plan to ensure that all areas of need are addressed when treating your home.
Next, our technician will remove all bed bugs from your home using proven and reliable procedures.
Finally, we will conduct on-going maintenance to make sure bed bugs never come back!
Ant Control In Placentia
There's nothing more frustrating than thinking your ant problem is a thing of the past, only to find out they've returned with twice as many friends.  Here at the bugman, your ant infestation will finally be a thing of the past—in no time! Our ant control in Placentia includes:
A thorough inspection of your home to identify the location of the ant colony.
A personalized treatment plan to address the specific needs of your home.
Complete eradication of ants using effective products and proven methods.
Follow-up treatments to keep your home ant-free all year long!
Why Choose The Bugman?
Well, the answer to that question is quite simple.  We are a trusted, local company based on the foundations of hard work, quality treatments, and honesty.  When you choose the bugman, you won't receive a sales pitch about a million things your home doesn't need.  We get straight to the point—and that is relieving your home of the pests that are inhabiting it. Not only will we eliminate pests from your home, but we will offer a great customer service experience while doing it.  Throughout the whole process, a friendly exterminator will be by your side to answer questions and offer advice on how to prevent pest infestations in the future. Our job is to get bugs out, but our mission is to make you happy.  These are just a few reasons why you should choose the bugman:
Exceptional customer service.
Effective pest control methods.
Professional and honest technicians.
Same-day and Saturday service.
Flexible scheduling to adapt to your daily routine.
Easy payment options.
100% satisfaction guaranteed!
Ready to live a pest-free life with the help of the bugman?  Call us today at 714-406-4949 to receive a free estimate! Not in Placentia? We offer pest control services in Anaheim and beyond.