Get a Free Pest Inspection in Buena Park
What kind of problem are you having? Select all that apply.
Pest Control In Buena Park
California is a great place to live; unfortunately, bugs think so too. Our warm climate makes homes in the area particularly susceptible to pest infestations. And when bugs and rodents enter your home, they bite, spread germs, and even carry diseases. Stay protected with the bugman! Our pest control in Buena Park has everything you need to eliminate and prevent pests in your home. Call our exterminators today for protection against: 
Ants
Bed bugs
Bees
Carpet beetles
Rats
Spiders
Ticks
Wasps
And more!
Image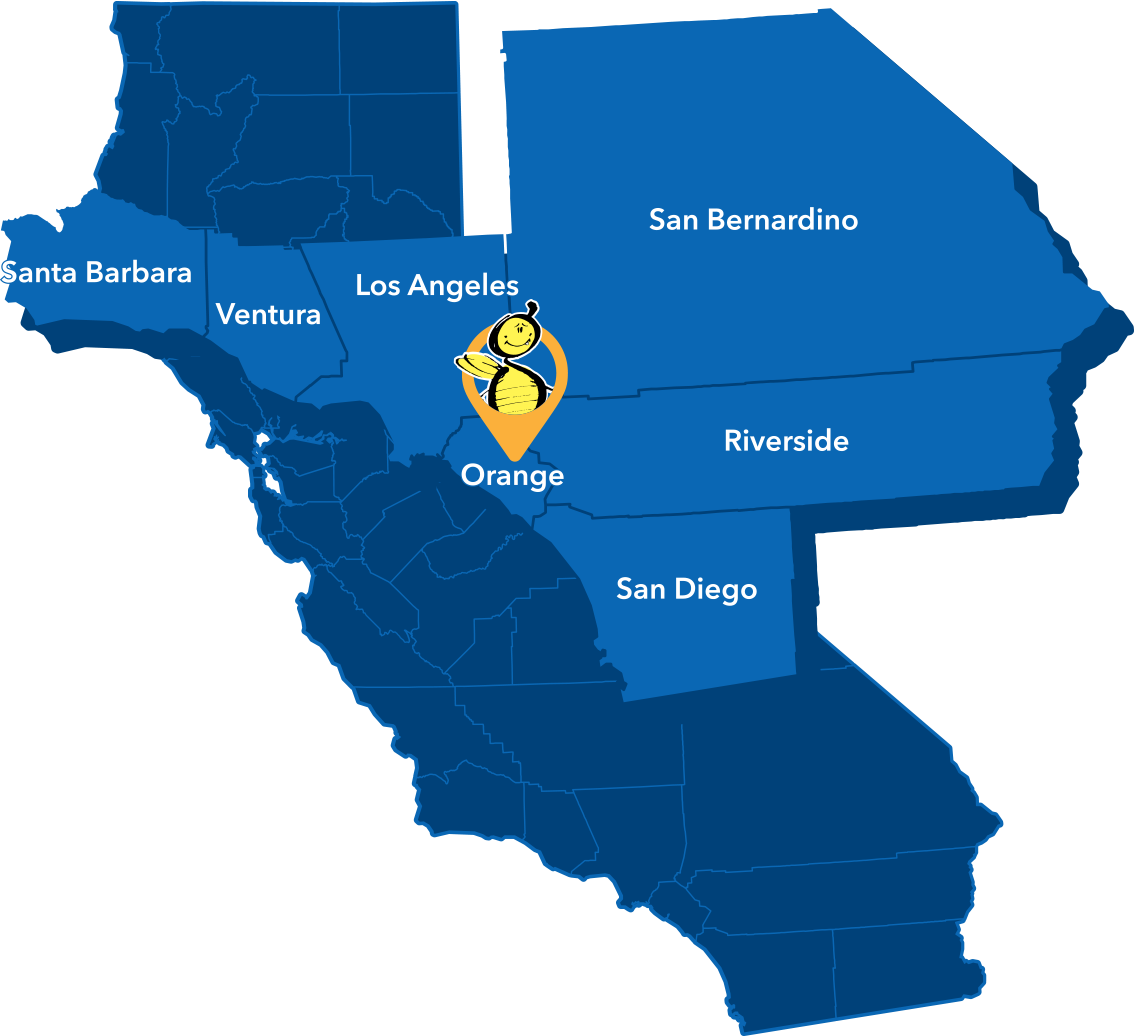 Get Same-Day Relief From Pests
At the bugman, we understand the urgency that comes with pest problems. No one wants to deal with spiders, roaches, or termites any longer than they have to. When you call us before noon, we'll be out to your property the same day for service. Don't waste your time waiting for another company! Our exterminators in Buena Park will also provide you with: 
A free, thorough pest inspection to identify the problem areas
State-licensed and certified technicians
Friendly and skilled professionals who treat your home like their own
Effective methods and state-of-the-art equipment to get rid of pests quickly and efficiently
Flexible scheduling options to accommodate your needs
100% satisfaction guarantee for a pest-free home
And more!
Not in Buena Park? Our Anaheim exterminators service all over Orange County. See if we service your city!
Termite Control In Buena Park
Termites are a homeowner's worst nightmare. Protect your greatest investment today with our termite control in Buena Park! With over 65 years of experience in the industry, we understand the unique challenges posed by the warm climate in Buena Park, making our termite control services essential for your peace of mind. Call us today for:
Family-and-pet-friendly termite treatments: Our termite control services in Buena Park prioritize the safety of your loved ones, including your furry friends.
Ongoing termite control, monitoring, and prevention: We provide comprehensive solutions to ensure that your home remains termite-free in the long run.
Comprehensive inspections: Our experienced technicians conduct thorough inspections, identifying the extent of termite infestations and creating tailored treatment plans.
Don't wait until it's too late! Get rid of termites and protect your investment with our trusted termite services. 
Rodent Control in Buena Park
If you're dealing with rats or mice, you need our comprehensive rodent control service in Buena Park – your solution to a rodent-free home! With our expert team of rodent exterminators, you can trust us to effectively remove and prevent rodents from invading your home. Here's what you can expect from our top-notch services:
FREE rodent inspections: Our licensed and certified inspectors will thoroughly evaluate your home to identify any existing or potential rodent issues.
Exterior rodent baiting: We use safe and effective methods to bait and eliminate rodents around the perimeter of your property, preventing them from entering your home.
Interior trapping: Our skilled technicians will strategically set traps to capture and remove any rodents that have already made their way inside.
Rodent exclusion: We take proactive measures to seal off entry and exit points, ensuring that rodents are unable to re-enter your home in the future.
Protect your family and home from these harmful pests with our reliable rodent control service. Say goodbye to rats and mice and enjoy a rodent-free home. 
Ant Control in Buena Park
Ants can be a challenging pest to deal with, as they are small but can quickly become a nuisance. If you've been struggling with infestations and haven't found a solution, our ant control services in Buena Park can help. Our professional treatments are designed to eliminate the entire ant colony and prevent them from returning. Call us today for:
A free, thorough inspection for ants to determine hot spots
A custom treatment plan unique to your infestation
Complete colony elimination that gets rid of ants for good
Follow-up treatments as needed
And more!