Same Day Pest Control In Riverside
What kind of problem are you having? Select all that apply.
Pest Control in Riverside
Here at the bugman, we've been providing high quality pest control in Riverside and the surrounding area since 1958. We can tackle any size problem, providing immediate relief while also offering long-lasting protection from future pests. You can feel confident that we'll get you back to living without pests. With our Riverside pest control packages starting at $52 a month, you'll be protected from:
Ants
Spiders
Bees
Bed bugs
Ticks
Wasps
Rats
And more!
Image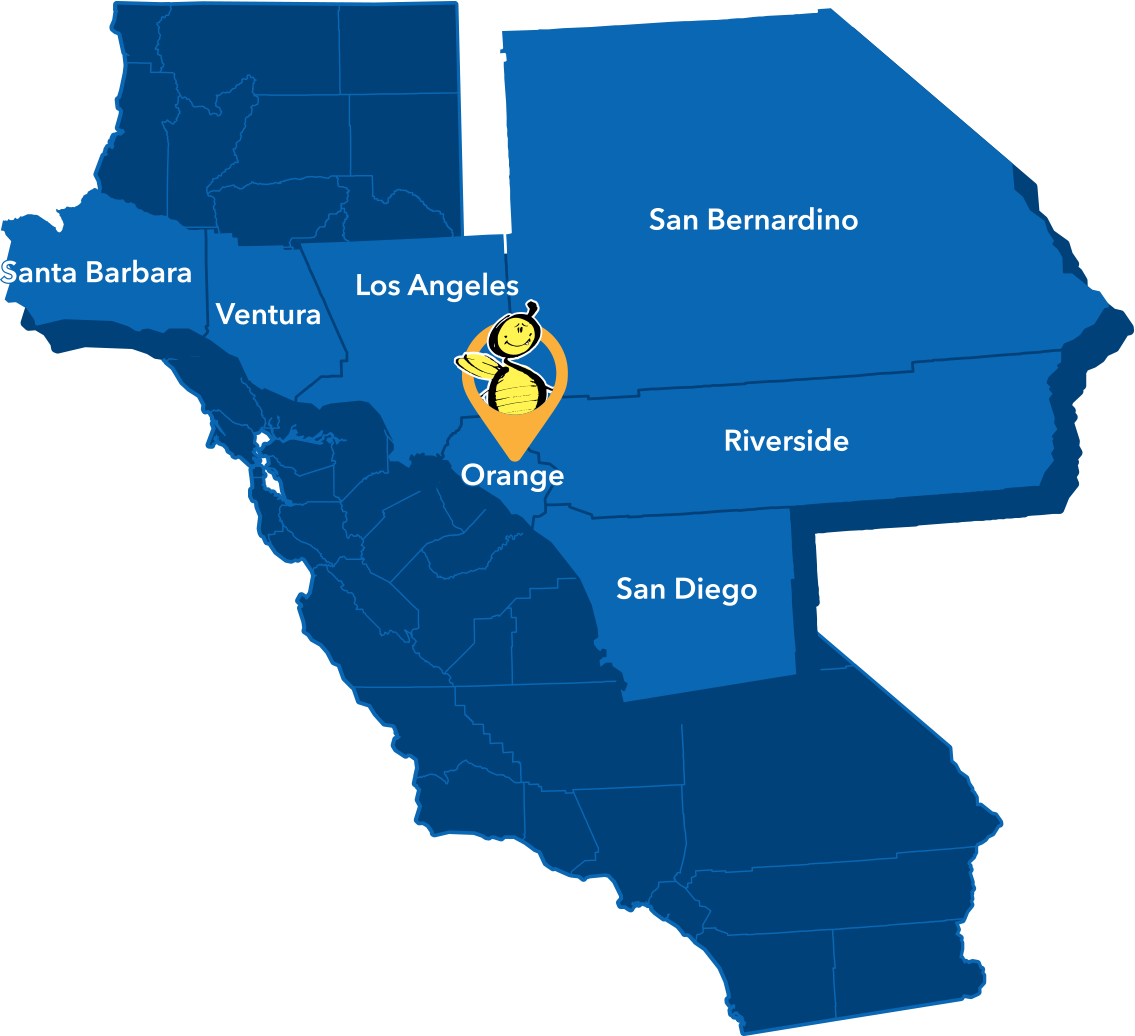 Comprehensive Pest Protection
Whether you're dealing with pests that scurry, fly or scuttle, we've got the solution for you! Our Riverside exterminators are locally hired, so they deal with those same pests on a daily basis. That means they also know how to effectively eliminate them and give you back peace of mind. Our exceptional Riverside pest control services include:
A free inspection of your home, performed by a state-licensed and certified inspector, to assess your pest problem.
Eco-friendly treatments that are tough on pests, but safe for your family.
Recurring treatments that fit your needs and provide pest protection for the long haul.
Friendly, knowledgeable technicians that provide top-notch services.
100% satisfaction guarantee! We go above and beyond to ensure you're happy with our treatments.
Fast Relief with Same Day Services From Expert Exterminators
Having pests in your home can be unsettling, not to mention they can also be a hazard to your family or home. We understand wanting to get pests out as soon as you spot them, which is why we're happy to offer same-day services! With our fast action, you won't have to sit around and wonder what creepy crawlies are hiding in your home. To make your pest control in Riverside even more hassle-free, we also offer flexible scheduling that works around your life.
Rodent Exterminator in Riverside
Mice, rats, and other rodents may look harmless enough, but that couldn't be further from the truth. In reality, a rodent infestation in your home can be extremely dangerous and requires professional intervention. Rodents cause billions of dollars in damage to homes in the US every year and can spread dangerous diseases like Hantavirus, Typhus, and even Plague! So, when you notice rodent activity in your home, look to the rodent control experts at the bugman. 
When you choose the bugman for rodent control in Riverside, you can expect:
A FREE evaluation of your home to assess the severity of the infestation.
The complete extermination of rodents in your home.
Rodent exclusion repairs to prevent future infestations. 
Rodent prevention education from a local expert.
Guaranteed results.
And more!
Same-Day Rodent Control in Riverside
When rodents enter your home, the last thing you want to do is wait around for treatment. That's why we proudly offer same-day rodent control services! After all, when faced with a serious problem, why should you have to wait for the solution? At the bugman, our skilled, local exterminators provide the finest and fastest rodent control in Riverside. Let the bugman help you get back to the rodent-free home you love!
Ant Exterminator in Riverside
Ants are many things - annoying, gross, and frustrating to deal with among them. When ants decide that your home is a comfortable source of free food and shelter, they can be devilishly difficult to get rid of. Don't settle for sharing your home with ants. Instead, choose the best ant control in Riverside from the bugman. 
When you trust the bugman's expert ant exterminators, you can expect:
A free in-home inspection from a local ant exterminator.
A customized ant treatment plan that addresses your home's specific needs.
Family and pet-friendly ant control products.
Recurring monitoring and maintenance. 
Available same-day service.
Your satisfaction, guaranteed!
We've provided ant control in Riverside for 65 years and are ready to give you back an ant-free home today!
Termite Exterminator in Riverside
Termites are small but mighty insects, capable of causing hundreds or even thousands of dollars in damage to your home. They do this by eating away at the structural supports and leaving you to foot the bill, as most homeowners' insurance doesn't cover wood-destroying insect damage. The best way to protect your home is with our termite treatment in Riverside. We'll rid your home of these pests while preventing them from returning, giving you the peace of mind you deserve.
When you partner with us for termite control in Riverside, you will receive:
A free inspection: One of our highly-trained termite inspectors will search your home for signs of any damage.
Custom treatment: We tailor treatment based on your home's specific condition to give you the most effective care.
Flexible scheduling: For hassle-free relief from termites, we work around your busy schedule to find a time that works for you.
Guaranteed results: Our termite protection plan includes free re-treatments if they return between annual inspections.