Highly-Rated Tustin Pest Control
What kind of problem are you having? Select all that apply.
Pest Control In Tustin
We love living in Southern California for the same reasons you do - the warm and sunny days, the neverending opportunities for adventure, the gorgeous scenery, and so much more. Unfortunately, pests love living here, too! Bugs can thrive all year long in our climate. The bugman has been proudly serving neighbors like you since 1958, which means we have the local knowledge, the experience, and the skills to provide long-last pest control solutions in Tustin.
Image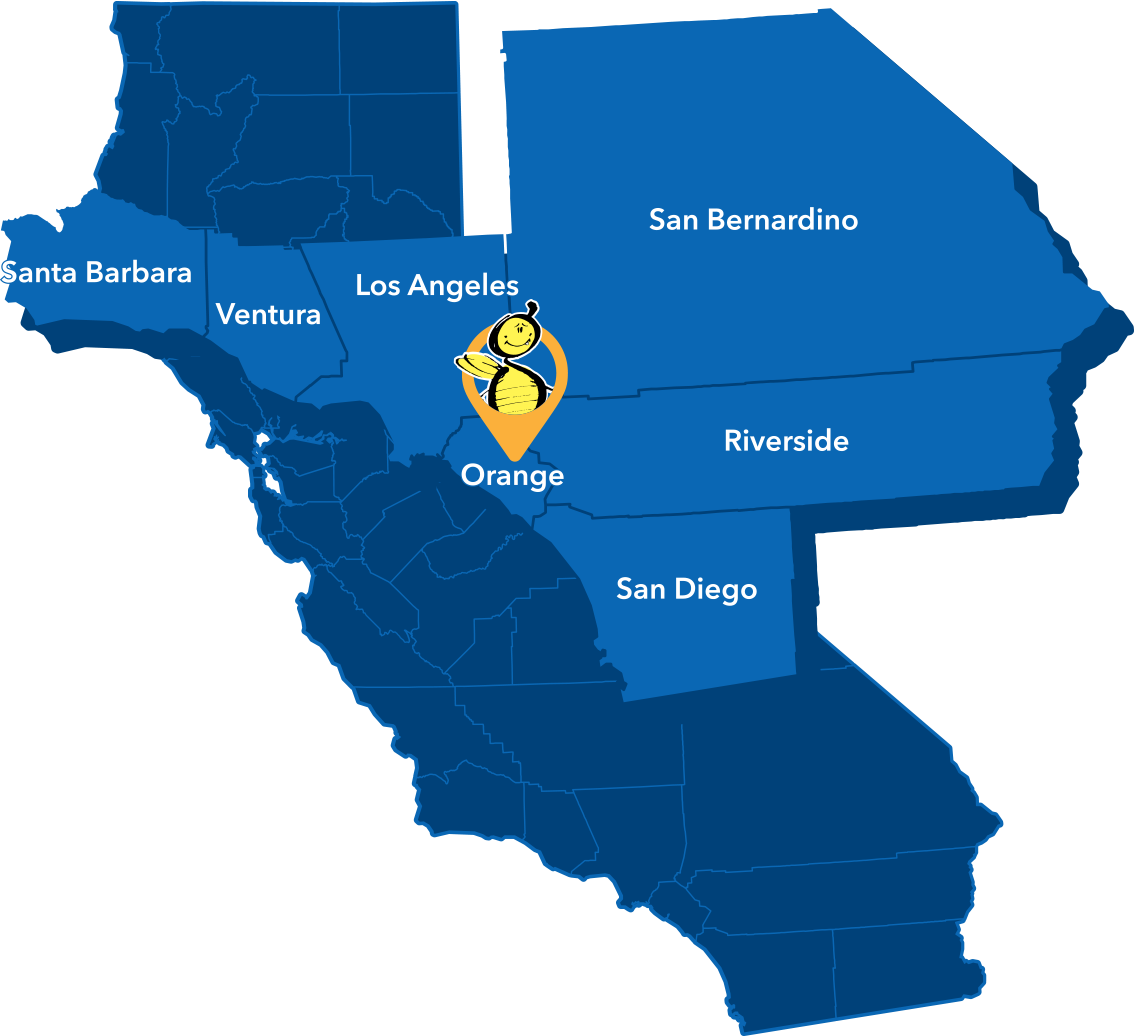 Local Exterminators Providing Home Services in Tustin
We're committed to education - for both our customers and our team members! When you trust the bugman for your pest control in Tustin, you can rest assured knowing your home is the hands of the best exterminators in the business. Each of our friendly and knowledgeable technicians is licensed and trained to offer the best possible services to keep your home free of pests. Our team also participates in annual training to ensure we're staying sharp on the best methods and practices. When you choose us for your Tustin pest control, you can expect:
A FREE inspection of your home
Recurring treatments each quarter to ensure long-term pest protection
The best methods and techniques for effective pest removal
Friendly and professional service
Our 100% satisfaction guarantee
REDEEM $50 OFF YOUR PEST CONTROL INITIAL FEE
Same-Day & Flexible Service to Suit Your Schedule
We want your pest control in Tustin to be convenient. That's why the bugman is proud to offer same-day service and flexible scheduling. With our same and next-day services, you don't have to wait for relief from pests in your home. Additionally, we offer flexible scheduling options to suit your needs. Need quick services outside of Tustin? We offer same-day pest solutions in Anaheim and the surrounding areas in Southern California. 
Rodent Control In Tustin
Rodents are known for being germy and undesirable house guests, so it's no wonder that when you spot a mouse or rat scurrying through your kitchen, quick relief is a top priority. Luckily, the bugman is here to help! We offer quality rodent control services in Tustin to offer you swift relief from rats, mice, and more. Even better? Our Tustin rodent control services come with a 100% satisfaction guarantee, so you can sleep easy knowing your home is rodent-free for good!
SAVE $50 ON RODENT CONTROL AND EXCLUSION TODAY!
How to Get Rid of Rodents in Tustin
the bugman is a family-owned pest control company, skilled at providing quality rodent control services in Tustin since 1958. Consistent, quality care has been a priority of ours for 65 years! In addition to offering flexible scheduling and same-day service options to all of our pest control clients, our Tustin rodent control services come with a variety of other perks designed to make your rodent control experience as thorough, efficient, and hassle-free as possible. When you partner with us for your Tustin rodent control needs, you can expect:
A free rodent inspection by one of our state-licensed and certified inspectors.
Rodent removal using a variety of safe and effective methods and products.
Exclusionary services to close off entry points and keep new rodents from getting in.
Friendly advice from our local exterminators in Tustin on how to keep rodents from coming back.
A 100% satisfaction guarantee!
Termite Treatment In Tustin
Most California homeowners are aware of potentially costly repairs associated with natural phenomena such as wildfires or earthquakes. While those events can cause massive damage, the tiny termite actually causes more damage around the United States every year than fires and other natural disasters combined. Luckily, the bugman's team of skilled termite exterminators are here to help! We offer quality termite control services here in Tustin to give you long-term protection from these costly invaders.
SAVE $100 OFF YOUR FIRST TERMITE TREATMENT TODAY!
Termite Control From a Company That Puts You First
the bugman is a locally owned and operated business with over 60 years of experience providing quality termite control in Tustin. Our local exterminators understand just how important it is to our customers to find a pest control partner who puts them first. That's why our Tustin termite treatments are designed to do just that! When you partner with us for your termite control needs, you can be sure that we will give you the same care and protection that we would give our own families. 
Our termite treatments include: 
A no-cost inspection to help our experts uncover the extent of your infestation
Creation of a custom treatment plan that works for you and your family
Flexible scheduling that works with your busy schedule
A 100% satisfaction guarantee
Ant Control In Tustin
Ants are among the planet's most adaptive insects, and this makes them one of the most difficult to eradicate when they enter your home in search of food or nesting habitat. These social insects live in immense colonies, so the ones you see marching across your counter or coming under the door are just a fraction of what can potentially infest your home. One colony may contain up to half a million insects! Did you know that some types of ants can actually damage your home or trigger asthma attacks? But, with our trusted ant control in Tustin, you won't have to worry about these pests making their way into your home anymore.
SCHEDULE YOUR FREE INSPECTION TODAY!
Trusted Exterminators Guaranteed Results.
The first step to ending your ant infestation is identifying it. That starts with a thorough, free inspection from one of our exterminators. If we determine you have an ant infestation, this is what you can expect:
Our friendly exterminator will provide you with a comprehensive plan to eliminate ants from your home for good.
We will set up an appointment for treatment. At the bugman, we pride ourselves on customer service and offer flexible scheduling and even same-day service. We also offer convenient payment plans.
We will treat your home with proven, family-safe products. 
We will monitor the results and provide ongoing maintenance to keep your home ant-free.