Same-Day Pest Control In San Juan Capistrano
What kind of problem are you having? Select all that apply.
Pest Control In San Juan Capistrano
No matter how careful you are to try to prevent a pest infestation, many local insects, rodents, and other nuisances can make their way into your home before you know it—that's unfortunately part of being a homeowner. There's a way to prevent and control, though! If you're ready for relief from pests, the bugman has you covered with our pest control in San Juan Capistrano. 
Since 1958, our exterminators have been providing pest control to our neighbors, protecting their homes from the following:
Image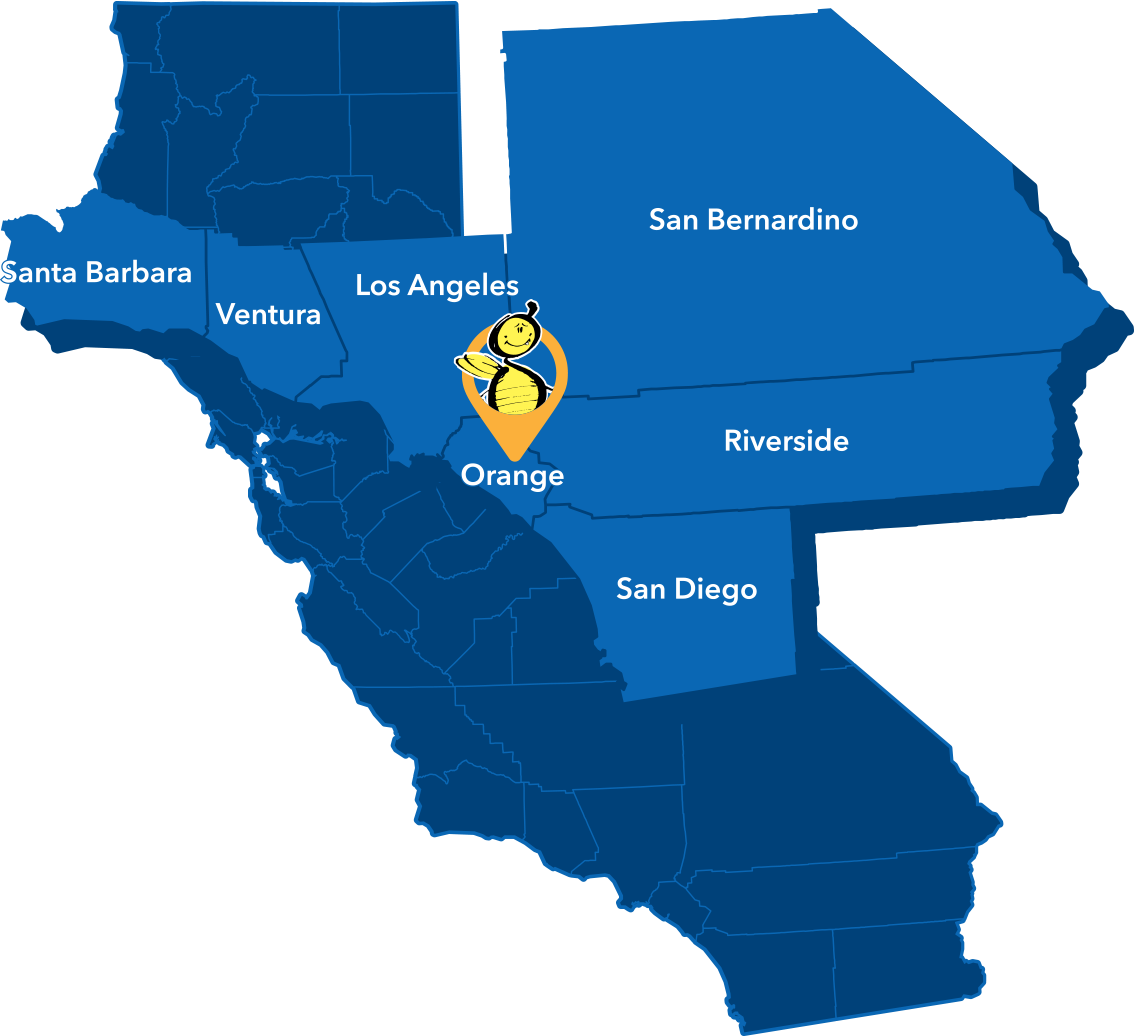 Year-Round Pest Protection
It can be difficult dealing with a pest infestation alone. With so many products on the market, it's easy to become overwhelmed when trying to identify the right solution for your home's unique needs. The bugman's team of state-certified exterminators are here to help you tackle your infestation with our pest control services. 
Even better, our dedication to customer service means you'll get the quality experience you deserve from start to finish. When you work with the bugman, you can expect the following:
A FREE inspection of your house by one of our exterminators.
Quarterly treatments for year-round, comprehensive protection. 
High-tech equipment and personalized treatment plans.
100% satisfaction guarantee on all pest control services!
You'll Be Pest-Free—Guaranteed!
If you've been battling pests in your home, it's time for solutions that work. With the bugman, you'll not only get pest control in San Juan Capistrano backed by over 60 years of experience—you'll also get our satisfaction guarantee: if pests return between scheduled treatments, you can be sure that we'll be back to set the problem right in no time. That's our promise to you.
Rodent Control in San Juan Capistrano
Whether you've noticed a mouse or two in the kitchen or a rodent outside close to the trash, it's important to take notice and reach out to the experts as these can be signs of a larger infestation. At the bugman, we're dedicated to removing rodents and keeping them out of your home. With us, rat and mice control in San Juan Capistrano not only protects your home from damage but also your family and pets from disease! Specializing in the exclusion of rodents like mice and rats, the bugman will remove these pests efficiently while keeping your family safe. 
Rodent control in San Juan Capistrano with the bugman guarantee includes:
Highly-trained rodent exterminators
Respect of your family and home
Safe and effective service for complete rodent removal
Exclusion methods
And more!
Termite Treatment In Anaheim
Did you know that wood-destroying insects cause billions of dollars in damage in the United States each year?  These are extremely destructive insects that work together in colonies to eat away at homes inch by inch. If you suspect you might have a termite infestation, it is important to receive professional help quickly—or risk having thousands of dollars in repairs!  The professionals at the bugman are here to save your home and save your wallet—so count on us for your termite treatment in Anaheim.
Professional Termite Treatment in Anaheim
When it comes to dealing with these pests, do-it-yourself treatments just won't cut it.  Termites are small, sneaky insects that are not easily detected. When you are suffering from a termite infestation, we have advanced methods and techniques to get rid of these insects in your home for good.  When you partner with the bugman for your termite control in Anaheim, this is what you can expect:
FREE inspection of your home by a licensed and certified inspector to determine the severity of your infestation and which species are in your home.
Personalized treatment plan created by you and your technician to fully address the specific needs of your home.
Complete eradication using advanced and proven termite elimination techniques.
Termite Protection Plan. If they show back up in between annual inspections, we will send a technician as soon as possible to apply a treatment—free of charge!  That's our 100% satisfaction guarantee!
Bed Bug Treatment In Anaheim
There is nothing more annoying than finding out you have hundreds of gross insects in the one place you love most—your bed.  If you want to get a good night's rest again without bed bugs, call on the bugman to get rid of them once and for all. So what are you waiting for?  Call us today to get started on your bed bug treatment in Anaheim.
How Do I Know If I Have Bed Bugs?
Bed Bugs are notoriously difficult insects to identify because they can resemble a number of other insects.  To help you with the self-diagnosis before you contact the professionals at the bugman, here are a few signs and symptoms of bed bugs:
Brown and black stains from fecal matter.
Blood stains on mattresses or furniture.
Small, red bite marks on your skin.
Shed exo-skeletons.
Effective Bed Bug Treatments in Anaheim
Bed bugs are hard insects to get rid of.  They are small, sneaky, and can reproduce at an alarming speed.  Here at the bugman, we specialize in completely eliminating bed bugs with an effective 3-tier system to leave you and your family safe and sound from these irritating insects.  This is how our bed bug treatment in Anaheim works:
First, we will send a state-licensed and certified inspector to conduct a detailed inspection of your home.
Next, our technician will work with you to formulate a customized bed bug removal plan in order to completely eliminate all bed bugs from your home using highly effective and family-friendly treatments.
To conclude the process, we will complete follow-up treatments to make sure bed bugs are a thing of the past in your home!
Ant Control In Anaheim
Ants are tricky bugs to eliminate.  They might be small, but collectively are a powerful source generated by the colony as a whole.  Once they get inside your home, it is tough to get to the root of the problem and eliminate the entire colony.  If you're having infestation after infestation with no luck, let the bugman help you resolve the problem with our ant control in Anaheim!
Eliminate Ants With Our Professional Treatments in Anaheim
Ants come by the hundreds and can easily take over your home if you let them.  To combat this, we have effective procedures in place to destroy your ant colony and ensure that they never come back.  Our comprehensive treatment plan works like this:
We start with a free, thorough inspection of your home to determine the source of infestation and where the ants are thriving.
Next, our technician will create a personalized treatment plan based on the findings of the inspection.
After we have consulted with you to create a plan that best suits your home, we will completely eliminate the ant colony with our advanced ant treatments.
Lastly, we will conduct follow-up maintenance of your home to keep ants out in the future.
Why Should I Trust The Bugman?
For over 60 years, the bugman has been a leader in pest control in the Anaheim area. As a locally owned and operated business, we have always had our neighbors well-being in mind.  When you partner with the bugman, you can rest assured knowing that we go above and beyond in every aspect of the relationship to ensure your total satisfaction. Our duty is to get bugs out of your home, but at the end of the day our mission is to make you happy. These are just a few benefits when you choose the bugman:
Friendly and trained technicians
Customer service that exceeds your expectations
Same-day service
Flexible scheduling
Easy payment options
100% Satisfaction Guaranteed!
If you're ready to experience the best pest control that Anaheim has to offer, give us a call and check out our pest control packages today! If you have any questions, be sure to check our online reviews in Anaheim so you know you'll be working with a trusted company!