Same-Day San Juan Capistrano Pest Control Solutions
What kind of problem are you having? Select all that apply.
Pest Control In San Juan Capistrano
No matter how careful you are to try to prevent a pest infestation, many local insects, rodents, and other nuisances can make their way into your home before you know it—that's unfortunately part of being a homeowner. There's a way to prevent and control, though! If you're ready for relief from pests, the bugman has you covered with our pest control in San Juan Capistrano. 
Since 1958, our exterminators have been providing pest control to our neighbors, protecting their homes from the following:
Image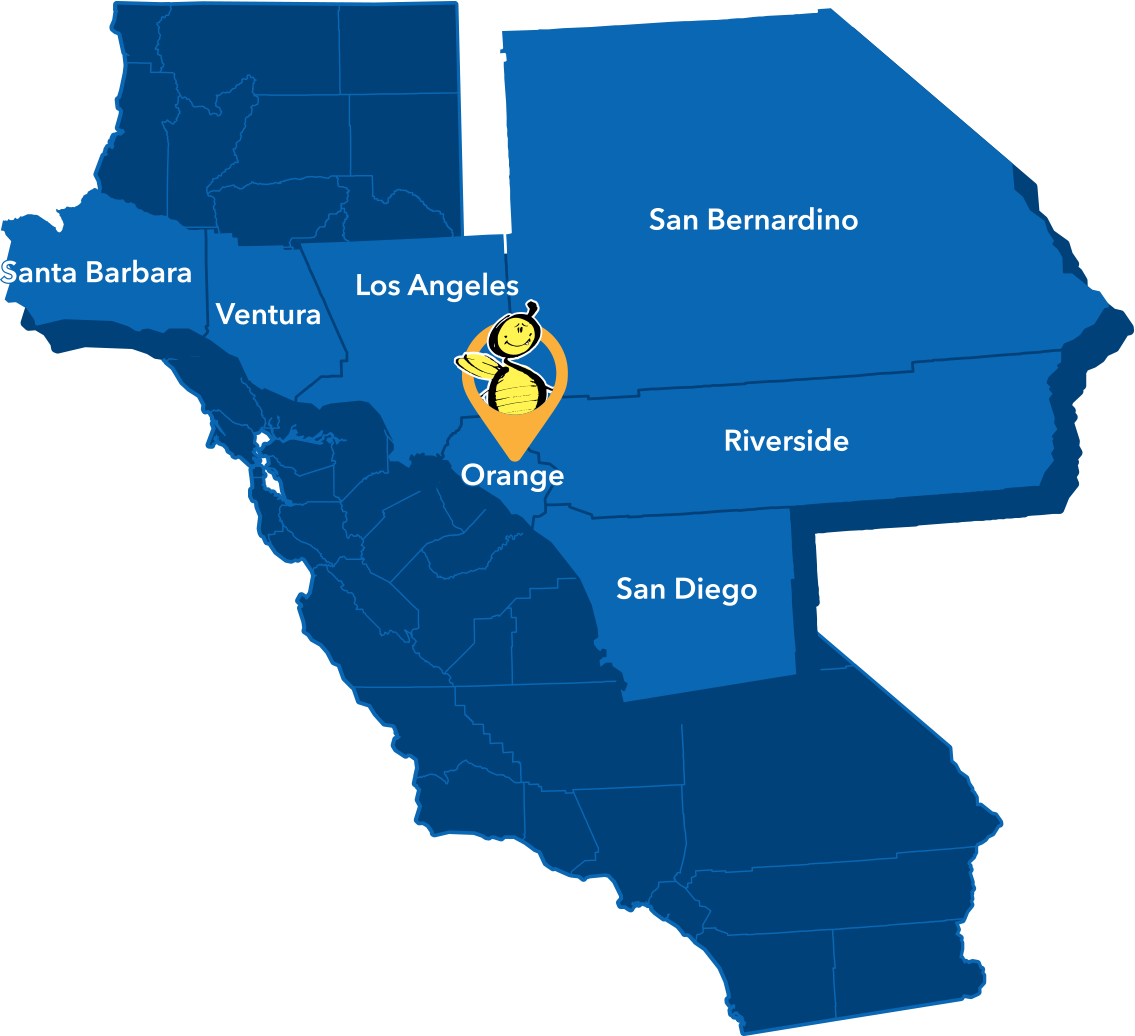 Exterminators Providing Year-Round Pest Protection
It can be difficult dealing with a pest infestation alone. With so many products on the market, it's easy to become overwhelmed when trying to identify the right solution for your home's unique needs. The bugman's team of state-certified exterminators are here to help you tackle your infestation with our pest control services. 
Even better, our dedication to customer service means you'll get the quality experience you deserve from start to finish. When you work with the bugman, you can expect the following:
A FREE inspection of your house by one of our exterminators.
Quarterly treatments for year-round, comprehensive protection. 
High-tech equipment and personalized treatment plans.
100% satisfaction guarantee on all pest control services!
You'll Be Pest-Free—Guaranteed!
If you've been battling pests in your home, it's time for solutions that work. With the bugman, you'll not only get pest control in San Juan Capistrano backed by 65 years of experience—you'll also get our satisfaction guarantee: if pests return between scheduled treatments, you can be sure that we'll be back to set the problem right in no time. That's our promise to you.
Rodent Exterminator in San Juan Capistrano
Whether you've noticed a mouse or two in the kitchen or a rodent outside close to the trash, it's important to take notice and reach out to the experts as these can be signs of a larger infestation. At the bugman, we're dedicated to removing rodents and keeping them out of your home. With us, rat and mice control in San Juan Capistrano not only protects your home from damage but also your family and pets from disease! Specializing in the exclusion of rodents like mice and rats, the bugman will remove these pests efficiently while keeping your family safe. 
Rodent control in San Juan Capistrano with the bugman guarantee includes:
Highly-trained rodent exterminators
Respect of your family and home
Safe and effective service for complete rodent removal
Exclusion methods
And more!
Termite Exterminator in San Juan Capistrano
Because termites are one of the most destructive insects on earth, protecting your home against them can save you from thousands of dollars of damage. These insects move extremely fast, so it's important to get professional termite removal quickly. However, it can be difficult to detect them before it's too late. 
Here are some common signs of a termite infestation: 
Warped or hollow window and door frames

Buckled floorboards or walls

Termite wings and dusty brown droppings
The Best Termite Removal in San Juan Capistrano
If you suspect your home may have these destructive pests, it's important to get expert help immediately. Contact the professionals at the bugman, and our local exterminators will create a custom treatment plan to keep these dangerous invaders out of your home. When you partner with us for termite treatment in San Juan Capistrano, you can expect:
A free termite inspection

 to assess the situation and recommend treatment.

Complete eradication

using advanced and effective termite control options.

Exterminators who go through weekly training

to keep on top of the latest in the industry.

Same-day services and flexible scheduling 

to deal with them fast.

100% satisfaction--

if they come back, so will we!
Ant Exterminator in San Juan Capistrano
Looking for reliable and same-day ant control in San Juan Capistrano? Our expert exterminators specialize in getting rid of all types of ant infestations. With the bugman on your side, you can say goodbye to ants in the kitchen and hello to:
A FREE inspection by a state-licensed inspector
Recurring treatments to ensure long-term pest protection
Same-day service and flexible scheduling to fit your busy schedule
Friendly and skilled technicians who treat your home like their own
A 100% satisfaction guarantee for getting rid of any pest infestation
At the bugman, we understand that your family and pets are a top priority, which is why we use state-of-the-art equipment and effective methods to rid your home of annoying ants. Get your free inspection today!