The Fastest San Diego Pest Control Exterminators
What kind of problem are you having? Select all that apply.
Pest Control In San Diego
We're proud to be a locally owned business, employing the best exterminators in San Diego who have firsthand experience with the pests that are plaguing your home. We've been helping our neighbors achieve pest-free homes since 1958 with our tried and true methods, let us help you as well.
Our exterminators in San Diego will protect your home from:
Ants
Spiders
Wasps
Ticks
Bed bugs
Rats
And much more!
Image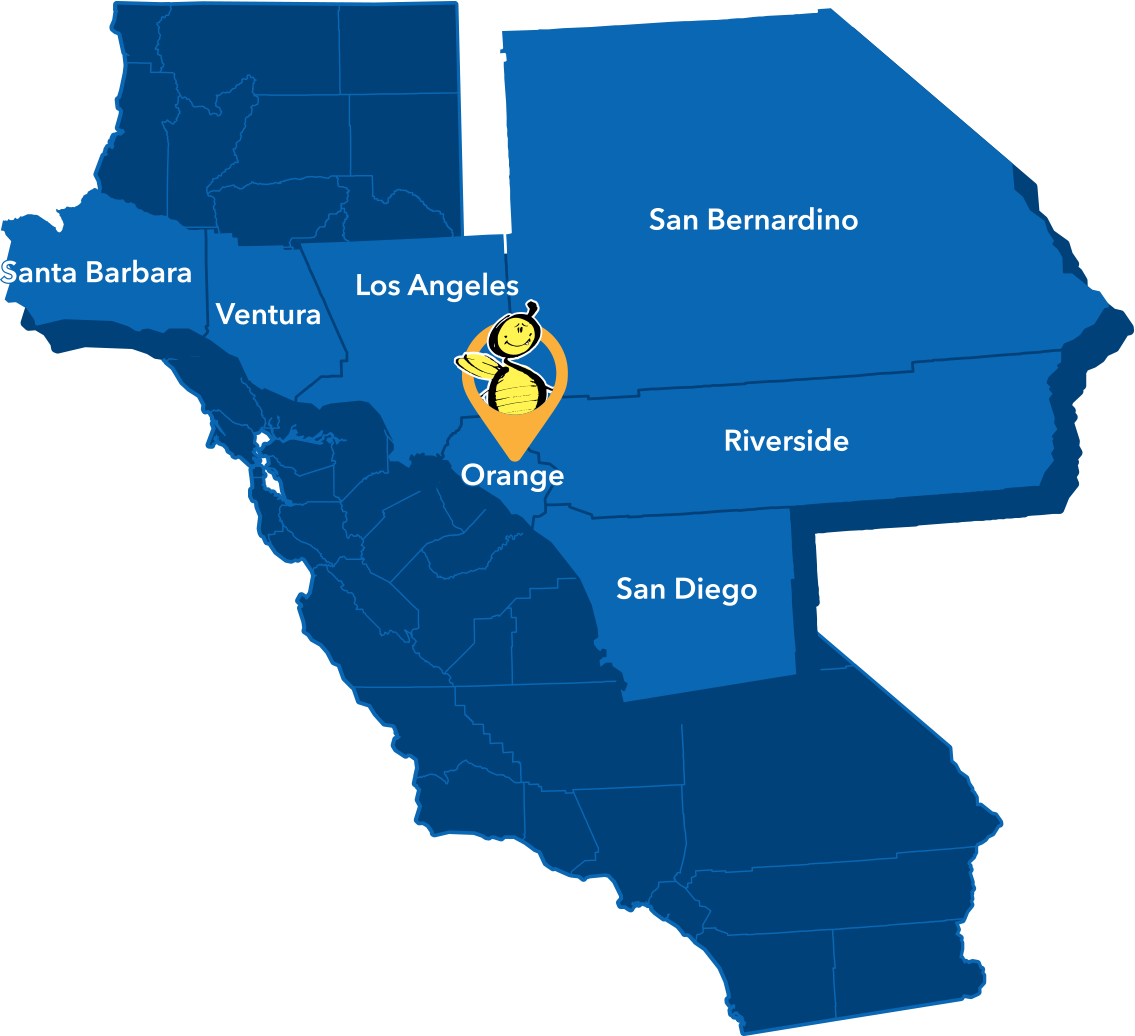 San Diego Pest Control to Fix Your Bug Problem
Having pests can be frustrating, especially when it seems like they keep multiplying. With the bugman, you can rest assured that your home is in the capable hands of our experts. All our San Diego pest control services are not only effective but fast, getting you back to normal in no time. Our San Diego exterminator service includes:
A free evaluation of your home, performed by a state-licensed inspector.
Advanced methods of pest control that are environmentally friendly and safe for your family
A treatment schedule to keep pests gone for the long haul.
Friendly, top-notch technicians who will guide you through every step of the process.
All our services also come with our 100% satisfaction guarantee. If you're not satisfied with our services, we will return to remedy the issue and retreat your home free of charge.
Treatments Around Your Schedule
When you have an infestation, every minute feels more like an hour. You want pests gone as soon as you discover them, and we understand that, which is why we offer same-day service. If you discover signs of pests inside your home, give us a call and we'll send a San Diego exterminator to eliminate your issue. We also offer flexible scheduling options to make the path to a pest-free home as easy as possible.
Ant Exterminator in San Diego
Ants quickly multiply, which can make a minor ant problem grow into an infestation in no time. To help control the ant population inside your home, the bugman is here to help! We offer ant control in San Diego to completely get rid of ants in and around your home.
When you choose the bugman for ant control in San Diego, we promise:
A free inspection of your home conducted by an expert ant exterminator.
A custom ant treatment plan that accounts for the needs of your family and home.
Family-friendly treatments that will effectively eliminate ants from your home in a safe, environmentally conscious way. 
Recurring service to guarantee an ant-free home long-term.
Same-day service and flexible scheduling options for community accessibility. 
Your satisfaction, guaranteed! 
Save $50 on Comprehensive Ant Control
At the bugman, we are dedicated to providing you with ant control solutions that are effective long-term. With expert customer service and professional ant exterminators on call, we're sure to exceed your expectations! Our ant control is the best and most reliable in Southern California.
Rodent Exterminator in San Diego
Rodents can enter your home through an opening as small as a quarter, which makes your home even more susceptible to the disease and chaos caused by these pests. Luckily, the bugman is here to help! We offer rodent control in San Diego to completely rid your home of rodents and keep your home protected long-term.
For your safety and overall well-being, we eliminate the following rodents from your home:
When you partner with the bugman for rodent control in San Diego, you will receive:
A free inspection of your home by a professional, state-certified exterminator.
Pro tips on how to prevent future infestations and keep rodents out for good.
Eco-friendly treatments for complete rodent removal.
Effective exclusion work to seal entry points in and around your home for long-term protection!
Save $50 on Exclusion Work
Protecting your home from rodents shouldn't put a dent in your wallet. At the bugman, we offer affordable rodent control in San Diego for your total satisfaction. We want to ensure our services remain convenient and exemplary, so we offer a variety of perks such as same-day service, flexible scheduling, and a 100% satisfaction guarantee!
Termite Exterminator in San Diego
When termites are working behind the scenes, in the structure of your home, it's often hard to detect them until the damage is done. You shouldn't have to suffer the consequences of termite damage. With our termite control in San Diego, the bugman can save you from further costly damage and future infestations!
When you partner with the bugman for termite control in San Diego, we will:
Thoroughly inspect your home for termites, free of charge.
Create a custom treatment plan that takes into account the types of termites in your home and how best to treat them in your unique home.
Use EPA-approved solutions to completely eliminate termites from your home.
Inspect your home on an annual basis to monitor any potential termite activity.
Completely rid your home of termites, so you never have to go unprotected ever again!
Save $100 on Your First Termite Control Service
At the bugman, we pride ourselves on our commitment to providing excellent customer service, home after home. To ensure you receive the best service possible, we provide a 100% satisfaction guarantee, flexible scheduling, and same-day service. In addition to these benefits, we frequently offer discounts for our existing customers and, when new customers sign up for our termite protection plan, they will receive $100 off their first treatment!