The Fastest Pest Control In Orange, CA
What kind of problem are you having? Select all that apply.
Pest Control In Orange
Whether your home has been taken over by ants, spiders, cockroaches, or rodents, the bugman has got you covered! Our expert Orange pest control is designed to give you relief from the wide variety of pests that like to call California home, giving you fast relief from all of your unwelcome invaders, including:
Spiders
Bees
Wasps
Carpet beetles
Rodents
Ticks
And more!
Image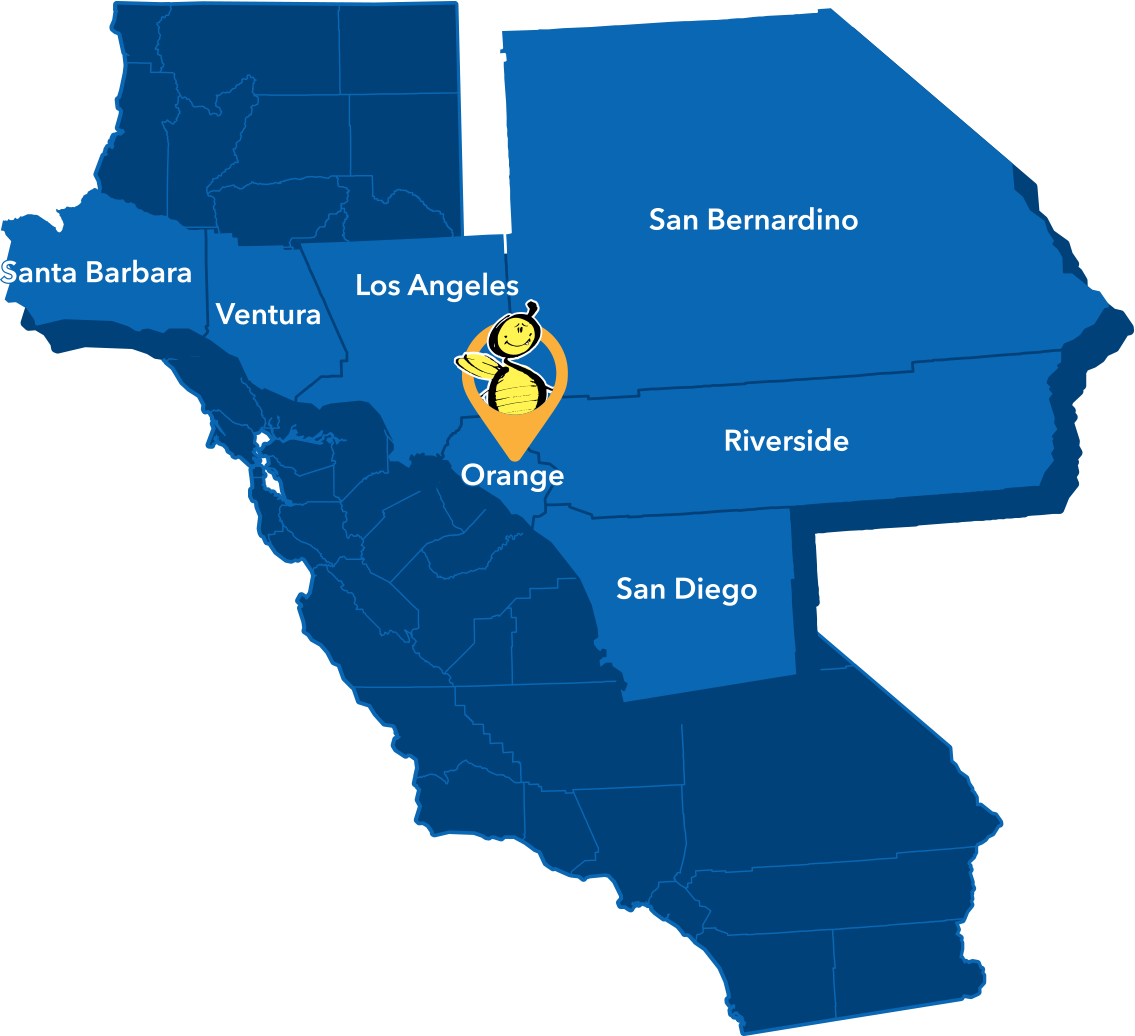 Trust in 65 Years of Experience
With 65 years in business the bugman has the knowledge and expertise to offer quality Orange pest control services you can count on. No matter what household pests have taken over your home, the bugman is here to help you get them out! Our pest control services in Orange include:
A free home inspection - We start our services with a free home inspection carried out by one of our state licensed and certified technicians.
Family-safe treatment options - We know your family is important to you, so they are important to us too! That's why we are sure to use the most eco-friendly, safe, and effective pest control treatments on the market.
Flexible treatment scheduling - We offer a choice of monthly, bi-monthly, or quarterly treatments, so you can choose a program that works for your pest control needs and your budget.
Why choose the bugman?
As a locally owned and operated business with strong community ties, we strive to offer the highest quality pest control services Orange has to offer. To us, that means offering quality service from a friendly staff who will go above and beyond to make sure you are completely satisfied with our work. To help make this even easier, we offer a variety of benefits to help make your experience as easy and stress free as possible, including:
Friendly and knowledgeable technicians
Easy payment options that work for you
Same-day services to fit your schedule
A 100% satisfaction guarantee
Termite Exterminator in Orange
Termites are one of the most destructive pests you can deal with. Each year, these insects cost U.S. homeowners over $5 billion in property damages—damage that is not covered by homeowners insurance! If you want to protect your home, look no further than the bugman. Since 1958, we've been providing quality termite treatment in Orange to homes just like yours. 
Signs you may need termite treatment in Orange are:
Discolored or drooping drywall
Peeling paint that looks like it could be water damage
Hollow walls
Buckling floorboards
Stuck windows or doors
SAVE $100 ON TERMITE TREATMENT TODAY!
Professional Service and Eco-Friendly Treatments
Due to their ability to tunnel deep into the wood of your home, termites can be difficult to remove without professional assistance. When you work with the bugman, you can be confident in your termite treatment in Orange. Our staff undergoes on-going and intensive training to keep them sharp, and each of our technicians is capable of administering family-friendly treatments that are based on the best industry techniques. Peace of mind and full-home protection? Yes, please!
Rodent Exterminator in Orange
Are you tired of rodents running around your house? We don't blame you. Here at the bugman, we know the importance of rodent control in Orange better than anyone. Rodents carry over 35 different diseases and can cause major destruction to your home and health, meaning they're not something you want to play around with. Since 1958, we've been dedicated to helping people just like you get the rodent-free home you deserve. We are highly experienced in rat control, mouse control, and more!
When you choose us for rodent control in Orange, you can expect the following:
A FREE inspection to assess how rodents are entering your home.
In-depth consultation from our licensed rodent exterminators in Orange.
Extermination and removal of all rodents currently infesting your home.
Rodent Exclusion to keep rats, mice, and other rodents out for good!
Save $50 on Rodent Control Services!
At the bugman, our rodent control in Orange is designed to be fast, convenient, and long-lasting—which is why we offer same-day service and a satisfaction guarantee! If you experience any issues with rodents between treatments, all you have to do is give us a call to receive a free follow-up appointment! Even better, if you call us today, you can save $50 on rodent exclusion services!
Ant Control In Orange
Are ants bugging you? You're not alone. These insects are notorious for being hard to eliminate thanks to their ability to communicate as a unit and work as a group to seek out shelter and resources. While that might be impressive, they're still terrible house guests! If you're ready to find a solution to your ant problems once and for all, call your local exterminators at the bugman for fast, effective, and reliable ant control in Orange. Our family-and-pet-friendly treatments can handle any ant infestation, no matter how big. 
When you team up with us, you can expect the following from your ant exterminator in Orange:
A no-cost inspection to assess how ants are finding their way into your home.
A customized treatment plan suited to your home's needs.
Eco-friendly treatments that are tough on ants and easy on our planet.
Same-day service for rapid relief.
Get $50 Off Ant Control in Orange
There are a lot of DIY solutions for ant control in Orange, but few eliminate these pests completely. If you're ready for a one-stop solution to all your ant worries, it's time to call the bugman. Since 1958, we've been providing guaranteed ant treatments to homes just like yours. Our ant exterminators know what it takes to eliminate ants quickly and effectively without risking your home or your health—and even better, we're happy to offer $50 off to new customers!