Same-Day Pest Control In Mission Viejo
What kind of problem are you having? Select all that apply.
Pest Control In Mission Viejo
Since 1958, we've been helping families like yours become bug-free again. Our trained pest exterminators can handle any sized bug problem. Our treatments will get bugs out fast, while also providing you with long-lasting relief. When you trust us with your infestation, our pest control exterminators in Mission Viejo will protect your home against: 
Ants
Spiders
Cockroaches
Rodents
Wasps
Bed bugs
Termites
And much more!
Image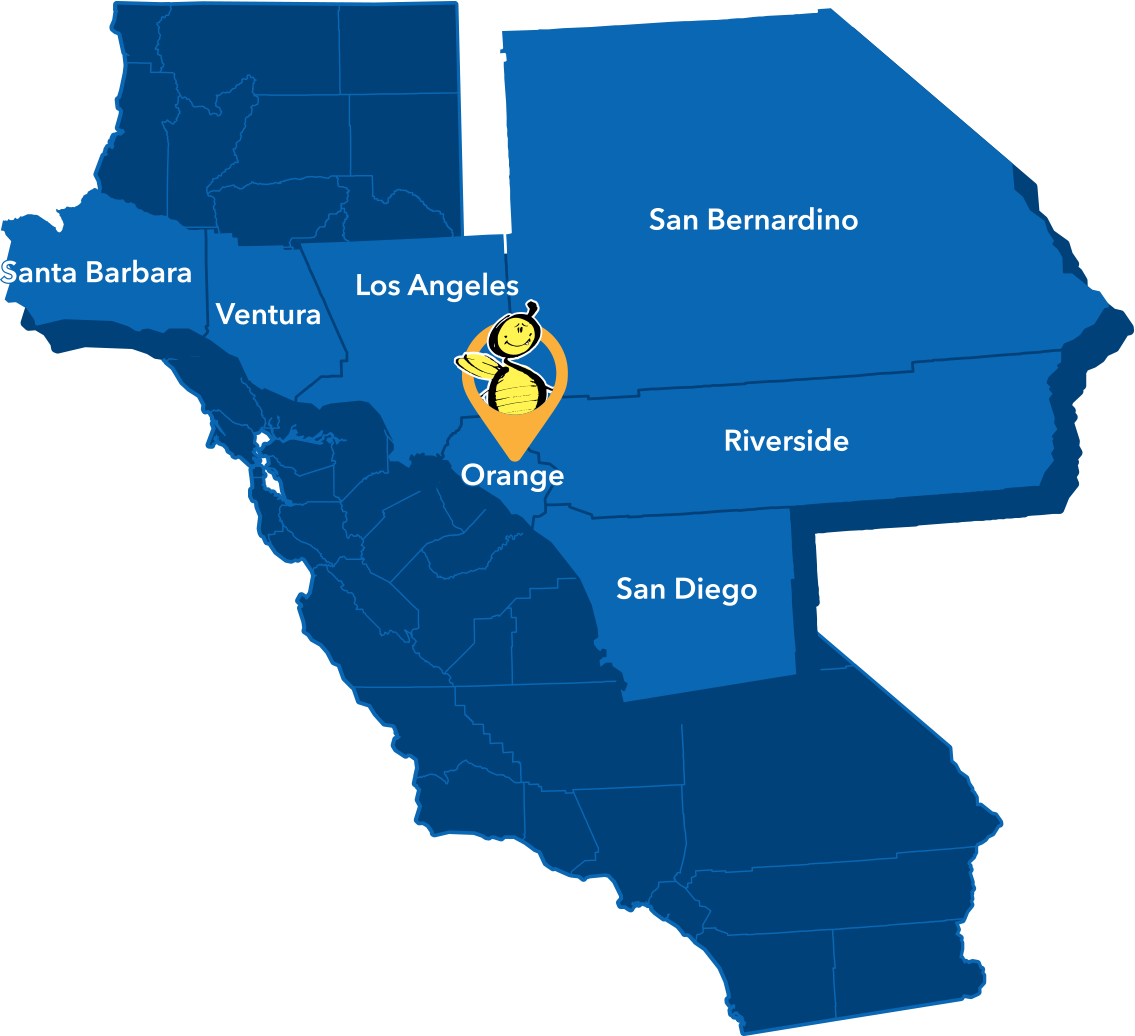 Pest Control Solutions Designed With You In Mind
We're a locally-owned and operated business. We believe in taking care of Mission Viejo pest control problems like we would for our neighbors. Our exterminators focus on implementing long-term solutions to leave your home pest-free for the foreseeable future. When you trust us with your pest control needs in Mission Viejo, you can expect:
Detailed Inspection. Our trained exterminators will perform a free, in-depth inspection of your home to determine the severity of the affected areas in your home. 
Customized treatment. We will tailor a treatment plan to your specific pest infestation to guarantee total elimination.  
Recurring Appointments. A trained exterminator can come out every quarter to provide pest services. Recurring treatments help ensure long-term pest prevention. 
Family-friendly treatments. We keep up with industry standards to provide you with the most effective treatment services that are safe for everyone in your family. 
100% satisfaction guarantee. If you aren't happy then neither are we!
It's time to get rid of pests once and for all. Team up with the bugman for your pest control in Mission Viejo needs, you'll be living pest free! Look through our pest packages starting at $52 a month. 
GET MY FREE PEST CONTROL QUOTE!
Flexible Scheduling to Fit Your Needs
We understand that pests don't always follow your schedule. Having a pest infestation often means you want it eliminated immediately. When you partner with the bugman, we will have your pest infestation eliminated quickly and effectively. We offer flexible scheduling options and same-day service, so getting bugs and rodents removed isn't an inconvenience to your day. Schedule your pest services appointment today!
Rodent Control In Mission Viejo
If you're tired of hearing rodents sneaking around in your home and waking up to a trail of droppings, it's time to call the bugman. We offer rodent control in Mission Viejo that completely gets rid of mice and other rodents and keeps them out.
We provide protection from:
Rats
Mice
And many other rodents!
Save $50 on Rodent Exclusion
The secret to achieving a rodent-free house is constant upkeep (making sure you properly sanitize your home) and proper exclusion work. Fortunately, we provide top quality rodent exclusion to prevent rodents from re-entering. To ensure you receive the best treatment for your home, we offer same-day service and flexible scheduling options as well!
GET $50 OFF RODENT CONTROL TODAY!
When you partner with us for rodent control in Mission Viejo, we will:
Thoroughly inspect your home, free of cost, to identify all rodents living indoors.
Use risk-free baits and traps to treat your home and ensure your peace of mind.
Do professional exclusion work that will keep rodents out long-term.
Give you a professional consultation, providing tips on preventing infestation. 
Remove all rodents from your home for 100% satisfaction, guaranteed.
Termite Control In Mission Viejo
As a homeowner, you have a lot to worry about: maintaining your landscape, decorating, preparing for the changes of seasons, and more. Don't let termites be another one of your worries! These insects are known for their massive colony sizes—with a single group containing up to a million individuals! Termites have the ability to do immense damage to the structure and stability of your home. Tackling them alone not only requires a lot of time and money, but there is no guarantee DIY solutions will tackle the problem at the source. 
SCHEDULE YOUR FREE INSPECTION TODAY!
Professional Termite Control in Mission Viejo
the bugman's termite control in Mission Viejo utilizes the best in customized termite treatments to help protect your home—guaranteed! 
When you team up with us, you can expect the following from your termite exterminator in Mission Viejo:
A no-cost inspection: To start, we'll assess the state of your infestation and the species present.
A personalized treatment plan: Our termite control in Mission Viejo will be designed with your home's unique needs and accommodations in mind.
Assistance from experienced exterminators: Our technicians undergo intensive training and certification to keep them sharp and ready for anything.
Quality customer service: Since 1958, we've proudly kept our community happy and termite-free!
Our satisfaction guarantee: If termites return between treatments, call us for a free follow-up termite treatment!
Ant Control In Mission Viejo
Ants don't cause the same kind of problems that termites and rodents do, but they never give up trying to enter your home. If you're tired of ants constantly hanging around your house, let us take care of it. Our ant control in Mission Viejo is your chance to finally solve the problem for good. Left untreated, ants are a consistent headache that no DIY solution will ever fully fix. So spare yourself the hassle and let the pros give it a shot today!
Our ant control in Mission Viejo includes:
A comprehensive inspection of your home from a qualified ant exterminator.
Personalized treatment plans that adapt to your needs.
Exclusively family and pet-friendly products.
Return service to make sure that ants never come back.
And more! 
Safe and Dependable Ant Exterminators
Dealing with any infestation is already stressful enough without having to worry about whether or not your loved ones are safe. We remove that concern altogether with our commitment to using only pet and family-friendly ant control products! Why add extra worries to an already difficult situation? Here at the bugman, we say, "Don't," and schedule your safe and reliable service today.