Same Day Pest Control In Long Beach
What kind of problem are you having? Select all that apply.
Pest Control In Long Beach
Southern California attracts not only homeowners, but also bugs due to the nice weather year-round. Pests can creep into your house, making you feel anxious and grossed out. An infestation doesn't have to be permanent! Partner with the bugman for your pest control in Long Beach. We'll provide you with fast relief from pests and ensure they'lly stay out of your house for good.
Image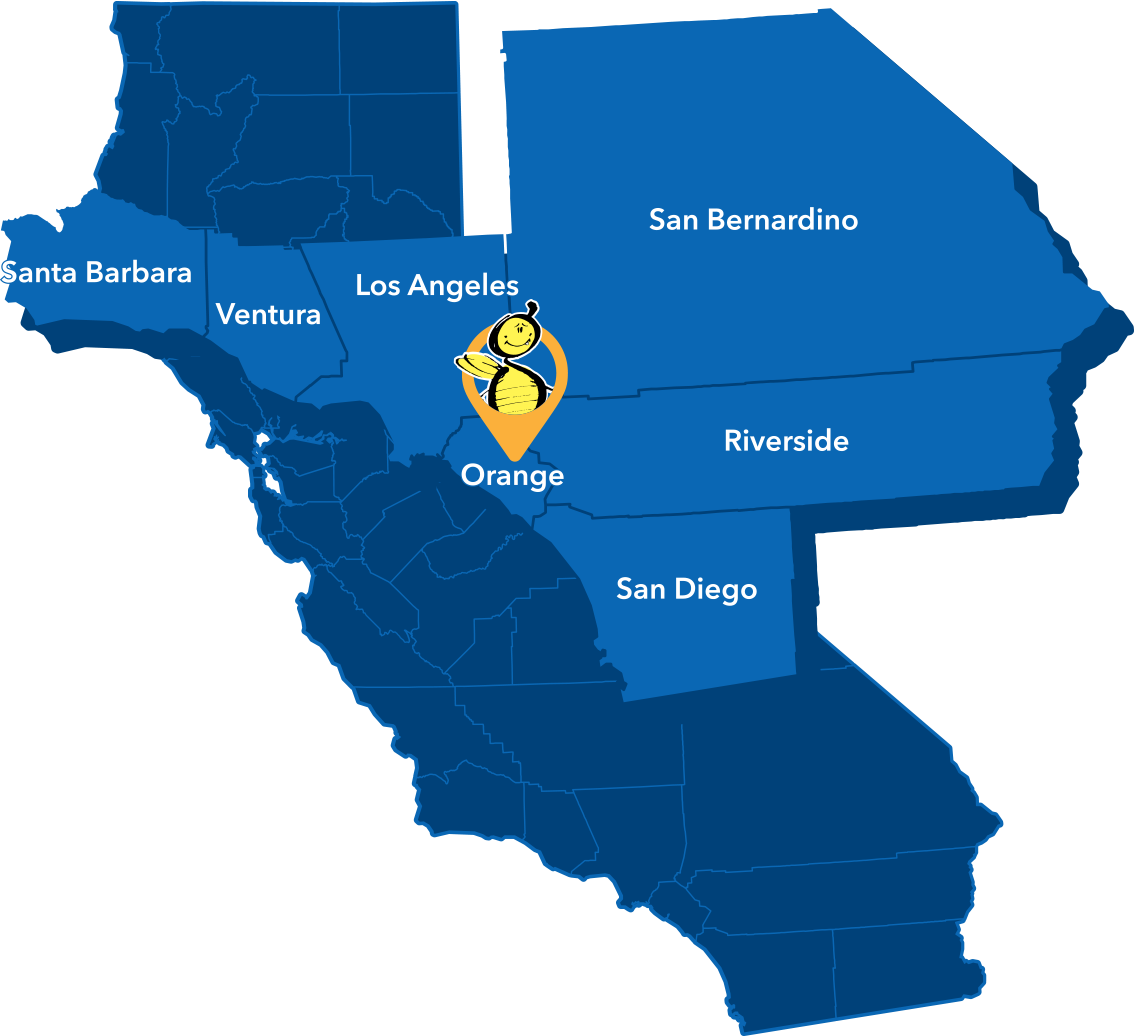 Fast Relief and Lasting Protection
Our state-licensed pest control technicians will begin by inspecting your home and property for free. They will then use family-friendly, environmentally conscious treatments, designed to fit your home's individual needs. We will visit and treat your home routinely to make sure pests don't return.
Stop Pests in Their Tracks With the bugman
the bugman is locally owned and operates, so we know firsthand the types of pests that tend to invade homes like yours, and the best ways to kill them. Our exterminators in Long Beach are highly trained and experienced in using advanced pest control techniques. This allows us to give you the highest quality service, protecting your home from pests such as:
Bees
Carpet beetles
Spiders
Ants
Wasps
Ticks
Rats
And more!
Ant Control in Long Beach
Combatting an ant infestation means going beyond identifying the source. Think you've gotten rid of ants in your home only to see them return again? At the bugman, our ant exterminators understand that different species come with unique needs and preventative measures. We not only deliver on our promises but also exceed expectations with detailed ant treatment and exceptional results. 
Our ant treatment plan includes:
A thorough inspection of your home to identify where the ant colony is located.
Eliminating ants completely, including colony entry points. 
The most effective products. 
Proven treatment plans personalized for your home. 
Follow-up treatments to maintain an ant-free environment. 
Termite Treatment in Long Beach
Finding termites in your home is bad news. These pests may be small, but they cause over $5 billion in damages to homes across the United State every year. If you find signs of an infestation like mud tubes or damaged wood, give our expert technicians a call to schedule your free inspection for termite treatment in Long Beach. One of our friendly exterminators will determine the extent of the infestation, then go over their findings with you. You'll be kept in the loop throughout treatment, starting at the very beginning!
Our termite treatment in Long Beach includes:
Customized treatment plans

based on your home's unique needs.

Top-notch products

that eliminate the entire colony.

Annual inspection

to ensure your home stays protected.

A

termite protection plan

that covers re-treatments if needed.
Rodent Control in Long Beach
Rodents are famously difficult to get out of your home once they've settled in. Long Beach Rodent Control requires the help of a licensed and certified rat exterminator to make sure that these pests stay away from your home for good. Fortunately, the bugman has the professional rodent control you need backed by a 100% satisfaction guarantee. Mice and rats don't operate on a schedule, and they carry pathogens that put your family at risk in addition to gnawing away at pieces of your home. That's why we offer flexible scheduling with same day service to get you back to normal as soon as possible. 
When you trust the bugman for rodent control in Long Beach, you can count on:
A free inspection

from one of our highly-qualified technicians.

Complete rodent removal

with advanced trapping methods.

Exclusion service

that seals up entry and exit points for lasting protection.

Expert advice

on rodent prevention from our knowledgeable team.

Exemplary customer service

that prioritizes your needs.
We have over 60 years of experience in comprehensive rodent control, so you can rely on our dedicated team to get mice and rats under control. Call the bugman and we'll get you back to a rodent-free home!