The Best Pest Control In Laguna Woods
What kind of problem are you having? Select all that apply.
Pest Control In Laguna Woods
California is an incredible place to live - warm and sunny weather, fun things to do and see, and more! Unfortunately, pests love it here as much as people do! Our expert exterminators provide services for the following pests: 
Ants
Termites
Bed Bugs
Cockroaches
Spiders
Rodents
Ticks 
Wasps
And More!
Image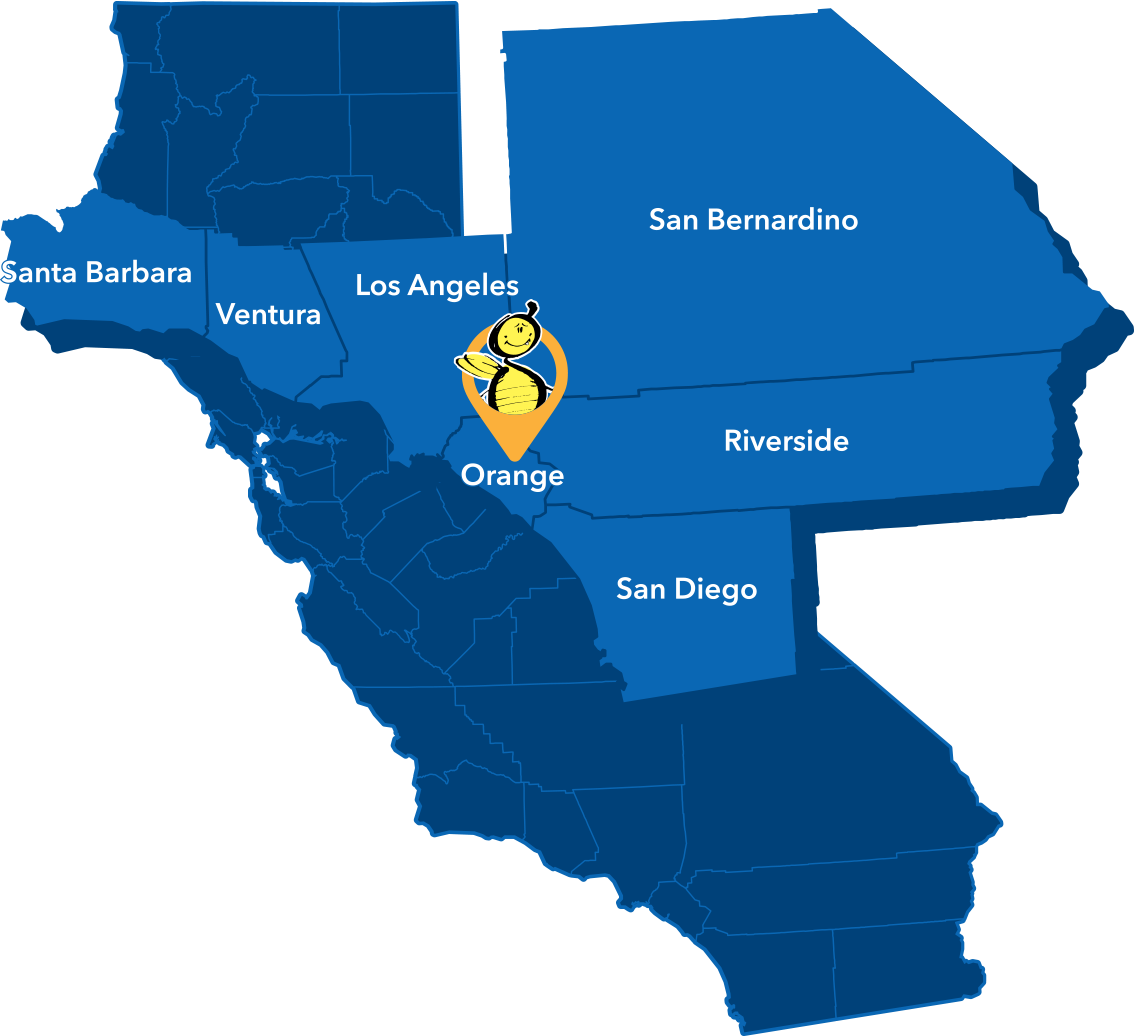 Home Pest Control Services In Laguna Woods
Our climate offers the perfect environment for bugs to thrive and homeowners like you battle pests year-round. You don't have to deal with them on your own! If you're looking for pest control in Laguna Woods, look no further. Our pest control treatments include:
An inspection of your home by a state-licensed inspector
The best treatment methods to rid your home of pests
Recurring treatments for long-term relief
A 100% satisfaction guarantee
SAVE $50 ON YOUR INITIAL PEST CONTROL FEE
Same Day Service for Fast Relief
When you have pests in your home, you don't want to wait to get rid of them. That's why the bugman is happy to offer same-day services for our pest control in Laguna Woods! When you give our office a call, we'll send one of our trusted technicians to your home to get rid of your pest problem - fast! We also offer flexible scheduling options to suit your busy schedule. We want pest control to be convenient and hassle-free, and with us, it can be!
A Local Company You Can Trust
Here at the bugman, we understand that you have options when it comes to pest control. So why choose the bugman? We're not just another pest control company in Laguna Woods. We're a locally owned and operated business that is dedicated to serving our neighbors like you. When you pick us, you're partnering with a company that is dedicated to serving you like you're a part of our own family. Don't settle for less than the best! Let the bugman keep you and your family safe from pests.
Rodent Control in Laguna Woods
There are a lot of rodent prevention options out there, including DIY solutions that can actually make the problem worse. Our well-trained team is familiar with any infestation, so let our rodent control in Laguna Woods fully eliminate mice and rats that put your family at risk for sickness and property damage. Our friendly and knowledgeable rodent exterminators at the bugman will have a custom treatment process designed for your home, and you can expect the following: 
A free in-depth inspection

to discover the extent of the infestation.

Expert advice

on how to prevent mice and rats in the future.

Complete rodent removal

that's humane with safe products.

Exclusion

that seals entry and exit points so that rodents don't return.

A rodent-free home

the whole family can enjoy.
Termite Treatment in Laguna Woods
Every year, termites cause billions of dollars in property damage, chewing through important wooden structures and causing destruction to the integrity of the house. These bugs can eat extremely quickly, so if you suspect you have an infestation, it's important to seek professional help from the experts for termite treatment in Laguna Woods. The bugman has the tools to help prevent a serious termite infestation before it's too late. 
If any of the following signs are familiar, you may need termite removal: 
Warped or buckled floors and door frames. 
Hollow walls. 
Thin tubes made of mud on the floor.  
Insect wings or dusty brown droppings around the house.
The Best Termite Exterminators in Laguna Woods
Whether you suspect you may have these invading insects or are looking to avoid them in the future, you should seek out the best professional termite removal available. The bugman provides expert services that keep you and your home safe by using safe and effective termite control options.  Here's what you can expect with our termite treatments in Laguna Woods:  
A free comprehensive inspection that our exterminators will use to recommend treatment. 
Exterminators who go through consistent weekly training to keep up with the latest in effective termite removal. 
Same-day services, as well as flexible scheduling. 
100% satisfaction guarantee.
Ant Control in Laguna Woods
No one wants to find ants in their kitchen, garage, or other places around their home. While it may be easy to get rid of a handful of them with DIY treatments, fighting off an ant infestation is an entirely different story. When you partner with the bugman, you can be confident that the entire colony will be eliminated. Backed by our 100% Satisfaction Guarantee, our team of experienced ant exterminators is ready to handle anything that is thrown at us, while offering flexible scheduling and simple payment options. 
Our ant treatment in Laguna Woods includes:
A free inspection

headed by one of our trained ant exterminators.

A custom, personalized treatment plan

based on your needs.

Total removal of the entire colony - guaranteed!

Follow-up maintenance

to ensure full, year-round coverage.