Get $50 Off Your Laguna Hills Pest Control Today
What kind of problem are you having? Select all that apply.
Pest Control In Laguna Hills
No matter what critters or creepy-crawlies have invaded your home, the bugman is here to help! We are a one-stop-shop for all of your pest control needs, giving you a clear choice for pest control in Laguna Hills no matter what pests have taken over your home! Our Laguna Hill exterminators have the knowledge and expertise needed to rid our home of a wide variety of California's most common critters, including:
Bed Bugs
Bees
Ants
Spiders
Wasps
Ticks
Rats
And more!
Image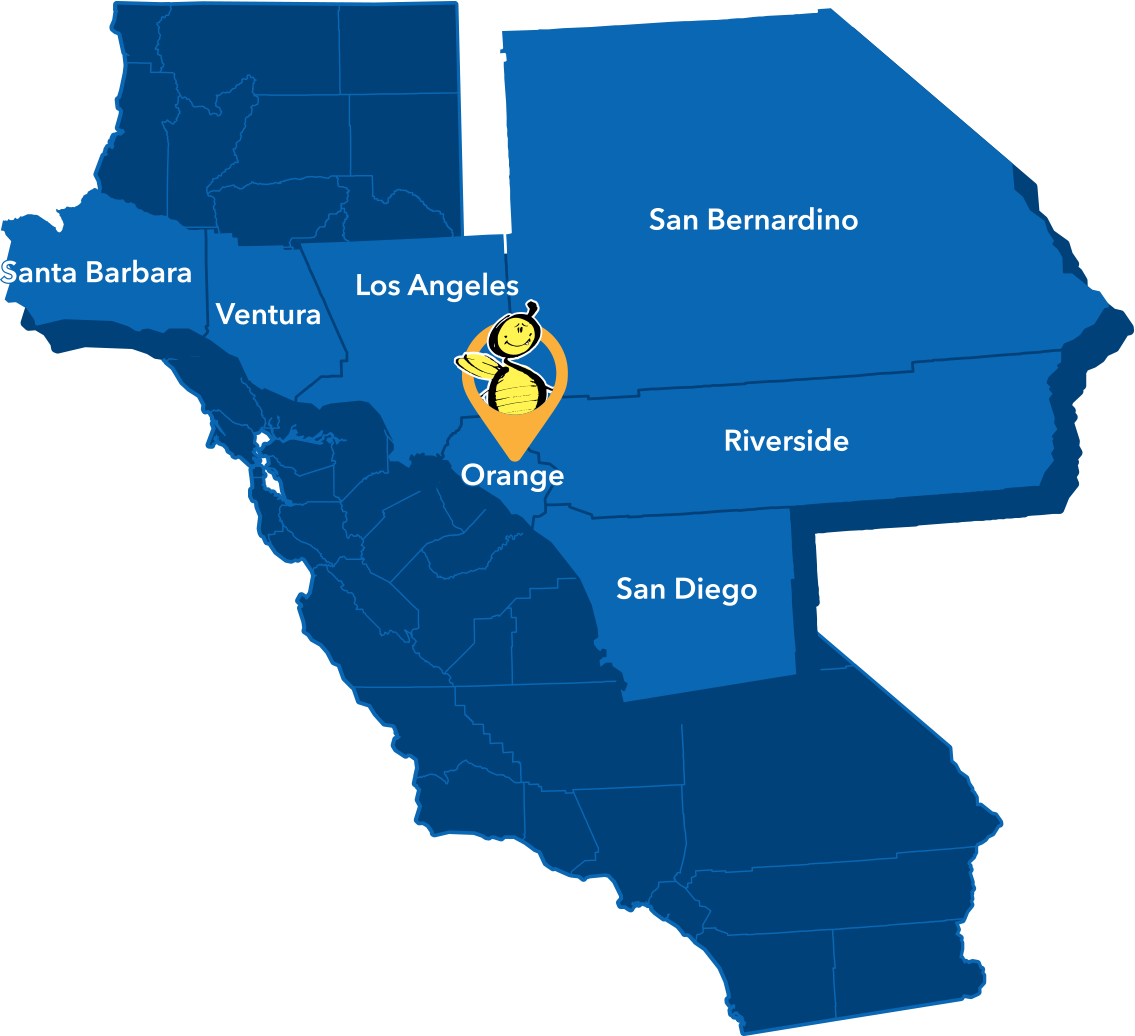 Stress-Free Pest Control Services To Give You Peace of Mind
Finding pests in your home can be stressful, but getting them back out shouldn't have to be! With 65 years of experience as a locally owned and operated pest control business, we pride ourselves on giving our customers the very best care and the very best results! That's why we've designed our Laguna Hills pest control to be as stress-free as possible, so all you have to do is sit back, relax, and enjoy your pest-free home!
When you partner with us for your Laguna Hills pest control needs, you can expect:
A free home inspection and free quote from one of our expert exterminators
Same-day service options and flexible scheduling to work around your busy life
State-of-the-art techniques and treatments to rid your home of bugs for good
Family-friendly treatments that won't put your family at risk
A 100% satisfaction guarantee - we'll get the job done right the first time!
Give us a call at 714-406-4949 to find a pest control package that works for you!
Rodent Exterminator in Laguna Hills
Hearing or seeing rodents scurrying across your floors at home is never a pleasant experience. Whether you're dealing with mice, rats, or other rodents, the bugman is here to protect you all year long! For your peace of mind and satisfaction, we offer same-day rodent control in Laguna Hills to get rid of these pests as quickly and effectively as possible.
GET A FREE RODENT CONTROL QUOTE! 
Our rodent control in Laguna Hills includes:
A free inspection of your home conducted by a professional rodent exterminator. 
Quick and effective rodent removal for a healthier, rodent-free home.
Family-friendly treatments guaranteed to get rid of mice, rats, and other rodents.
Professional exclusion work to keep rodents out of your home for good.
Expert rodent prevention tips that will help you prevent future infestations. 
A 100% satisfaction guarantee to ensure you get the service you deserve!
the bugman is proud to serve our neighbors in Laguna Hills, and we are confident that our rodent control services will keep you happy and healthy and your home rodent-free for the long haul!
Termite Exterminator in Laguna Hills
Few pest invasions can be as financially devastating as a termite infestation. These insects rack up over $5 billion in damages and repairs for homeowners across the United States each year—and their destruction is rarely covered by homeowner's insurance! If you want to protect your home, future, and finances against the devastation a termite colony can cause, you need to partner with a professional pest control company. Here at the bugman, we've made it our mission to provide the best in reliable termite control in Laguna Hills.
When you choose us for termite treatment in Laguna Hills, you will receive the following:
A free termite inspection to assess the type of termite you're dealing with.
Consultation and a personalized treatment plan designed with your home's needs in mind.
Family-and-pet-friendly treatments you can trust.
Flexible scheduling for your convenience.
A termite-free home and the peace of mind you deserve!
When you team up with us, you'll have the benefit of working with termite exterminators who have been serving California since 1958, so you can rest easy knowing your home is in experienced hands.
Save $100 on Guaranteed Termite Control
Termite control is meant to help save you money in the long run—not drain your finances on expensive and unnecessary treatments! With the bugman, you'll not only receive 100% satisfaction guaranteed service and complete elimination of your infestation, but you'll also save $100 on your first treatment! Saving money and getting rid of termites? You can't go wrong with that.
Ant Exterminator in Laguna Hills
Ant infestations can be a nightmare, but not when you have the bugman by your side! Our ant control in Laguna Hills is simple yet effective: we attack the colony head-on, eliminating every last one of them and preventing any future invasions. Choose our ant exterminators and receive:
A free, comprehensive inspection of your home.
A customized ant treatment plan based on the findings.
Total colony elimination with family-friendly, safe products.
Follow-up treatments to keep ants out for good! 
 Trust the Local Experts
For 65 years, the bugman has been leading the charge in ant control in Laguna Hills. As a local business with the community at the heart of everything we do, your satisfaction is our top priority. Give us a call to get started!