Redeem $50 On Pest Control In Ladera Ranch!
What kind of problem are you having? Select all that apply.
Pest Control In Ladera Ranch
You may love living here in California, but unfortunately so do pests! If you're struggling with bed bugs robbing you of sleep, rodents destroying your wires, or mosquitoes chasing you out of your yard, you need the bugman. For the last 65 years, we've been providing top-notch pest control in Ladera Ranch​. We can treat for a variety of local pests, including the following:
Carpet beetles
Ants
Spiders
Bees
Bed bugs
Ticks
Wasps
Rats
And more!
Image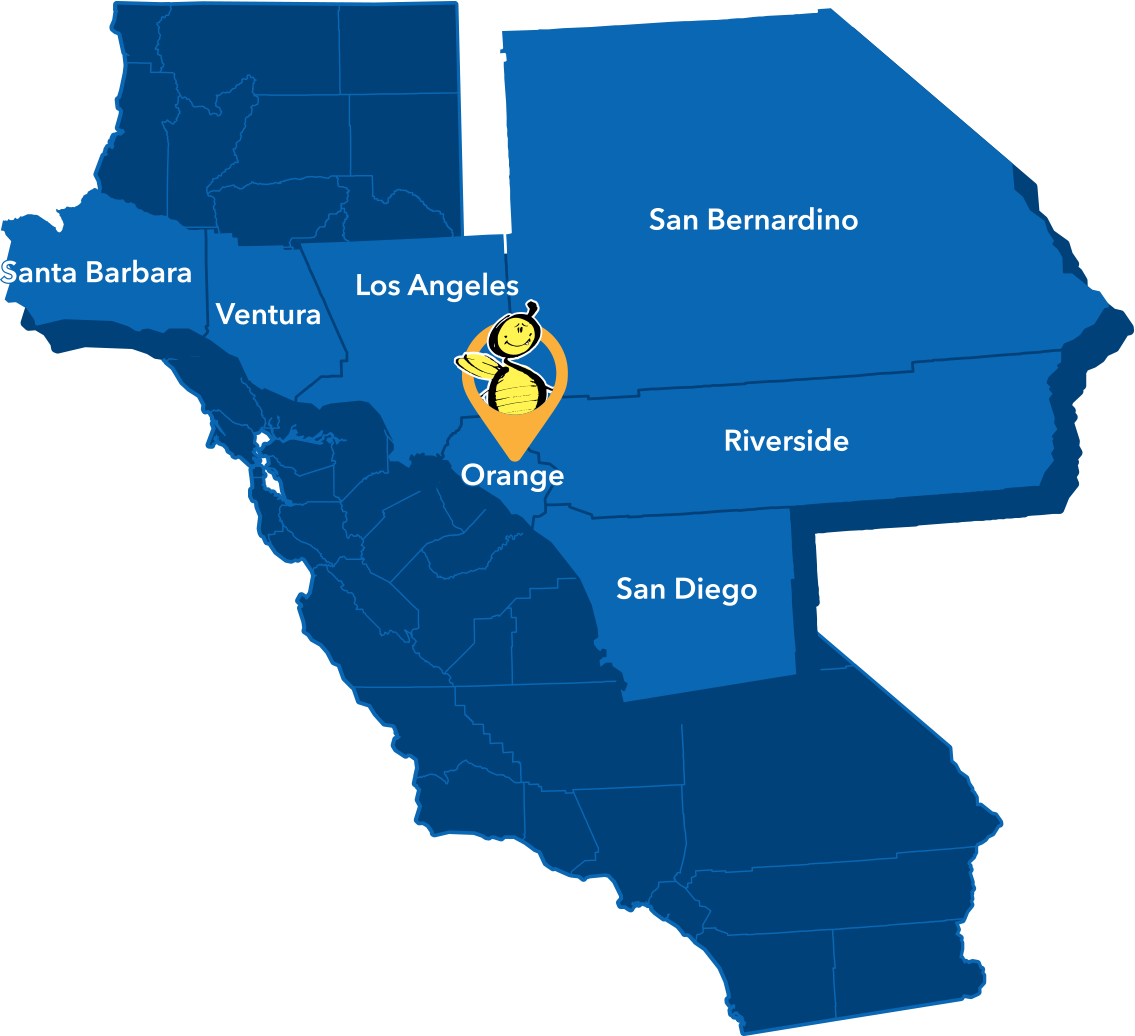 Work with the Experts in Pest Control
Since 1958, your friends at the bugman have been providing top-of-the-line pest treatment in Ladera Ranch​. As a locally-owned and operated business, we believe in providing only the best service to our community. So, in addition to our years and years of experience, we also make sure that all of our Ladera Ranch​ exterminators undergo annual training sessions to make sure they are up-to-date on industry standards. All of our technicians are also state-licensed and certified, so you know that with us, you'll be in good hands.
SCHEDULE A FREE INSPECTION TODAY!
Same-Day Service for Rapid Relief 
Pests don't follow a rigid schedule, so neither do we! With the bugman, you'll not only get Ladera Ranch​ pest control that's fast and effective, but you'll also have access to our same-day service and flexible scheduling options, meaning that help will be on the way before you know it. 
If you want to take your home back from pests, give us a call today and find out about our pest control packages starting at $52 a month!
Ant Control In Ladera Ranch
Ants are small and mighty in numbers—once the colony has made it into the home, it is very hard to get rid of them on your own. While using DIY methods may help some, it's only going to scratch the surface. That's where the bugman comes in with our ant control in Ladera Ranch! Our exterminators are equipped with the best materials to completely rid your home of an ant infestation. Give us a call at 714-406-4949 to schedule your service today!
Your Satisfaction is Guaranteed! 
Once the ants are out, you want them to stay out—that's why we offer a satisfaction guarantee with our ant control. If the ants return between our annual inspections, we will re-treat free of charge. 
When you trust the bugman with ant control in Ladera Ranch, you will receive: 
A free inspection from our certified exterminators who will get right to the source of the infestation.
A customized treatment that best fits you.
Family-friendly products that are safe for you but tough on bugs.
Same-day services and flexible scheduling.
Returning maintenance to keep ants out of your home for good. 
Rodent Control In Ladera Ranch
Rodents can be dangerous pests to have in your household. They carry diseases, chew and destroy wires, and get into your food. At the bugman, we specialize in removing rodents such as mice, rats, and more so you can get back to enjoying your home. After a free inspection to evaluate your home, our certified rodent removal specialists will determine the best course of action in trapping the rodents invading your space. With our exclusion methods, we will seal any entry points that rodents are using to enter your home so that these dangerous pests will stay out long term. Our experts will also give you the best advice on how to keep out and deter rodents from trying to live in your house again. Call us today for same-day service from our rat removal experts!
When you call us for rodent control in Ladera Ranch, you'll receive: 
Treatments from our highly-trained rodent removal technicians. 
Service from a locally owned and operated business with over 60 years of experience.
Humane, eco-friendly rat control procedures to ensure the safety of your home and family. 
Services backed by our 100% satisfaction guarantee. 
 CLICK HERE TO GET $50 OFF RODENT CONTROL AND EXCLUSION TODAY!
Termite Control In Ladera Ranch
Termites are small, silent invaders, they sneak into your home and destroy it from the inside out. These Insects cost U.S. homeowners billions of dollars in repairs each year. These destructive pests have to be dealt with as soon as possible to protect your property. If you think you may have termites in your home, the bugman is here to help. Our termite control technicians complete rigorous training to ensure that you have the best care on your side. We offer same-day service when you call before noon to make sure you get termite treatment fast. Don't wait for them to cost you thousands of dollars in repairs—contact the experts at the bugman today for termite control in Ladera Ranch. 
SAVE $100 ON YOUR FIRST TERMITE TREATMENT
Our termite control in Ladera Ranch include:
A FREE termite inspection.
Plans that are customized to fit your needs.
Effective elimination of all termites in your home.
Your satisfaction is guaranteed, if they come back so will we.
Over 65 years of experience that ensures you will get the best services.