Ditch DIY & Get Same Day Pest Control In Huntington Beach
What kind of problem are you having? Select all that apply.
Pest Control In Huntington Beach
Pests love to take shelter from bad weather, heat, and sunlight by going into your home. Once they're in your home, it can be difficult to eliminate them or even detect them. That's where our professional Huntington Beach exterminators come in! We've been in the industry for 65 years, so no matter the size or severity of your infestation, we're equipped to eliminate it. Our Huntington Beach pest control will keep you protected from:
Bed bugs
Wasps
Cockroaches
Ants
Ticks
Rats
Spiders
And more!
Image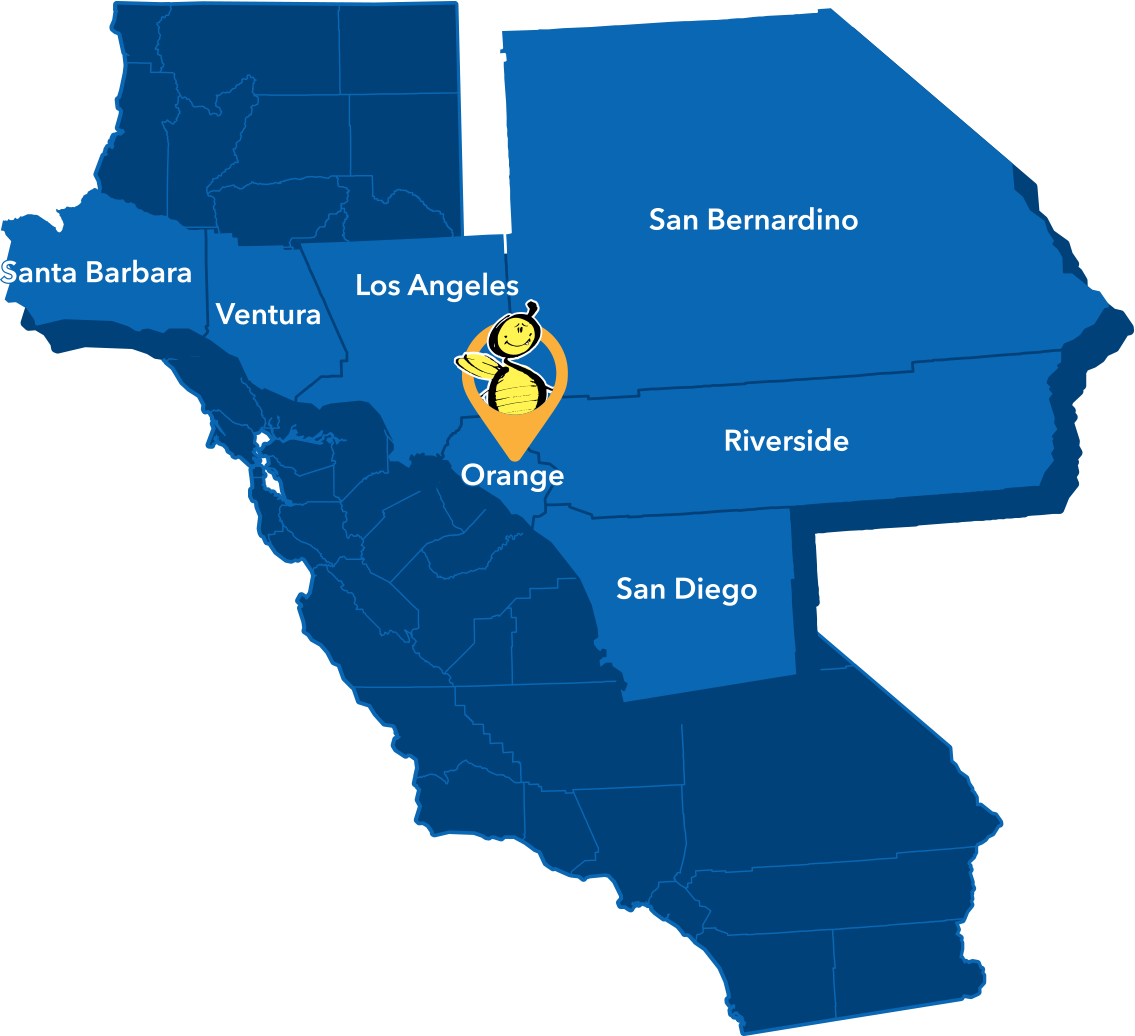 Immediate Results with Lasting Protection from Pests
Whether you've got ants in the pantry or rats in the attic, our Huntington Beach exterminators can make your infestation a thing of the past. We tailor our approach to fit your needs, giving you the most efficient service possible. Our pest control in Huntington Beach services include:
A free, detailed inspection of your home performed by a state licensed and certified inspector.
Eco-friendly treatments that are also safe to be used around your family.
Recurring treatments that fit your needs and schedule that provide long term protection from pests.
Friendly, professional technicians that keep you informed.
Our 100% satisfaction guarantee, because the job isn't unless you're happy with our treatments.
Rodent Exterminator In Huntington Beach
No one wants to share their house with a mouse or rat, much less with an entire infestation of rodents. Their presence in your home can lead to contamination of food, spreading of illnesses such as salmonella and Hantavirus, electrical wire damage, and more. Here at the bugman, we offer professional rodent control in Huntington Beach. Your safety is our top concern, which is why our rodent control is safe for families and pets while being an effective solution for any rodent problem. When you work with us, your rodent problems will be a thing of the past. 
Guaranteed Protection From Rodents
As a local pest control company, our team at the bugman knows what works best when it comes to pest protection from rats and mice in California. We use our 65 years of experience to provide pest services that are beyond compare. Additionally, we offer flexible scheduling, so our services work with your busy schedule.
When you choose us for rodent control, you'll get the following from your rodent exterminator in Huntington Beach:
A FREE rodent inspection to assess how rodents are entering your home.
Consultation and advice from our licensed exterminators.
Removal of rodents and exclusion treatment to keep rodents out.
Guaranteed service—if rodents return, so do we!
Same-day service for quick relief.
$50 off your rodent exclusion!
Ant Exterminator In Huntington Beach
Ants are small, but they aren't are easy to forget about when they are trapesing through your home. Once they get into your home, ants can be extremely difficult to get rid of. With the bugman and our team of ant exterminators, we'll get rid of ants in your home and keep them away for good! DIY ant control methods often don't work and store-bought traps are inconsistent at best. Spare yourself the frustration and let us provide you with the best ant control in Huntington Beach.
Our ant control services in Huntington Beach include:
A FREE and comprehensive inspection of your home.
Customized treatment plans that are designed to address your unique needs. 
Follow-up maintenance to make sure that ants aren't coming back.
Complete elimination of ants in your home.
And more!
We've been kicking ants out of our customers' homes for more than 60 years! If ants are causing you stress, we offer same-day ant control! 
Termite Exterminator In Huntington Beach
No one wants to imagine colonies of highly destructive insects eating away at their home. Unfortunately for many homeowners, termite infestations can turn into a reality. Ignoring your concerns could result in extensive damage to the structural integrity of your home, not to mention your wallet. Americans spend billions of dollars each year repairing damage caused by termites. Save your home, your wallet, and your peace of mind by partnering with the bugman. With our quality, affordable termite treatment in Huntington Beach, you could have the solutions to your pest problems today.
GET $100 OFF YOUR FIRST TERMITE CONTROL SERVICE!
100% Customer Satisfaction 
Since 1958, the bugman has been working hard to protect and preserve the properties of Southern California. Our goal since day one has been 100% customer satisfaction. We strive to provide the highest quality termite treatment in Huntington Beach and guarantee the highest level of customer service. Our exterminators in Huntington Beach are not only highly trained and knowledgeable, but friendly and focused on your satisfaction.  
When you partner with the bugman for termite treatment in Huntington Beach, our team will:
Thoroughly inspect your home at no cost to you!
Create a customized treatment plan to target your specific wood-destroying insect concerns.
Eliminate existing infestations with family-friendly treatments.
Revisit your home free of charge if termites return between services as promised by our 100% satisfaction guarantee.
Take Advantage of Our Same Day Service 
At the bugman, we are dedicated to improving the quality of life in the Huntington Beach community.  We believe no one should have to live with the worry of a termite infestation, and we know that when it comes to these pests, acting fast is essential. That is why we offer same day service and flexible scheduling. We could be at your house today with the solutions you need!
Don't let termites eat away at your home and your peace of mind. Call the bugman at 714-406-4949 for same day service!