The Most Reliable Pest Control In Garden Grove
What kind of problem are you having? Select all that apply.
Pest Control In Garden Grove
Nothing can rob you of your peace of mind like a pest infestation. Here in California, our climate is perfect for hosting a variety of local critters, which means it can be hard to keep them out of your home. However, whether you've got mosquitoes swarming your yard, rats tearing up your attic, termites eating your walls, or wasps under your eaves, the bugman has your back. Our pest treatments in Garden Grove can treat for a variety of local pests, including the following:
Ants
Spiders
Bees
Bed bugs
Carpet beetles
Ticks
Wasps
Rats
And many more!
Image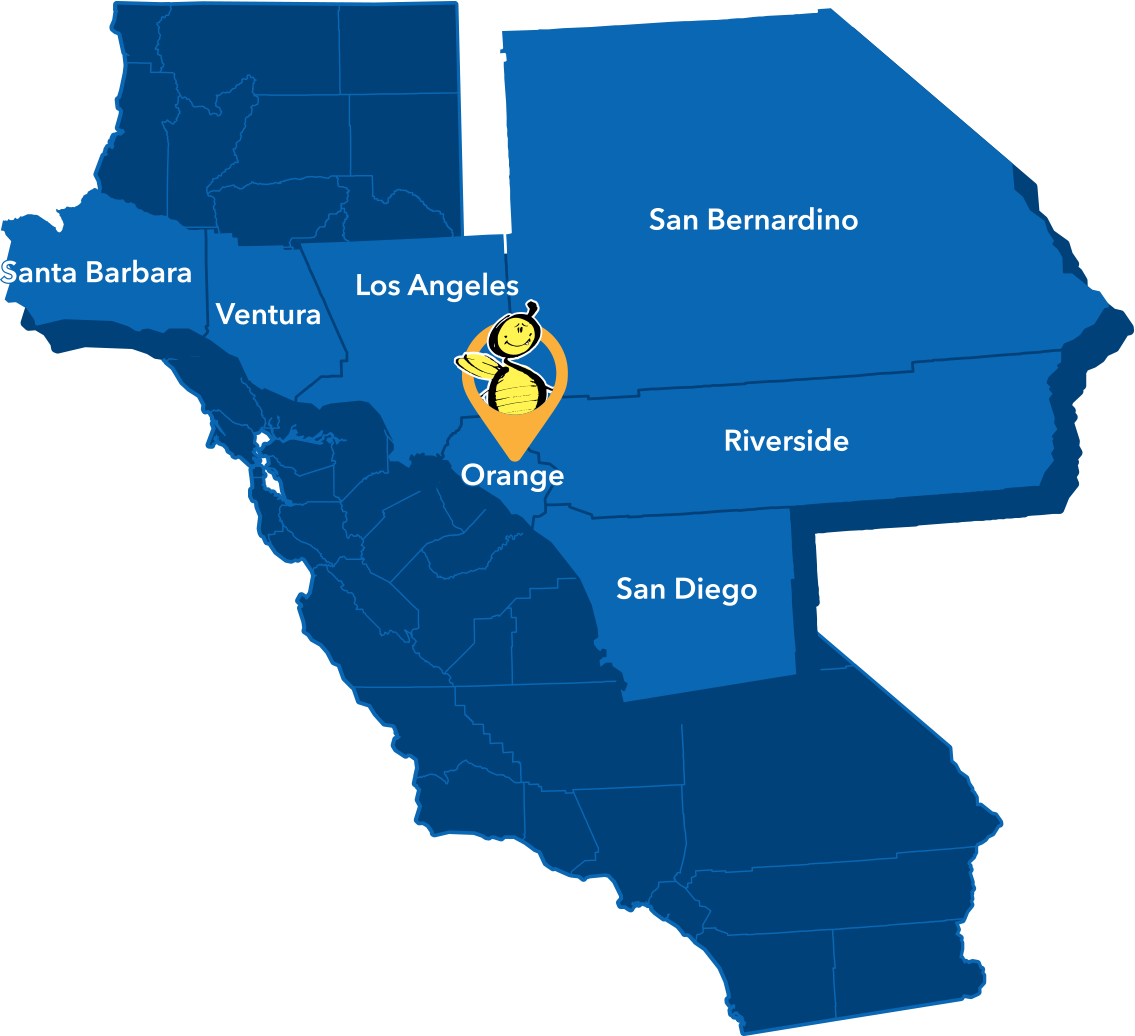 Eco-Friendly Solutions for Your Peace of Mind
Many store-bought and DIY pest control solutions come with a range of risks attached: some may simply not get the job done, while others can even expose you and your loved ones to dangerous chemicals and pesticides. Our team at the bugman knows these worries better than anyone, which is why we pride ourselves in providing family-and-pet-friendly treatment options with our pest control in Garden Grove, meaning all you'll have to worry about while working with us is how you're going to celebrate having a pest-free home! Sign up for our pest control packages today starting at $54 a month!
Trust in 65 Years of Experience
Pest control might seem like a complicated business: with all the different options available for treating for mosquitoes, rodents, stinging insects, and more, it might be hard to know what's best for your unique situation. But don't stress—let the bugman make it easy for you. For the last 65 years, we've been providing top-notch service to people like you. We consider our community our family, so we pride ourselves on keeping our neighbors safe and sound in their homes. When you partner with our pest exterminators in Garden Grove, you can expect:
A free, thorough inspection of your home to identify pest activity, entry points, and nesting sites
Top-of-the-line equipment and service 
Friendly and professional exterminators who will protect your home like it's their own
Recurring treatments to keep pests out—for good!
Termite Exterminator in Garden Grove
Termites are one of the leading causes of home damage—in fact, yearly, they cause more destruction than both fires and natural disasters combined! One of the best things you can do to protect your home's structural integrity and resale value is to invest in quality termite control. Here at the bugman, we're proud to provide fast and effective termite treatment in Garden Grove, backed by the latest technology and quality customer service. That's just one small part of what sets our treatments apart.
Affordable Termite Treatment You Can Trust
Our team of certified and experienced termite exterminators has been serving our local community since 1958, giving us the practical knowledge and expertise needed to knock out your infestation in no time. 
When you team up with us for termite control, you can expect the following:
An inspection to identify the state of your infestation.
A personalized treatment plan designed to meet your home's unique needs.
Flexible scheduling so you never have to arrange your schedule around treatments.
Guaranteed results—if the bugs come back, so do we.
$100 off your first treatment!
Rodent Exterminator in Garden Grove
A rodent infestation is an issue many homeowners mistakenly underestimate. These small mammals might seem harmless, but their presence can quickly put your home and health at risk. In addition to spreading illnesses like the plague, Hantavirus, and salmonella, their tendency to chew through materials can be the source of electrical fires and costly repairs. Not to mention, their strong odor can quickly make your home uninhabitable. Why let them run your home when professional rodent control in Garden Grove is only a call away at 714-406-4949? 
Personalized Service That Gets Results
Here at the bugman, our top-notch customer service and flexible scheduling make us the go-to choice for rodent treatments since 1958. Even better, our 100% satisfaction guarantee means that you'll be happy with your service—and if not, we'll re-treat for free!
When you work with us, you can expect the following from your rodent exterminator:
A free inspection to identify rodent population size and entry points.
Same-day scheduling for fast relief.
Safe and rapid removal.
Recurring services to stop more rodents from entering your home.
Ant Exterminator in Garden Grove
A single ant colony can house hundreds or even thousands of ants. When you see one ant in your home, it's likely the rest aren't far behind. That's why it's important to call the professionals as soon as you notice invaders. Our ant exterminators will begin treating your home as soon as the same day, stopping ants in their tracks and preventing them from taking over. We guarantee that you'll see results!
When you choose our ant control in Garden Grove, we will:
Perform a free inspection of your home to determine where ants are located.
Create a custom treatment plan based on our findings, your concerns, and your property's needs.
Eliminate the entire ant colony using family-friendly products.
Schedule regular visits to ensure your home stays ant-free all year long