Top-Rated Pest Control In Fountain Valley
What kind of problem are you having? Select all that apply.
Pest Control in Fountain Valley
One of the downsides to living in beautiful California is pests. Our climate can host a variety of pests—many of which will enter your home at the first opportunity, causing damage to your health and peace of mind. If you're struggling with pests, the bugman has your back. We have over six decades of experience providing pest control in Fountain Valley, and today we want to help you take back your home from unwanted houseguests. We can treat for a variety of pests:
Ants
Spiders
Bees
Bed bugs
Carpet beetles
Ticks
Wasps
Rats
And many more!
Image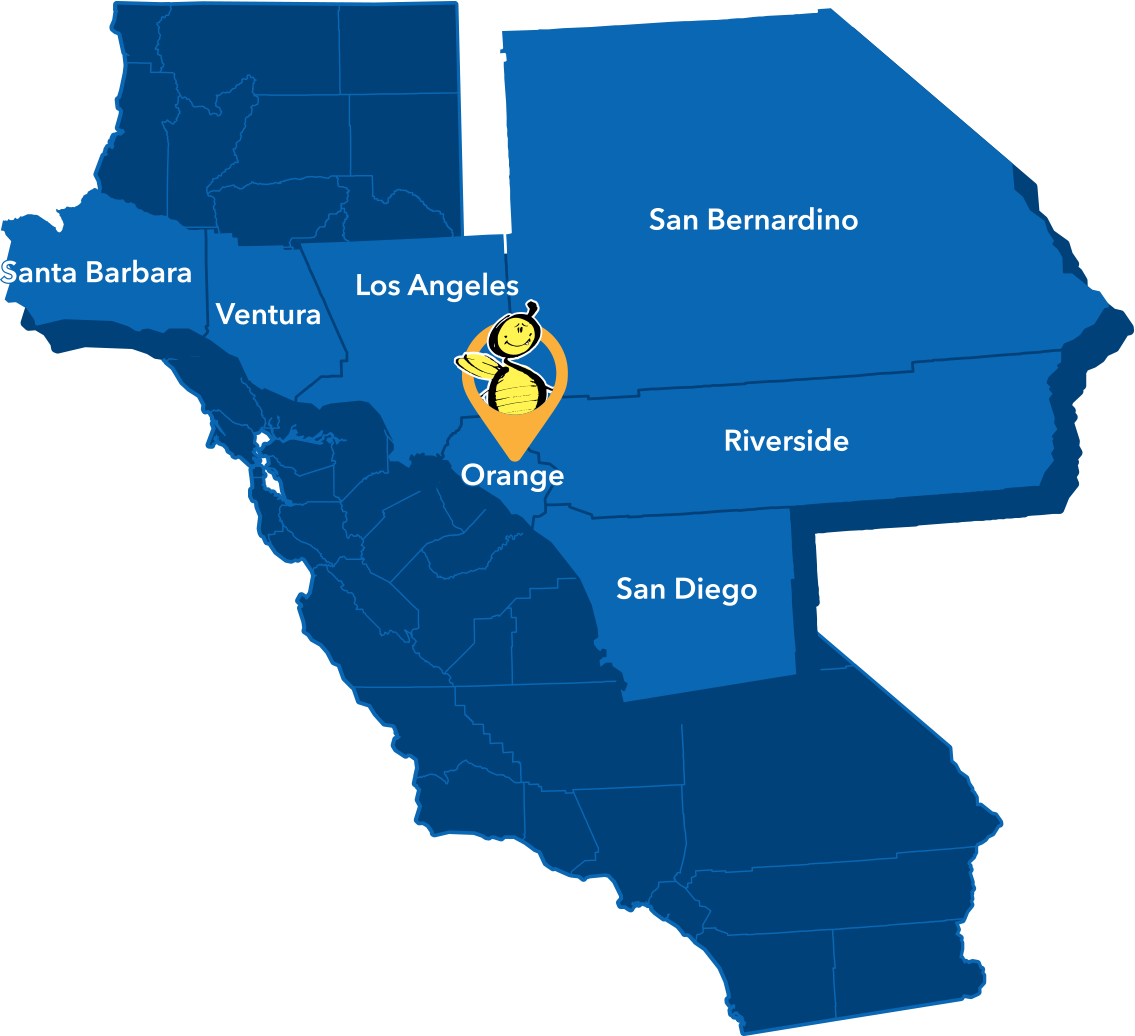 Pest Control from the Experts
Pests can be a pain to remove on your own. Bed bugs are capable of burrowing deep into mattresses and furniture, making them hard to spot and treat. Rodents and termites can make a home in your walls, and many venomous spiders can be dangerous to try to remove on your own. But don't stress—the bugman has it covered. When you partner with us for pest control in Fountain Valley, you can expect top-notch service:
First, one of our state-licensed Fountain Valley exterminators will perform a thorough inspection of your home to identify your pest problem and determine a course of action
Next, you'll get a personalized treatment plan made to meet your home's unique needs
Throughout the process we'll use our state-of-the-art equipment to get rid of pests quickly and effectively
We'll also provide recurring follow-up treatments to keep pests gone—for good!
Rodent Exterminator in Fountain Valley
It's a common misconception that if your home is clean, you don't have to worry about rats and mice. The truth is, rodents will enter even the cleanest of homes to seek food, water, and shelter. Once inside, they can contaminate food, create noxious odors, and even carry severe diseases with them. Fortunately, our professional rodent control in Fountain Valley can get rid of mice and rats quickly and safely.
When you call the expert rodent exterminators at the bugman, you can expect: 
A

free inspection

of your home to evaluate the infestation.

Expert tips

from our courteous technicians on rodent prevention

Complete rodent elimination using

humane, up-to-date methods

Exclusion work to

seal entry points

where rats and mice are getting in and out
Termite Exterminator in Fountain Valley
Every year Termites cause $5 billion in property damages. To combat these dangerous pests, the best defense is to seek out professional help from a local termite control company. When not dealt with quickly, these insects cause unseen destruction in your home, which can be quite costly. That's why if you suspect you have termites, it's important to act immediately. Don't wait for them to cause problems, call the experts at the bugman for same-day relief.
If any of these signs sound familiar, then you may need termite removal: 
Buckling drywalls or floors

Warped or hollow window and door frames 

Mud tubes, discarded wings, or brown droppings around the house 
Termite Exterminators You Can Trust 
Termites are an extremely persistent pest that is difficult to get rid of without the help of professional termite removal. If your home has these insects, you can't afford to go against them alone. The exterminators at the bugman are here to offer expert help that keeps you and your home safe. Our technicians go through extensive weekly training to make sure they are always on top of the most advanced technologies and treatment methods.
Our full termite treatment services in Fountain Valley include: 
Free comprehensive inspection

from our certified exterminators. 

Custom treatment plan

for your home based on the results of the inspection. 

Cutting-edge treatment options

for complete termite eradication. 

If they come back anytime in between our yearly treatments, then so will we!

That's our 100% satisfaction guarantee. 

Flexible scheduling, including same-day termite treatments. 
Ant Exterminator in Fountain Valley
We understand that having an ant infestation can be a nightmare for homeowners. That's why the bugman is here to help. Our ant control in Fountain Valley is top-notch and designed to eliminate ants quickly and effectively! When you choose our ant exterminators, you'll get:
A thorough, free inspection of your home to determine where the colony is located. 
A custom treatment plan tailored to your specific needs.
Advanced ant treatments and methods to completely eliminate the ant problem from your home.
Recurring services that keep ants from coming back!
Partnering with the bugman means you can trust that your ant problem will be solved efficiently and effectively. Say goodbye to pesky ants and hello to a pest-free home.
You'll Be Pest Free—Guaranteed!
You've wasted enough time and DIY and store-bought treatments that don't get the job done. If you want Fountain Valley pest control you can rely on, you want the bugman. Not only have we been in the industry since 1958, but we're so sure that you'll be satisfied that we offer a satisfaction guarantee: if your pests return between treatments, just let us know and we'll be back to set it right. That's the peace of mind you deserve.