Save $50 On Pest Control In Foothill Ranch!
What kind of problem are you having? Select all that apply.
Pest Control in Foothill Ranch
Here in California, pests can be a major problem. Whether you've got bugs in your bed, termites in your walls, or ants on your counters, few things can rob you of your peace of mind like a pest infestation. That's where the bugman comes in. Since 1958, we've been providing high-quality pest control in Foothill Ranch, and now we want to help you take back your home. We can treat for any local pest: 
Ants
Spiders
Bees
Bed bugs
Carpet beetles
Ticks
Wasps
Rats
And more!
Image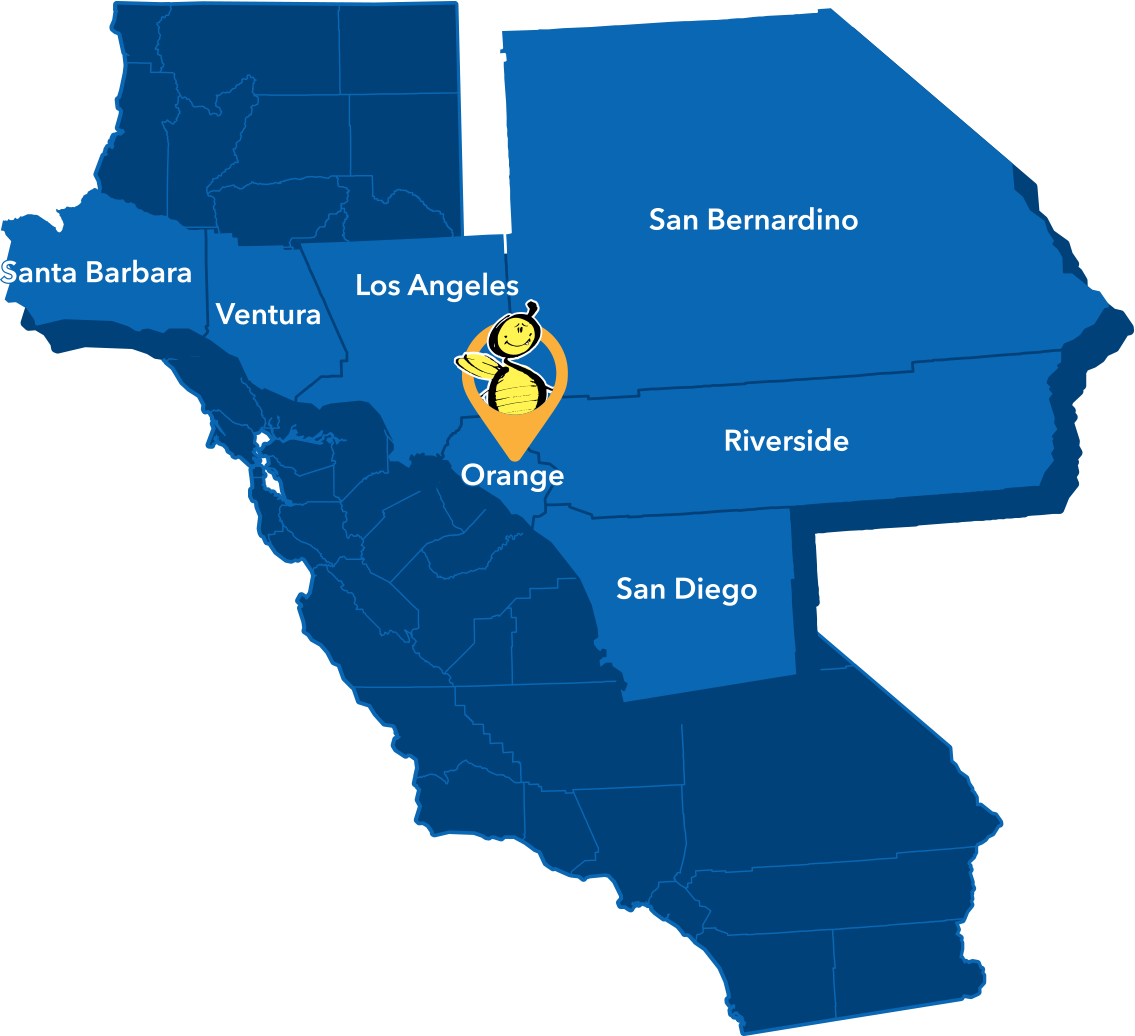 Expert Pest Control You Can Trust
Here at the bugman, we believe in doing Foothill Ranch pest control right. For the last 65 years, we have been perfecting our techniques, so our services get the job done right the first time. All of our technicians are state-licensed and certified to keep them up-to-date with industry standards, and our equipment is top-of-the-line. When you partner with us for pest control in Foothill Ranch, you can expect the following excellent services:
A FREE inspection by one of our trained and friendly Foothill Ranch exterminators to identify the extent of your infestation 
A personalized treatment plan to meet your needs
Recurring treatments to keep bugs at bay for good
Same-day service and flexible scheduling for your convenience 
And much more!
You'll Be Pest-Free—Or We'll Retreat!
Want pest control in Foothill Ranch you can count on? Then you want the bugman. Not only are our services backed by 65 years of experience, but they come with our satisfaction guarantee: if your pest problems continue after treatment, just let us know and we'll be back to fix the problem—at no additional cost to you! If pests come back, so do we. That's the service you deserve.
Termite Exterminator in Foothill Ranch
There aren't many household pests that are as destructive as termites. To put that in perspective, these "silent destroyers" are responsible for over $5 billion worth of home damage every year! Worse still, they aren't choosy about which homes they target so quality termite control in Foothill Ranch is what you need to keep your house standing. With 65 years of experience and California's finest exterminators, you can trust us to do the job right. Get rid of termites today and book your FREE inspection.
You may have active termites in your home if you notice:
Hollow-sounding wooden structures.
A faint scratching noise coming from behind your walls.
Warped doors and window frames, buckling floorboards.
Apparent water damage with no obvious explanation.
Swarming insects which resemble flying ants.
Dark, powdery termite droppings known as frass.
Ongoing Termite Protection and Lasting Relief
Simply getting rid of termites isn't good enough for the bugman. Rather, we'll always go the extra mile to prevent future infestations and protect your peace of mind moving forward. With the level of service and proactive protection we provide, you can always depend on us.
Rodent Control In Foothill Ranch
Rats, mice, and other rodents can be dangerous, carrying diseases like Hantavirus, Typhus, and even plague. Partnering with the bugman for rodent control in Foothill Ranch means receiving quality service that goes beyond the competition to keep you and your family safe. We believe that removing pests like mice and rats should be as effective and hassle-free as possible. At the bugman, we put the customer first with flexible scheduling and same-day service backed by our 100% satisfaction guarantee.  
When you partner with the bugman for rodent control in Foothill Ranch, you can expect:
A free inspection of your home.
Complete elimination of rodents in your home.
Quality results guaranteed.
And more!
Ant Control In Foothill Ranch
Ants are an extremely common pest to deal with in Foothill Ranch. As a result, it's easy to overlook an infestation until it's long past time to deal with it. With our ant control in Foothill Ranch, you can finally be free of these irritating pests for good. Deceptively challenging and full of energy, ants tend to resist DIY treatments better than other household pests. So don't wait for ants to take over your home and take action today! 
Our ant exterminators in Foothill Ranch will:
Thoroughly inspect your home.
Identify and eliminate ant entry points.
Develop an ant treatment plan to meet your specific needs.
Conduct ongoing maintenance to keep ants out for the long haul. 
Family and Eco-Friendly Service
Most of the pest control industry just wants to spray insecticides and move on to the next house. Not only is this a recipe for continued pest issues in the long run, but it can expose your family to dangerous chemicals. At the bugman, we choose the safe, eco-friendly approach that you can count on for long-term relief. Book your free inspection now and remind ants who's in charge!