Same-Day Pest Relief From Dana Point Exterminators
What kind of problem are you having? Select all that apply.
Pest Control in Dana Point
Here in California, our climate can host a variety of frustrating, dangerous, and destructive pests. If your home or lawn is under siege by insects, rodents, or any other nuisance, the bugman has your back. Since 1958, we have been providing quality pest control in Dana Point, and our state-certified technicians are trained to deal with any sort of pest situation. We can handle a variety of local pests:
Rodents
Fleas and ticks
Termites
Bed bugs
Carpet beetles
Spiders
Wasps
And more!
Image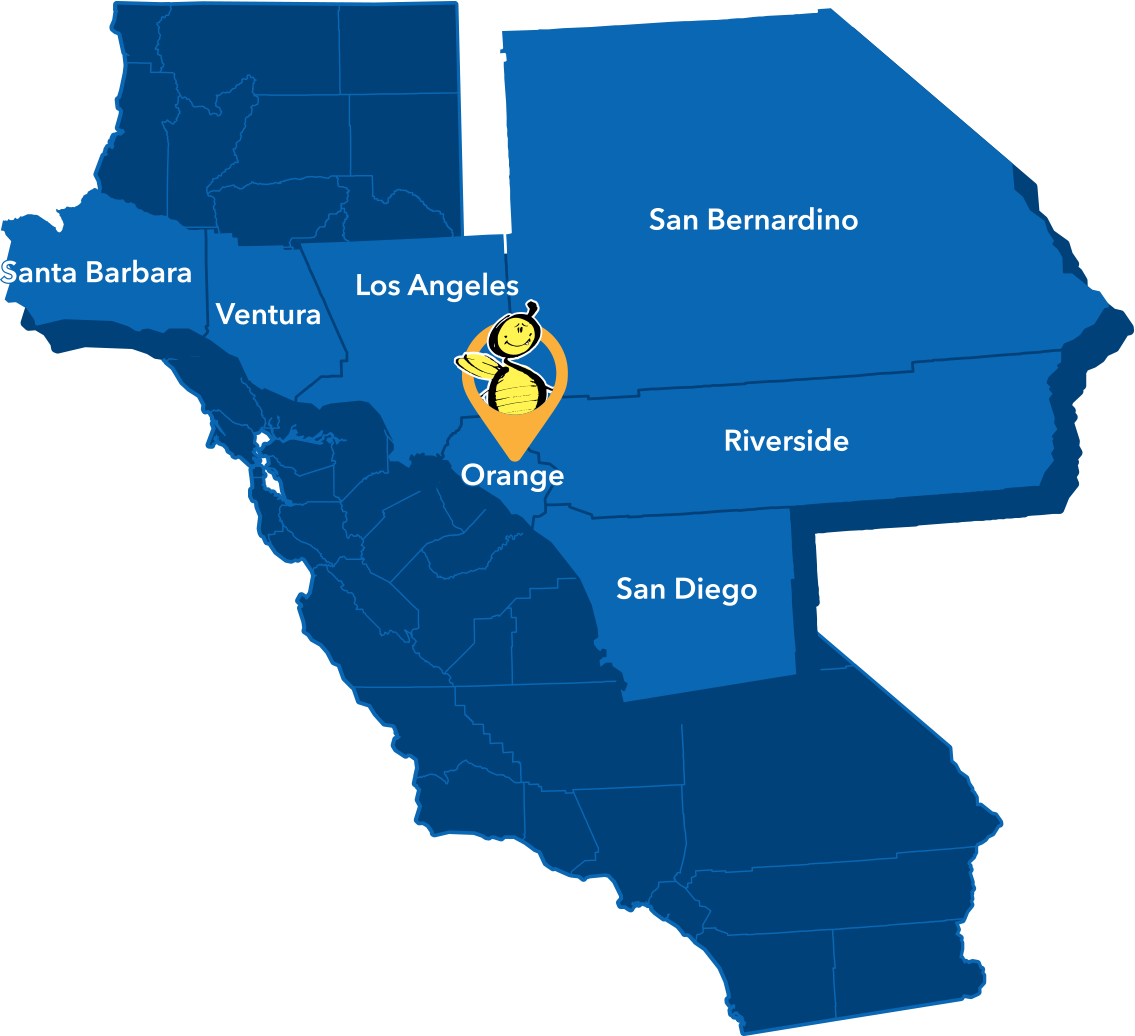 Family-Friendly Pest Treatments for Your Peace of Mind
Pest control in Dana Point can be stressful. Some solutions don't work, and others can pose a risk to you, your loved ones, your pets, and our planet. With the bugman, you'll have the security of knowing that we are devoted to providing you with Dana Point pest control that is eco-friendly and family-and-pet-safe, so when you work with us all you have to think about is how you're going to enjoy having a pest-free home!
Work With the People Who Care—Guaranteed!
For us, pest control in Dana Point isn't just a job: it's a passion. As a locally-owned-and-operated business, we pride ourselves on offering top-notch customer service to our community. In fact, we are so dedicated to your satisfaction that we offer a service guarantee: if you aren't happy with your Dana Point pest control treatment, just let us know and we'll be back to make things right—at no additional cost to you. That's the care you deserve. Call us today at 714-406-4949 and learn how we can help protect your home. 
Rodent Exterminator in Dana Point
Rodents may be small, but that doesn't mean they're harmless! Rats and mice can contaminate your food, spread disease, and damage electrical wiring. To protect both your home and family, trust our rodent control in Dana Point to make sure these pesky pests don't take over. Our treatment is fast, effective, and backed by our satisfaction guarantee. There's no better option than the bugman!
When you partner with us for rodent control in Dana Point, we will:
Complete a free inspection, performed by a licensed and certified exterminator.
Share expert advice on how to make your home less tempting to rodents.
Strategically treat to eliminate rodents without putting kids or pets at risk.
Perform exclusion repairs to seal off entry points and prevent future infestations.
Give you our satisfaction guarantee, which includes free re-treatments.
Termite Exterminator in Dana Point
Termite infestations are not only stressful, but they're also costly. These pests can easily cause thousands of dollars in damages, and most homeowners insurance doesn't cover termite damage. To protect your home and save money, trust our termite treatment in Dana Point. Our exterminators quickly get to work, eliminating the entire colony while giving you lasting protection. Don't let these pests win and look into our guaranteed treatments at the bugman!
Our termite removal services include:
A

free inspection

to determine the extent of the infestation.

Customized treatment

based on your home's needs.

Annual visits from expert exterminators

to ensure your home stays termite-free.

Our termite protection plan, which includes

free re-treatments.
Ant Exterminator in Dana Point
It can be hard to get rid of ants completely—without removing the entire colony, they are known to return at a rapid pace. That's why our ant control in Dana Point specialize in comprehensive pest protection for 65 years. Our team of experienced ant exterminators is prepared to work with you to meet and exceed every one of your expectations. 
When you enroll in our ant treatment program, you can expect:
A free, comprehensive inspection

by a licensed and trained ant exterminator.

A custom treatment plan for your home

based on your inspection.

Family-friendly products and treatment methods

to eliminate the entire colony.

Follow-up appointments and treatments

to ensure complete coverage for the entire year.

A complete satisfaction guarantee.