Looking For Same Day Control In Costa Mesa?
What kind of problem are you having? Select all that apply.
Pest Control In Costa Mesa
It's hard not to keep doors and windows wide open when you live in Costa Mesa. Unfortunately, you aren't the only one enjoying the nice weather. Pests enjoy the conditions here just as much as you! Luckily here at the bugman, we offer pest control in Costa Mesa that provides protection from many kinds of pests. Our state-licensed and certified technicians are dedicated to providing quick and effective pest relief, you won't have to lift a finger. Here are a few of the pests our exterminators will eliminate when you pick us for your pest control needs:
Bees
Spiders
Ants and Fire Ants
Wasps and Stinging Insects
Roaches
Beetles
Flies
Bed Bugs
Rodents
Termites
And more!
Image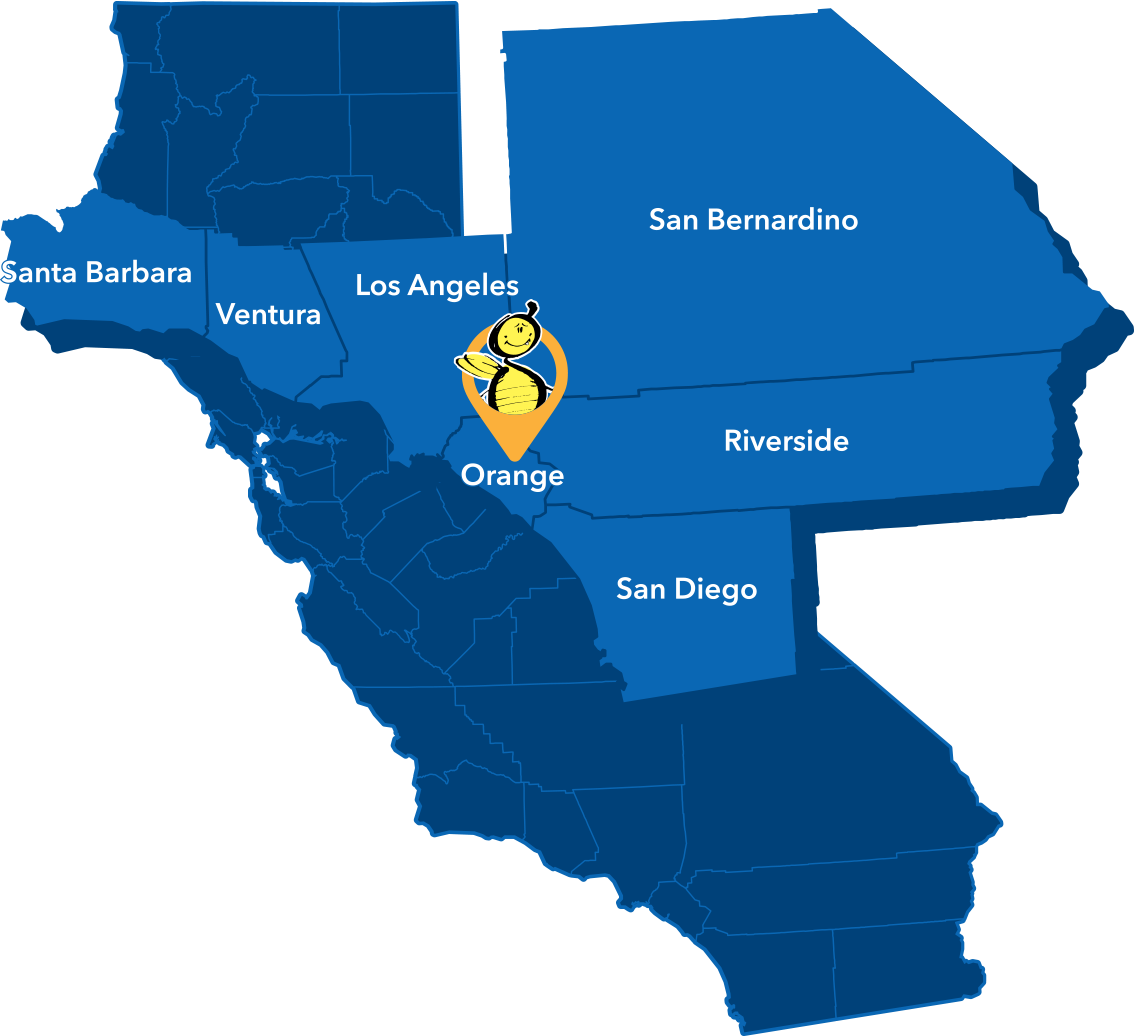 Long-Term Pest Solutions
As a locally-owned and operated business, we take the protection and care of our Costa Mesa community very seriously. When you put your trust in our pest control exterminators, our technicians will go above and beyond to leave you with a pest-free home. We do this by implementing our pest control with extreme precision while utilizing the most effective tools and methods. Our team of technicians focuses on implementing treatments that will last long so that you won't have to worry about another infestation occurring again. Call today for pest control packages starting at $54 a month. 
Here is what you can expect when joining forces with our exterminators in Costa Mesa:
A free, detailed inspection of your home provided by a pest professional. We will take this time to inspect affected areas and determine what the best course of action is for your home.
A treatment tailored to the specific pest infestation you are dealing with to guarantee elimination.
Quarterly pest services to ensure long-term protection for your home.
A 100% Satisfaction Guarantee!
REDEEM $50 OFF YOUR FIRST PEST CONTROL TREATMENT
Call today and our exterminators can provide you with pest control services as soon as today! We understand the urgency of a pest infestation which is why we offer same-day services and flexible scheduling.
Termite Treatment In Costa Mesa
As a homeowner, the purchase of your home is going to be one of the biggest financial investments of your lifetime.  Because it's such a huge investment, you should be aware of what poses a danger to your home. Termites are small insects that can form colonies along the foundation of your home, and will gradually begin to eat the wood in your home's foundation. Once a colony chooses your property as their new home, it can cause severe structural damage which can cost thousands of dollars in damages. Thankfully, you don't have to worry about termites any longer. When you team up with the bugman for termite treatment in Costa Mesa you will receive the following:
A thorough inspection of your home to identify the extent of your termite infestation.
We will develop a personalized termite treatment plan for your specific needs.
Our Satisfaction Guarantee: If they come back, so will we!
Termites don't have to be added to your long list of worries. When you team up with the bugman, you will be paired up with trained and certified technicians who have been providing termite protection in Costa Mesa for years. Our technicians are prompt and respectful, and are here to ensure your home isn't at risk of structural damage again! Along with this, our team at the bugman believes that a pest-free home should be available to everyone, no matter the price.
Rodent Control In Costa Mesa
Finding rodents scurrying around your home can be an unsettling experience, and getting rid of them can be just as stressful. Luckily, with the experts at the bugman on your side, ridding your home of its rodent invaders is fast, efficient, and hassle-free! With over 60 years of experience offering quality rodent control in Costa Mesa, our expert rat exterminators know just what it takes to rid your home of mice and rats for good!
Family-Friendly Rodent Control That Works For You
As a locally owned and operated business, we treat all our customers like family. For us, that means giving you the same quality and family-friendly care that we would use in our own homes! If you are looking for a pest control company in Costa Mesa you can trust to get rid of any rat or mouse you may find, the bugman is here to help! 
When you partner with us for your rodent control in Costa Mesa, you will receive:
Same-day service and flexible scheduling that works for you.
A free home inspection by one of our licensed and certified rat exterminators.
Rodent removal using a variety of effective and family-friendly methods.
Exclusion work to patch up mice and rat entryways and keep new invaders out.
Advice on how to keep your home free of mice and rats once and for all.
Our 100% satisfaction guarantee, meaning we will re-service if needed!
Ant Control In Costa Mesa
Even the cleanest home can have ants, and once you see them trailing across your window sills, kitchen counters, or floor, you can be sure that more will follow. Ants are small, but what they lack in size they make up for in numbers. These are social insects, and the ones you see are just workers in a massive colony. Once they target your home, fighting them on your own can be a losing battle. Home treatments only kill the ants that get inside. For effective control, you need a reliable ant exterminator to target the colony. Since 1958, the bugman has been the ant exterminator of choice for families who want to rid their homes of pests.
CALL 714-406-4949 FOR A FREE INSPECTION TODAY!
65 Years of Reliable, Trusted Service
Ants are notoriously difficult to eradicate. Our pest control exterminators will arrive at your home backed by our 65-year reputation and knowledge to leave your home ant-free. When you team up with the bugman, you can leave the work to us. Here's what you can expect.
An exterminator will perform a  free, comprehensive inspection to identify the level of ant infestation.
Once the inspection is completed, you'll receive a detailed plan on the best way to get rid of ants in your home.
Our exterminators will treat your home using safe, family-friendly products.
Continued maintenance to make sure ants never return.
Exceptional Pest Control Services Provided By Local Experts
With 65 years of experience in the industry, the bugman offers guaranteed efficient services provided by the most knowledgeable professionals in the business. With the help of our pest control in Costa Mesa, you can live easily knowing that your home is always protected from pest threats. If you are ever unhappy with the service provided, let us know and our exterminators in Costa Mesa return and do what they can to make it right! Don't let the pests take control of your home – invest in guaranteed pest protection today. Our Anaheim pest technicians offer services throughout SoCal, so make sure you get the help you need today!