Same Day Pest Control Exterminators in Brea
What kind of problem are you having? Select all that apply.
Pest Control In Brea
Our Brea pest control is specifically designed to get bugs out as fast as possible while offering you the long-lasting relief you've been waiting for. Since 1958, the bugman has been the leader in Southern California pest control. So if you're thinking your pest problem is too tough for us to handle—think again! We have the ability to tackle the toughest of pest infestations. Since our experts are locally hired and trained, we know what bugs live here and how to effectively get rid of them.
Image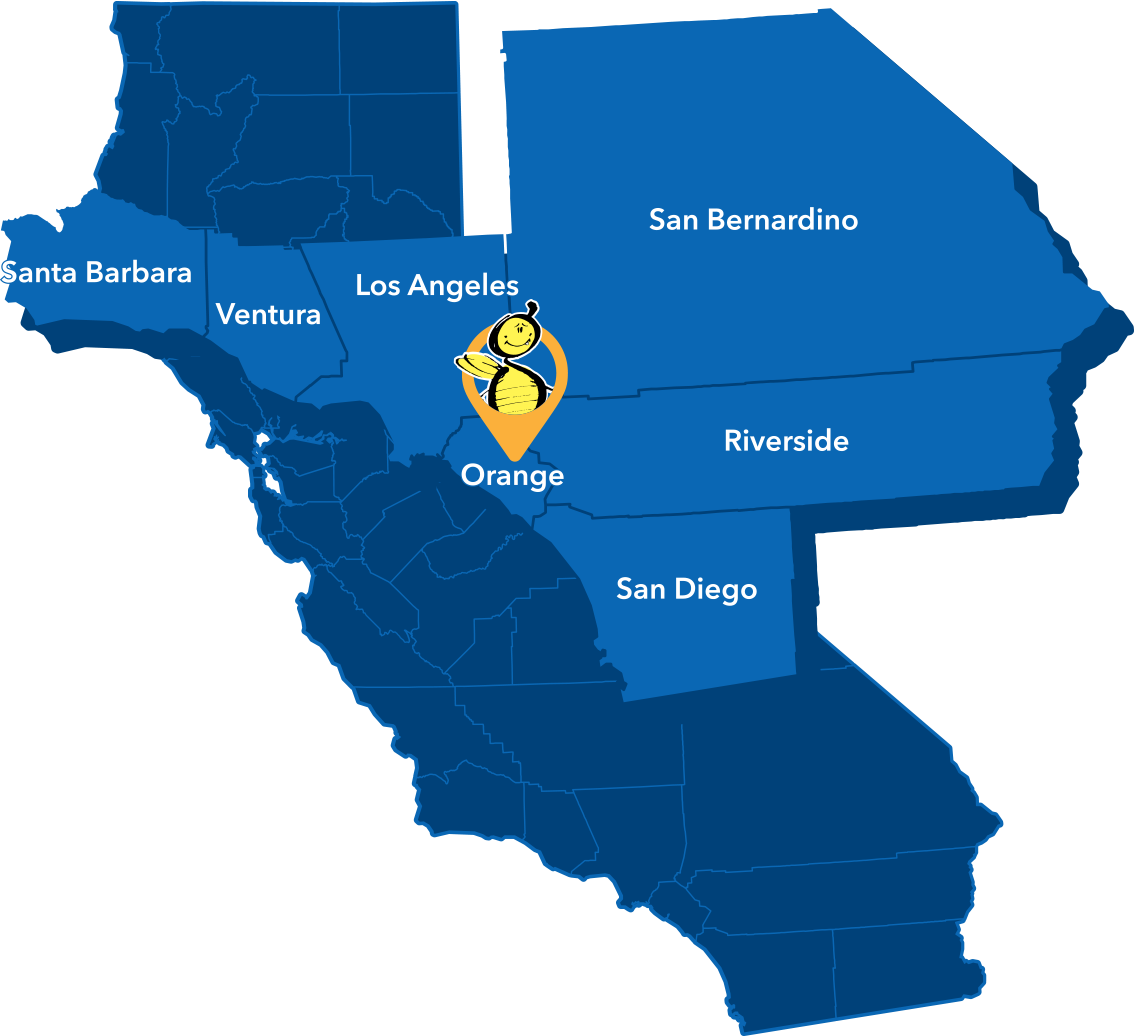 Proven Pest Solutions in Brea
Our pest control exterminators in Brea protect your home against:
Cockroaches
Ants
Spiders
Mice/Rats
Wasps
Carpet Beetles
Ticks
Crickets
Moles
Bed Bugs
Termites
And more!
We understand how frustrating a pest infestation can be.  One minute you think they're gone, and the next they are back in full force.  We are here to save you the frustration and get you back to living a pest-free life.  With our professional pest control in Brea, we will eliminate all pests in the blink of an eye, and leave you with a pest-free home to enjoy with the family!  
Our Brea exterminators will give:
FREE evaluation of your home by a state-licensed and certified inspector.
Several treatment scheduling options: monthly, bi-monthly, or quarterly.
State-of-the-art pest removal equipment and products.
100% satisfaction guaranteed.
Termite Treatment In Brea
Termites are known to be especially resilient insects when they have made a place for themselves in your home.  Because of this, professional treatment is likely the only option if you want these pests out of your home for good. They can cause thousands of dollars in damage before you know it, so it's important to seek help as soon as possible if you want to avoid costly repair bills. With our termite treatment in Brea, you can rest assured knowing we will get to the root of the problem and have you living a termite-free life quickly. This is what you can expect from our termite control in Brea:
Free detailed inspection of your home to identify the specific type in your home.
Personalized treatment plan created by you and your technician to address your specific wants and the needs of your home.
Complete eradication of termites using effective and family-friendly methods.
Termite Protection Plan.
With our Termite Protection Plan, you are protected from termites all year long!  If they show back up in your home between annual inspections, we will return to apply a treatment—at no extra cost to you.
SAVE $100 OFF YOUR FIRST TERMITE TREATMENT SERVICE!
Rodent Control In Brea
Rodents are notorious for their ability to be elusive in your home—once they make a nest in your home, it is tough to get them out.  So put down your home remedies, and call on the professionals at the bugman to get these pesky animals out of your home. Our rodent control in Brea offers advanced techniques and proven methods to eliminate each and every rodent from your home while keeping your family safe and saving you money on expensive repair bills.  Our rodent control in Brea includes:
FREE evaluation of your home to identify the types of rodents you are dealing with.
Professional advice from our technician on how to keep rodents out in the future.
Complete removal of rodents using humane tactics such as baiting and trapping.
Sealing of entry points around your property to deter rodents from gaining access to your home.
Bed Bug Treatment In Brea
Bed bugs are nasty insects.  They leave you with red itchy bites, fecal markings on your sheets, and many sleepless nights.  Take back your home from bed bugs immediately with our hassle-free bed bug treatment in Brea. This is how the process works:
Step 1: Inspection of your home by a state licensed and certified inspector.
Step 2: Customized treatment plan to cater to the specific needs of your home.
Step 3: Total elimination of bed bugs using advanced equipment and methods.
Step 4: Follow up treatments to keep your home bed bug-free!
Ant Control In Brea
Are you trying to get ants out of your home but your over-the-counter remedies just won't cut it?  We can help! Here at the bugman, we offer professional ant removal services that will get ants of your home—fast!  Don't spend another day stressed out because your home remedies won't work and call on the professionals do get the job done right.  
How our ant control works:
A trained and certified exterminator will conduct a FREE inspection of your home.
Our technician will formulate an effective ant control plan
We will use advanced, family-friendly products and methods to completely eliminate your ant colony.
We will return to your home to conduct ongoing maintenance to ensure you have an ant-free home all year long!
When you partner with us, we will use the best products on the market to eliminate ants from your home and ensure they never return!
Give our team a call at 714-406-4949 for ant control today!
Trusted Pest Control In Brea For 65 Years
As a locally owned and family-operated business in Brea, we only have the best intentions for our fellow neighbors. When you count on the bugman for your pest control, you can rest assured knowing that you are in the hands of professionals who care about you and the safety of your family.  As part of the bugman culture, we will always go above and beyond to meet the satisfaction of our customers. At the end of the day, we are here to help YOU, not just your home.  
These are just a few of the great benefits you will receive when you partner with the bugman:
Customer service that goes above and beyond.
Friendly and trustworthy technicians.
Same-day and Saturday service.
Flexible scheduling to fit in with your routine.
Easy payment options
100% satisfaction guaranteed!
Not in Brea? Our technicians offer pest control in Anaheim and the surrounding areas. Find your service area today!