Highly-Rated Pest Control In San Clemente
What kind of problem are you having? Select all that apply.
Pest Control In San Clemente
What's not to love about the weather in San Clemente? Unfortunately, the pests think so, too. Here at the bugman, we provide protection from a wide range of pests that frequent the area. Our highly-trained technicians are certified with the state of California and are dedicated to providing you with effective, long-term pest relief. When you trust us with your pest control in San Clemente needs, you can expect to be protected from: 
Wasps
Bees
Spiders
Ants
Roaches
Beetles
Bed bugs
Ticks
Rodents
And more!
Image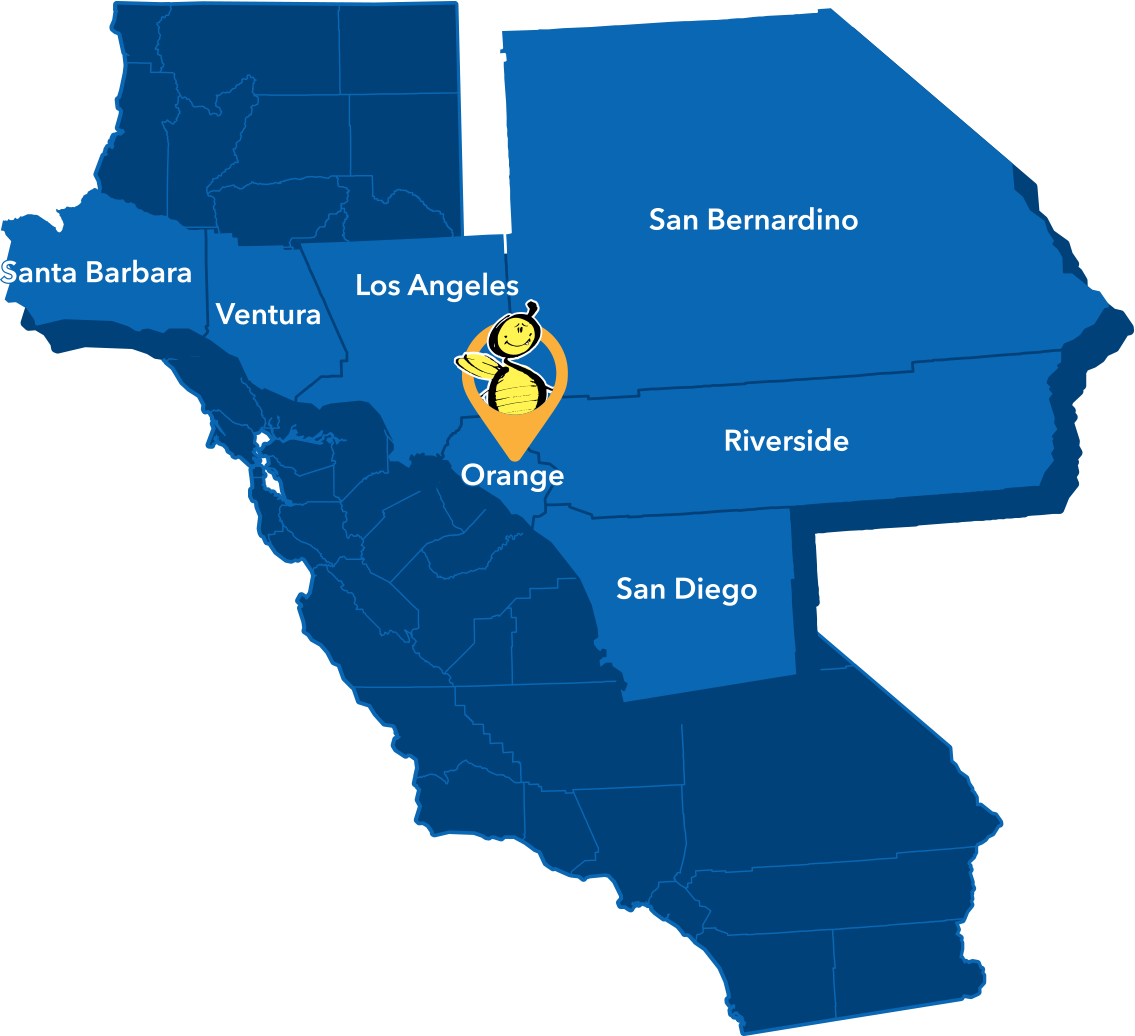 Effective Pest Exterminators in San Clemente
Trying to treat a pest infestation yourself can be frustrating. You may think you've eliminated them for good, but the pesky insects and rodents will return in full-force only days later. Unfortunately, DIY solutions could be making your infestation worse, not better. Our professional exterminators are highly-trained to eliminate your entire pest infestation in one treatment using state-of-the-art equipment and the best pest control techniques. When you partner with us for your pest control needs in San Clemente, you can expect:
Our trained exterminators will perform a detailed evaluation of your home to determine the severity of the infestation. 
We will devise a tailored treatment plan that is customized to your pest infestation. 
We offer family-friendly treatment solutions because a pest infestation is worrisome enough. 
We offer repeat treatments to ensure bugs and rodents stay away.
100% satisfaction guarantee. 
Call 714-406-4949 today to get your free general pest inspection!
Lending a Helping Hand
For 65 years, we've been helping our neighbors with their pest infestations. As a locally-owned and operated business, we believe in offering you our utmost customer service, pest-free results, and hard work to our customers. You are our neighbors and you can expect to be treated as such. When you partner with the bugman, we will provide you will local pest experts and exceptional customer service. We truly value your business. We'll even guarantee your total satisfaction. Call today to schedule your pest control services!
Rodent Control In San Clemente
Rodents are among the most terrifying pests to have in your home and, since they're not just seasonal pests, they can infest your home at any point throughout the year. Luckily, the bugman can help! We offer rodent control in San Clemente that is sure to keep your home rodent-free all year long.
A state-certified rodent exterminator will protect you from the following rodents:
Save Even More with a Free Rodent Inspection
At the bugman, we want to get you the long-term rodent protection you deserve at affordable rates. In addition to this, our flexible scheduling and same-day service options allow you to save money and time. Whether you are looking to get rid of rats or other rodents in your home, we are sure to provide you with quality rodent control - 100% satisfaction, guaranteed!
When you partner with us for rodent control in San Clemente, we will:
Send a professional exterminator to your home to provide you with top-notch service.
Perform a free inspection that will detect areas of infestation as well as entry points.
Treat your home using eco-friendly products for the safety of you and your family.
Use advanced trapping and exclusion methods to completely get rid of rodents.
Provide expert tips on how to keep rodents out of your home for good.
Termite Control In San Clemente
Termites can destroy years' worth of investment in your home in as little as a few months. Luckily, the bugman can stop them! We provide termite control in San Clemente for total elimination and long-term termite prevention.
Save $100 on Your First Termite Treatment
Wood destroying insects cause damage to the structure of your home that is costly to repair, and we are proud to provide termite treatment that is both highly effective and cost-effective. Our initial, thorough home inspections are complimentary, saving you even more money! Additionally, our state-certified exterminators undergo frequent training to stay up-to-date on the best service practices to give you the service you deserve.  
GET $100 OFF TERMITE CONTROL TODAY!
When you partner with us for termite control in San Clemente, you can expect:
Flexible scheduling to get you the service you need when you have the time to do it.
Quality service performed by a knowledgeable exterminator that knows the ins and outs of termite treatment.
A free inspection of your home to assess the current infestation and damage caused.
Family-friendly treatment that ensures your protection and peace of mind.
Long-lasting protection, so your home remains an investment worth making.
100% satisfaction, guaranteed!
Ant Control In San Clemente
Ant colonies can grow rapidly, increasing from just a few to a couple hundred in no time. Removing these small and swarming pests is impossible when using homemade remedies. Don't take the risk of treating an infestation on your own only for the colony to reform inside your home. Trust the bugman for superior ant control in San Clemente. Since 1958, our ant exterminators have led the industry in ant treatment that removes the colony and prevents its rebuilding. 
Our professional and comprehensive plan includes:
A free and thorough inspection.
Development of an effective ant control plan by one of our on-site technicians.
Complete removal of the colony using the most effective treatments
Follow-up maintenance to ensure an ant-free home year-round.