Quick Relief With Our Pest Control In Aliso Viejo
What kind of problem are you having? Select all that apply.
Pest Control In Aliso Viejo
There are countless reasons why Aliso Viejo is an amazing place to live. The only problem is pests agree! For 65 years, we have been taking care of pest infestations in our community. Our pest exterminators are highly-trained and can handle a variety of pests. When our pest exterminators in Aliso Viejo are on the job, no infestation is too big to handle. Our pest control in Aliso Viejo protects your home from:
Bees
Wasps
Ants
Carpet Beetles
Bed bugs
Ticks
Spiders
Rodents
And much more!
Image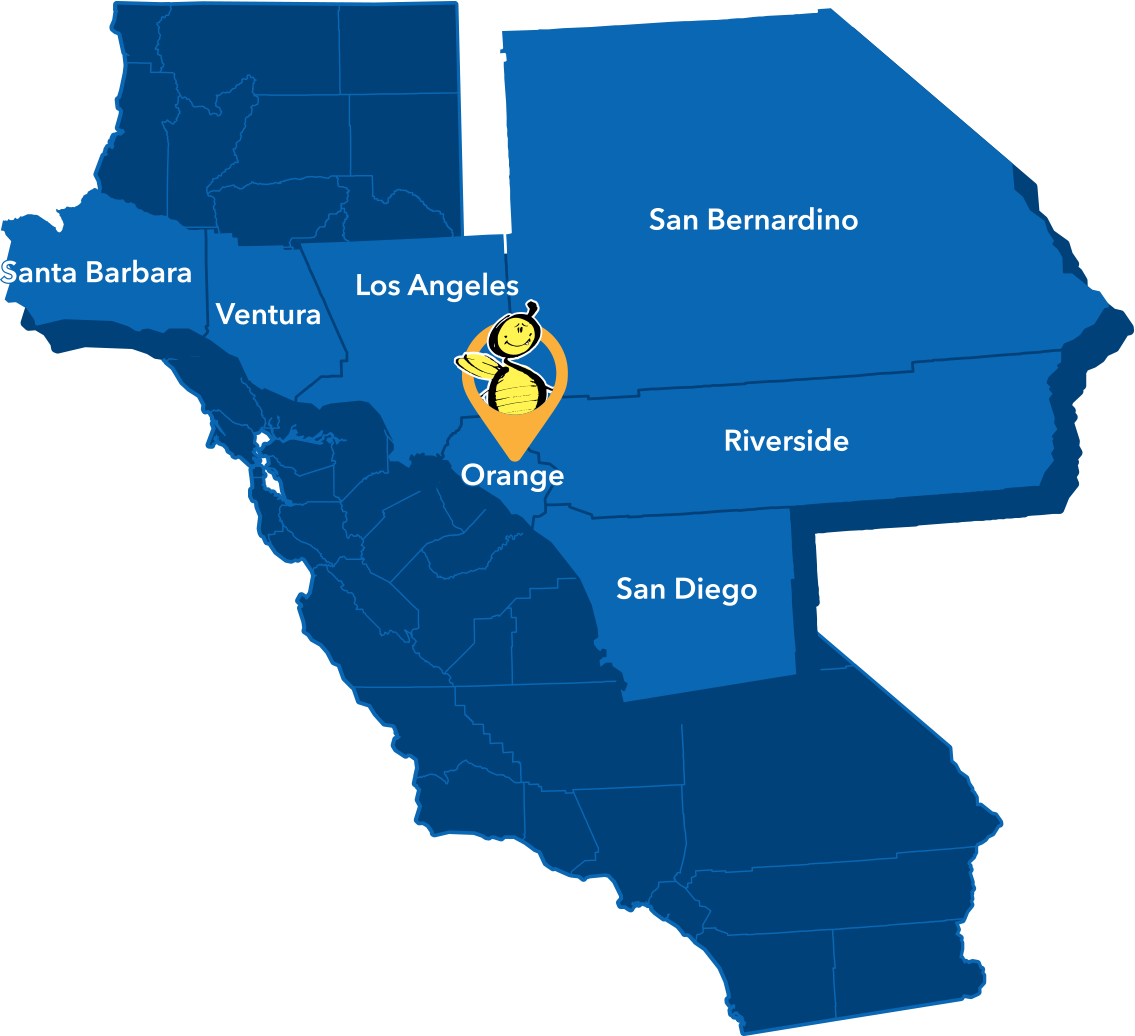 Long-Term Pest Relief - Same Day Services
As a locally-owned and operated business in the community, we value our customers and their satisfaction. Subsequently, we hold our pest exterminators to high standards to ensure that your pest infestation will be treated with the most effective solutions. All of our Aliso Viejo exterminators are licensed and certified by the state of California, and participate in continuing education training sessions. You will always receive exemplary service from our pest experts.
When you partner with us for your pest control needs in Aliso Viejo, you can also expect to receive:
A licensed inspector will conduct a free, detailed evaluation of your home. This will help determine the severity of the infestation and the affected areas in your home. 
We will design a treatment plan that is customized to your home because no two infestations are the same. 
We offer treatment solutions that are family-friendly and safe for everyone--even your furry friends!
A trained pest exterminator can conduct Quarterly treatments to prevent future infestations.
100% satisfaction guarantee to ensure your happiness!
Pest Treatments Safe For Everyone
Having a pest infestation is worrisome enough. You shouldn't need to worry about the treatment solution's toxicity to your family. Here at the bugman, we offer a family-friendly treatment solution that is safe for everyone. Our solution is tough on bugs but safe for your family--even the furry friends of yours.
Termite Control In Aliso Viejo
Termites see your home as an endless supply of free food. Their round-the-clock eating habit can leave serious problems in its wake. Termites cause over $5 billion in home damages every year across the United States. Fight back against these destructive pests with reliable termite control in Aliso Viejo. At the bugman, we prioritize fast, thorough removal and long-lasting protection from future infestations. Keep your home standing and call today to book your FREE inspection.
With our termite treatment in Aliso Viejo, you can expect:
A FREE and comprehensive inspection of your home. 
The area's most highly-trained termite exterminators.
Personalized treatment plans. 
Flexible scheduling to keep our service convenient.
Guaranteed satisfaction with FREE retreatments if termites come back.
And more!
Termite Exterminators You Can Count On
When it comes to a pest as destructive as termites, you need exterminators that you can depend on. Here at the bugman, our team undergoes the industry's most rigorous training and brings years of hands-on experience into your home. Don't settle for anything less and choose the company that you can rely on to get the job done right every time. 
Rodent Control In Aliso Viejo
Rodents can carry up to 35 different kinds of diseases that can pose a threat to you, your family, and your pets. Protect your family and don't wait to get rid of rodents in your home. From mice to rat control, our team of exterminators are state certified and specialize in superior rodent control in Aliso Viejo. Call us today at 714-406-4949 and learn more about our treatment plans.
We specialize in removing rodents from your home such as:
Effective Rodent Removal and Prevention
At the bugman, we are committed to removing your current infestation and prepping your home with the proper defenses to keep rodents from infiltrating in the future. Our services are backed by our 100% satisfaction guarantee. Call today and we'll send an expert exterminator as soon as possible. 
What to expect from our rodent control in Aliso Viejo:
Free and detailed inspection by our licensed and state-certified team.
Complete removal of rodents
Safe and effective methods and products, including exclusion methods.
A rodent-free home, guaranteed!
Ant Control In Aliso Viejo
Ants are some of the trickiest household pests to deal with. No matter how often you deal with them, they always seem to come right back. Solve your problem for good with ant control in Aliso Viejo. Here at the bugman, we take ants seriously. After all, keeping a clean kitchen is a critical part of maintaining your family's health so depriving ants of their favorite place to scavenge is our top priority. 
We'll help you get rid of ants by:
Conducting a detailed home inspection.
Developing a customized ant control plan that addresses your needs. 
Using only family and pet-friendly products in your home.
Returning regularly to ensure that ants aren't coming back.
Safe and Effective Ant Control
Take a quick trip to any hardware store and you'll see a multitude of sprays that tout their ability to get rid of ants. These may work in the short term but often expose your loved ones to dangerous chemicals in the process. At the bugman, we only use products that are specifically formulated to keep your family safe. Having ants is stressful enough already, so pick the company that's looking out for you.