Same-Day Pest Control in Moreno Valley
What kind of problem are you having? Select all that apply.
Pest Control Services in Moreno Valley
When it comes to critters and creepy crawlies invading your home, fear not! the bugman Termite & Pest Control is at your service, ready to tackle any pest problem you may have. We are your go-to destination for all your pest control needs, providing you with the ultimate solution for pest control in Moreno Valley. No matter what pests have infested your home, our team of expert exterminators in Moreno Valley are equipped with the know-how and skills to banish them for good. We specialize in eliminating a diverse range of California's peskiest critters, such as:
Bed Bugs
Bees
Ants
Spiders
Wasps
Ticks
Rats
And more!
Image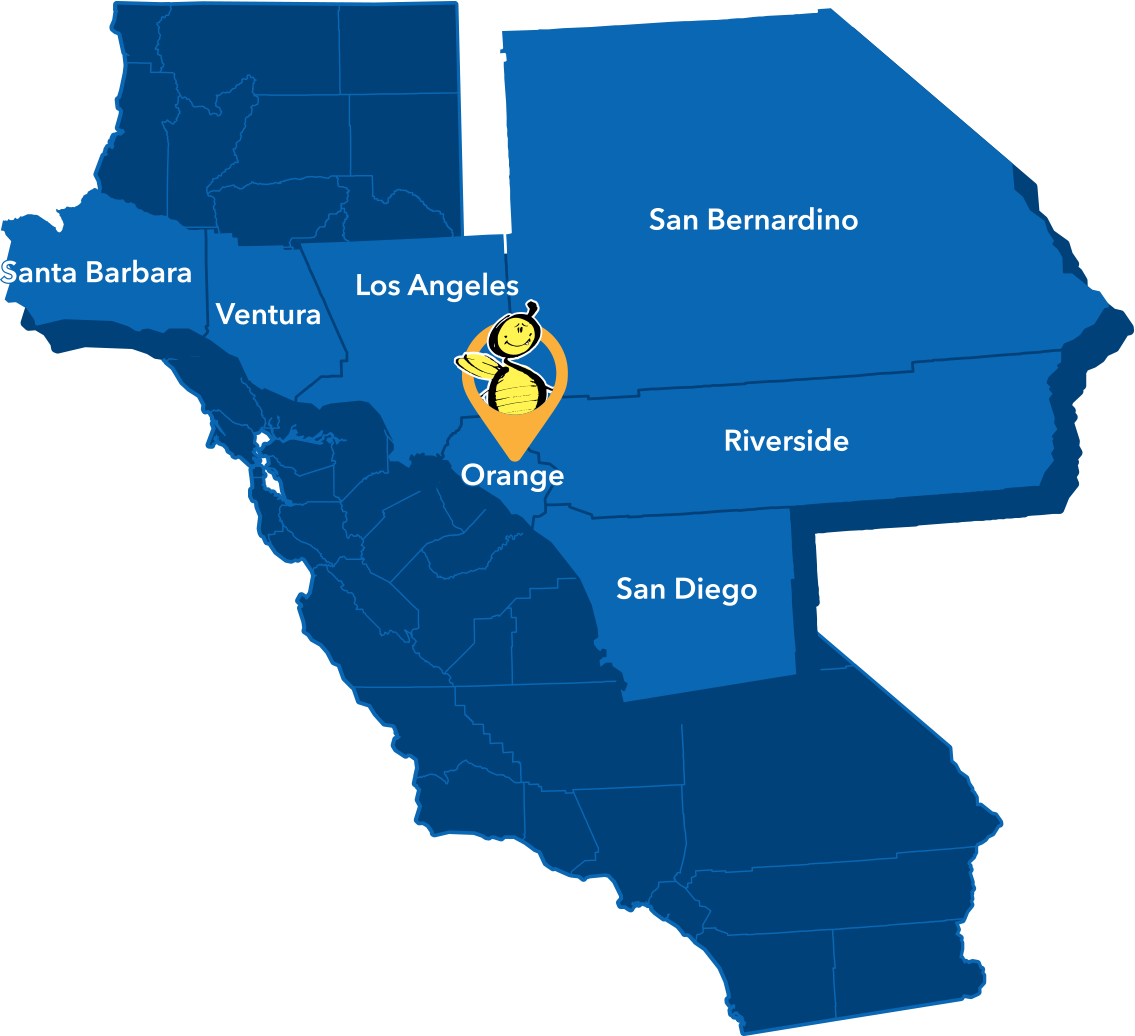 Residential Pest Control Services in Moreno Valley
Don't stress out about finding pests in your home, because we've got your back! With over 65 years of experience in the pest control business, we are experts at giving you the best care and results. Our goal is to make your experience with Moreno Valley pest control as easy and stress-free as possible. So, kick back, relax, and enjoy a home without those pesky critters!
When you choose us for your Moreno Valley pest control needs, you can expect top-notch service and benefits like:
A complimentary home inspection and quote from one of our skilled exterminators.
Flexible scheduling options and even same-day service to accommodate your busy life.
Cutting-edge techniques and treatments that will eliminate those bugs for good.
Treatments that are safe for your whole family, so you won't have to worry about their well-being.
We guarantee your satisfaction 100% and promise to get the job done right the first time.
Ready to take back control of your home? Give us a call at 714-992-1292 and let us find the perfect pest control package for you. Don't wait any longer to live in a pest-free paradise!
Termite Exterminator in Moreno Valley
Dealing with a termite infestation can be a significant financial burden, as these destructive insects cause over $5 billion in damages and repair costs for homeowners in the United States annually. Unfortunately, homeowner's insurance rarely covers these expenses. To safeguard your home, future, and finances from the havoc wreaked by termite colonies, it's crucial to partner with a professional pest control company. At the bugman Termite & Pest Control, our primary mission is to offer top-notch termite control services in Moreno Valley.
When you opt for our termite treatment in Moreno Valley, you can expect the following benefits:
Complimentary termite inspection to identify the specific termite species affecting your property.
Consultation and a customized treatment plan tailored to your home's unique requirements.
Family and pet-friendly treatment solutions that you can trust.
Flexible scheduling for your convenience.
A termite-free home and the peace of mind you rightfully deserve.
Save $100 on Reliable Termite Control
Our termite control services are designed to save you money in the long run, rather than burdening you with expensive and unnecessary treatments. When you turn to the bugman Termite & Pest Control, not only will you receive a 100% satisfaction guarantee and complete eradication of your termite infestation, but you'll also enjoy a $100 discount on your initial treatment. Saving money while getting rid of termites? It's a win-win situation you can't afford to miss!
Rodent Exterminator in Moreno Valley
When it comes to rodent removal in Moreno Valley, California, we've got you covered. Our rodent control service is designed to not only remove existing rats and mice from your home but also prevent them from coming back in the future.
Here's what you can expect from our rodent removal service:
Free rodent inspection: Our licensed and certified inspector will thoroughly inspect your home to identify any rodent infestations.
Exterior rodent baiting: We strategically place bait stations around the exterior of your home to target rodents where they live and breed.
Interior trapping: If rodents have already made their way into your home, we use effective trapping methods to capture and remove them.
Rodent exclusion: We seal entry and exit points to prevent future rodent problems, ensuring a rodent-free home for you to enjoy.
Recurring or one-time service: We offer flexible scheduling options to meet your specific needs, whether you require ongoing rodent control or a one-time service.
Why Trust the bugman for Rodent Removal?
With our rodent control service, we prioritize exemplary customer service. We go above and beyond to ensure your family is protected from harmful pests, and we aim to make the entire process as hassle-free as possible. With our flexible scheduling and same-day service, we are committed to putting you first.
Don't let rats and mice take over your home. Trust our rodent removal expertise in Moreno Valley, California. Contact us today at 714-992-1292 to schedule your free rodent inspection and take the first step towards a rodent-free home.
Ant Control in Moreno Valley
Are you tired of dealing with pesky ants in your home? Look no further! Our team of expert exterminators is here to provide you with same-day residential ant control in Moreno Valley. Say goodbye to those annoying ants and enjoy a pest-free home. Here's what we offer:
Same-day service: Say goodbye to those pesky ants fast! Our team is committed to providing prompt solutions, so you won't have to endure their presence any longer.
Thorough pest inspection: Our state-licensed inspectors will evaluate your home to identify the extent of the ant infestation and devise a tailored treatment plan.
Effective ant control: Using state-of-the-art equipment and proven methods, we will eliminate ants from your home, ensuring a critter-free environment for your family.
Recurring treatments: We offer quarterly services to provide long-term protection against ant infestations. Say goodbye to ants for good!
Family and pet-friendly approach: We understand the importance of keeping your loved ones safe. Our ant control methods prioritize their well-being while effectively targeting the pests.
Exceptional customer care: Our friendly and skilled technicians will provide courteous service, answering any questions you may have throughout the process.
100% satisfaction guarantee: We stand by the effectiveness of our ant control services. If you're not fully satisfied, we'll make it right.